Everything We Know About The Isolated Sentinelese People Of North Sentinel Island

In this undated photo released by the Anthropological Survey of India, Sentinelese tribe men row their canoe in Indias Andaman and Nicobar archipelago. Government officials and anthropologists believe that ancient knowledge of the movement of wind, sea and birds may have saved the five indigenous tribes on the Indian archipelago of Andaman and Nicobar islands from the tsunami that hit the Asian coastline Dec. 26, 2004. (AP Photo/Anthropological Survey of India, HO)
ASSOCIATED PRESS
The death of an American tourist who illegally visited the isolated North Sentinel Island had drawn the world's attention to the small island's reclusive inhabitants. They're one of the few mostly "uncontacted" groups left in the world, and they owe that isolation partly to geography — North Sentinel is a small island, off the main shipping routes, surrounded by a shallow reef with no natural harbors — partly to protective laws enforced by the Indian government, and partly to their own fierce defense of their home and their privacy. But they're not entirely uncontacted; over the last 200 years, outsiders have visited the island several times, and it often ended badly for both sides.
Who Are The Sentinelese?
According to a 2011 census effort, and based on anthropologists' estimates of how many people the island could support, there are probably somewhere between 80 and 150 people on North Sentinel Island, although it could be as many as 500 or as few as 15. The Sentinelese people are related to other indigenous groups in the Andaman Islands, a chain of islands in India's Bay of Bengal, but they've been isolated for long enough that other Andaman groups, like the Onge and the Jarawa, can't understand their language.
Based on a single visit to a Sentinelese village in 1967, we know that they live in lean-to huts with slanted roofs; Pandit described a group of huts, built facing one another, with a carefully-tended fire outside each one. We know that they build small, narrow outrigger canoes, which they maneuver with long poles in the relatively shallow, calm waters inside the reef. From those canoes, the Sentinelese fish and harvest crabs. They're hunter-gatherers, and if their lifestyle is anything like that of related Andamanese peoples, they probably live on fruits and tubers that grow wild on the island, eggs from seagulls or turtles, and small game like wild pigs or birds. They carry bows and arrows, as well as spears and knives, and unwelcome visitors have learned to respect their skill with all of the above. Many of those tools and weapons are tipped with iron, which the Sentinelese probably find washed ashore and work to suit their needs.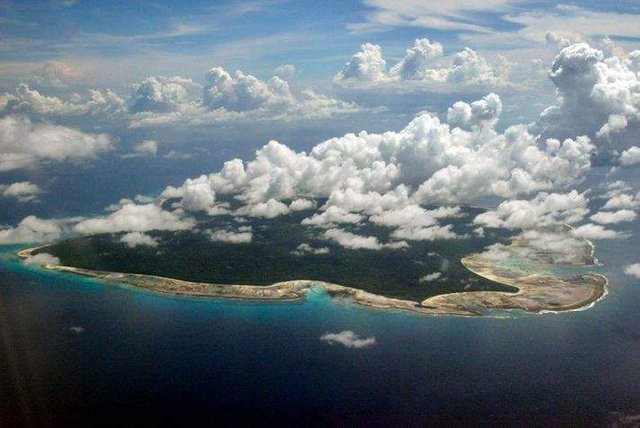 Why Don't The Sentinelese Like Visitors?
One night in 1771, an East India Company vessel sailed past Sentinel Island and saw lights gleaming on the shore. But the ship was on a hydrographic survey mission and had no reason to stop, so the Sentinelese remained undisturbed for nearly a century, until an Indian merchant ship called the Nineveh ran aground on the reef. 86 passengers and 20 crew managed to swim and splash their way to the beach. They huddled there for three days before the Sentinelese evidently decided the intruders had overstayed their welcome — a point they made with bows and iron-tipped arrows. Western history only records the Nineveh's side of the encounter, but it's interesting to speculate on what might have been happening in Sentinelese villages behind the scenes. Was there debate about how to handle these newcomers? Did the shipwreck victims cross a boundary or violate a law unknown to them, prompting the Sentinelese to respond, or did it just take them three days to decide what to do?
The Nineveh's passengers and crew responded with sticks and stones, and the two sides formed an uneasy detente until a Royal Navy vessel arrived to rescue the shipwreck survivors. While they were in the neighborhood, the British decided to declare Sentinel Island part of Britain's colonial holdings, a decision which really mattered only to the British until 1880. That's when a young Royal Navy officer named Maurice Vidal Portman took charge of the Andaman and Nicobar colony. Portman fancied himself an anthropologist, and in 1880 he landed on North Sentinel Island with a large party of naval officers, convicts from the penal colony on Great Andaman Island, and Andamanese trackers.
They found only hastily-abandoned villages; the people seem to have seen the intruders coming and fled to hiding places further inland. But one elderly couple and four children must have lagged behind, and Portman and his search party captured them and carried them off to Port Blair, the colonial capital on South Andaman Island. Soon, all six of the kidnapped Sentinelese became desperately sick, and the elderly couple died in Port Blair. Portman somehow decided it was a good idea to drop off the four sick childen on the beach of North Sentinel along with a small pile of gifts. We have no way to know whether the children spread their illness to the rest of their people, or what its impact might have been.
But the experience definitely didn't leave the Sentinelese with warm fuzzy feelings toward foreign visitors. In 1896, an escaped convict tried to flee the Great Andaman Island Penal Colony on a makeshift raft. In an excellent illustration of the concept of "out of the frying pan and into the fire," he washed ashore on North Sentinel Island. A colonial search party found his remains a few days later, full of arrow wounds, with his throat cut. The British wisely decided to leave the Sentinelese in peace, at least for the next century or so.
Is It Possible To Make Friends?
A hundred years after the wreck of the Nineveh, a team of anthropologists led by Trinok Nath Pandit, working under the auspices of the Indian government, landed on North Sentinel Island. Like Portman, they found only hastily-abandoned huts. The people had fled so quickly that they left the fires still lit outside their homes. Pandit and his team left gifts: bolts of cloth, candy, and plastic buckets. But naval officers and Indian police accompanying Pandit also stole from Sentinelese, taking bows, arrows, baskets, other items from their unguarded homes despite the anthropologists' protests — still not a great showing for the outside world.
Posted using Partiko Android