Nick Spanos Op Ed: "Bitcoin Is a Declaration of Our Monetary Independence"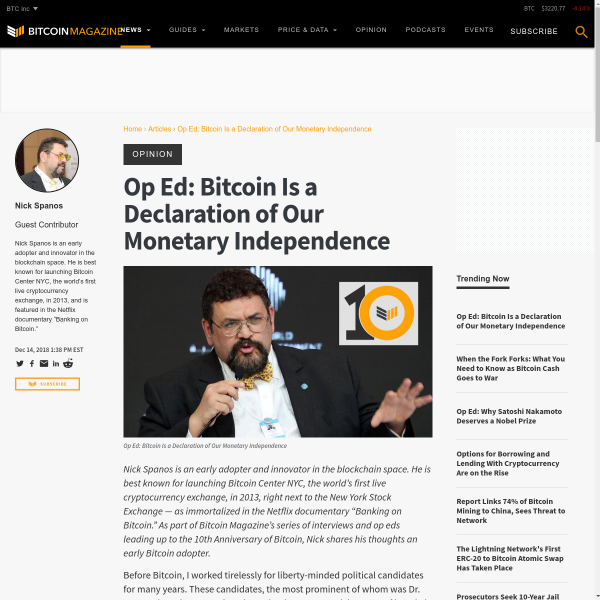 "Before Bitcoin, I worked tirelessly for liberty-minded political candidates for many years (like) ... Dr. Ron Paul... Then one day, I read the Bitcoin white paper... and I thought, "Finally, I have a weapon that cannot be destroyed on Election Day" ...
"I knew I had to bring Bitcoin out of the back alleys and onto Wall Street for the world to take it seriously. So, for many years, by day, we taught reporters, stockbrokers, students, technologists and tour groups about bitcoin, for free, and by night, bitcoin and other cryptocurrencies were traded on the world's first live cryptocurrency trading floor (also for free).
"Every day, we made our stand, not knowing which government agency might walk through the doors or what papers they might serve us, or even worse. Yet we stood there, like David with his slingshot up against the modern day Goliaths, in an open and notorious manner, unwavering and unafraid."
Full Editorial at https://bitcoinmagazine.com/articles/op-ed-bitcoin-declaration-our-monetary-independence/

What is Parley?
Parley is a Steem-based Reddit competitor that allows users to submit links and curate news they find around the web in order to promote discussion on the Steem platform.
Read more