As many of you know, I am a huge proponent of gun safety, especially, when there are children in the home. One way to make sure that our children are safe, is to keep our guns locked up and out of reach of our children. While we cannot always control every environment our children are in, we can control our home.
There are many ways to safeguard our children in regards to guns. Some suggest a trigger guard, other suggest keeping them unloaded and locked up. For this discussion, we will look at the ways I keep my guns stored and locked up. for my handguns, I keep them locked up in a gun safe. My rifles, I keep them locked up in a gun case. If I owned more rifles (which I plan to in the near future) I would keep them in a larger gun cabinet/safe.
Lets discuss safety and storage options for handguns today. While a trigger lock is the best way to keep a gun safely out of the hands of a child, it defeats the purpose of having a gun for protection. If someone breaks into your house late at night, the last thing you want to be caught doing is fumbling around in your dark room looking for the key to unlock your trigger lock. (see below for a couple examples of a trigger lock).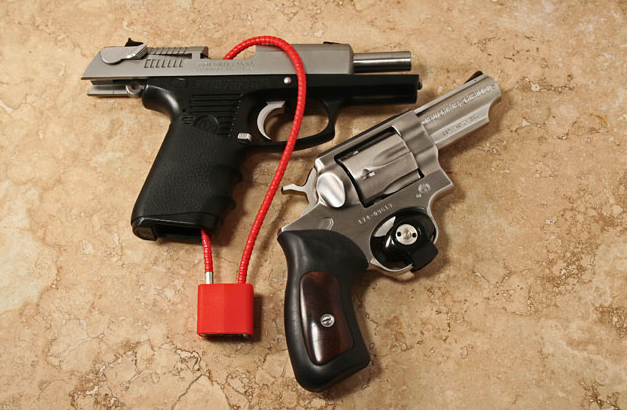 In my opinion, a better option is a biometric or code safe for your handguns. I have the one listed below bolted to my nightstand next to my bed. The first thing I do when I get home from work is put my keys and wallet in the dish I have for them in the living room and then head to my bedroom and lock up my handgun. I prefer these style safes because they are portable and functional. They also require either a fingerprint or code to open them. They can be quickly accessed even in pitch dark. There are cheaper options out there but I feel you often get what you pay for when it comes to gun safety.
| Gun Safe | Code Entry | Fingerprint Scanner |
| --- | --- | --- |
| | | |
In conclusion, keeping our children safe and keeping guns out of their hands is our responsibility as parents and responsible gun owners. There are many ways you can do this and I encourage each and every one of you to find the best way for you. Any option we take to keep them safe is the right option.
If you like these type of posts feel free to follow me.
Below are a couple other post on the topic of keeping children safe when guns are involved.
Teaching Your Kids to Shoot at the Range
Responsible Gun Ownership and Parenting