There are many reasons why having a machete in your car may be beneficial here in Panama. We've learned that they're great if you encounter an overgrown cactus on the way into the neighborhood. They're also great if you find a coconut and want to bust it open on the way home. Another reason was added to our list today.
Today my friend and I went to David to do a little shopping WITHOUT children! We had just started heading up the mountain when a large storm started. It was getting hard to see the road and my wipers were going full blast. I knew we were almost halfway up where I could stop at a yogurt shop and wait out the storm if needed. It was right around the next curve! As we approached the next curve, this is what we saw: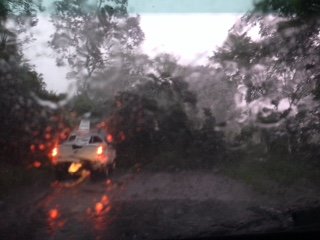 That is a ton of rain and a fallen tree in the middle of the road!! We were the second car! I don't know that I've ever been so close to a fallen tree on a road before. So, we stopped behind the work/official truck that was ahead of us. I could see the traffic starting to pile up behind us. We let our families know that we were okay and would be a little late and my friend started a Facebook live video.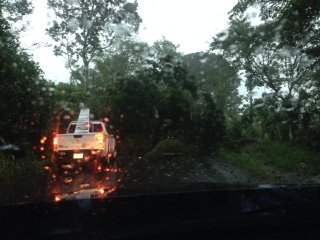 The rain would come and go as we sat there. I kept wondering if the fire truck would show up and cut the tree away or what would happen. I mean, we are in Panama, so I didn't think that was very likely. So we sat. After about 10 minutes, we see a few men out around the tree. Apparently they're going to try to get it moved so we can all go!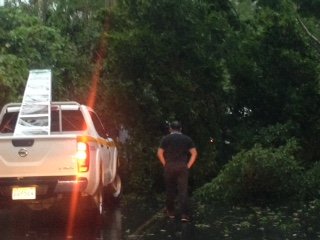 Then we noticed they had their machetes out there hacking the tree to pieces to drag it off the road! What a great idea! I then remembered we carry a nice machete in our car, so I pull it out and realize it has a saw on it. The thing about Panamanians is that they KNOW hot to use a machete. I thought about loaning them my machete, but realized that they were probably better off using the ones they know how to use...and it was raining! Ha. But, if I had needed to, I would have loaned it out! After about 25 minutes, there was some progress, but still a huge log in the road.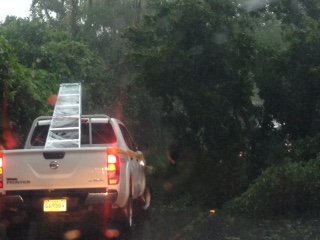 5 minutes after that, they had used their machetes to cut the log to pieces and move it out of the road! As the men ran back to their cars, we thanked them! There were only 2 from our side and about 5 from the other side. The funny thing is, the officials in the car in front of us never got out. We figured everyone would take turns driving through since only one side was open, but that was not the case. About 10 cars went through bumper to bumper on the other side when there was a small gap and I blasted my horn and drove through.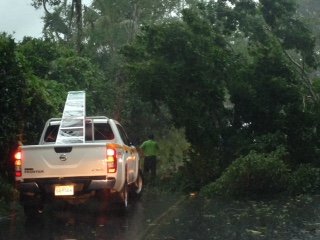 I am thankful tonight for those men who spent 30 minutes getting soaking wet using their machetes to get half of the road cleared...even without my super cool saw machete!

!steemitworldmap 9.059013 lat -79.471001 long David District D3SCR
Check this out on the
steemit World Map