CONTEST "What does #ccc Mean to you ❓Contest #ccc 2.10"
Please, join this contest: "What does #ccc Stand for ❓What does #ccc Mean to you ❓ Contest #ccc 2.10" and give me your opinion!
This is a weekly, Curation Circle Creed (CCC) contest. It starts on every Monday. I noticed many use the tag #ccc, Steemians I never heard from. #ccc is not creativecoin!
I like the community.
A good reason for me to give hosting this contest a try. A community can only grow if those who join are willing to give a hand.
Earlier contests you can find at @freedomshift's account.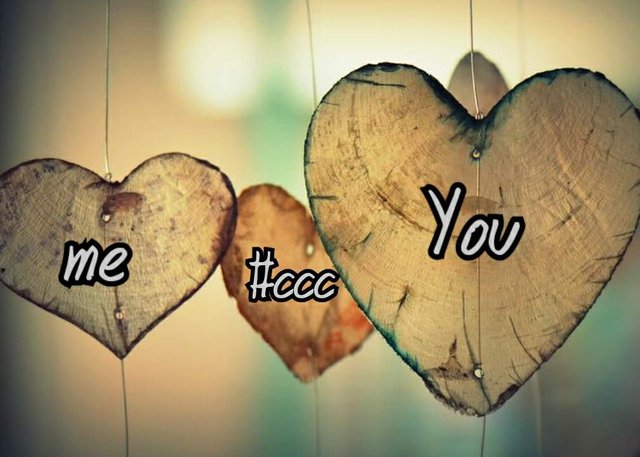 Anyone can join.
Write 200 words about the theme given.
The theme is: "What does #ccc Stand for ❓What does #ccc Mean to you ❓Contest #ccc 2.10" use it in your title or content.
Leave the link of your post as a comment.
If you are, or like to be, a member use the invitation you see underneath this post.
Already being a new member means you earn something extra. Yes, you get payed for your membership!
Be honest
If #ccc means nothing to you say it.
If it is an easy way to earn some SBI say it.
If this is your way to be seen, engage to others, an easy way to get upvotes write it down.
The only wrong post is one that counts less as 200 words and one that does not answer the question.
Visit other #ccc members! 💕
If you post under the #ccc tag we expect you to comment/upvote other ccc-members as well.
Only upvote good content with 200+ words. Show some love and engage.
6 entries makes one winner. 👍🏻
Your chance is 1 out of 6.
✔Yes, you can win, who knows even more as expected.
✔Art, drawings, photos are welcome.
If you post at least 3 photos, less words are allowed.
✔Feel free to write in your own language.
I am calling
@marblely
@fitinfunfood
@gertru
@hashzone91
@mr72bussi
@fredkese
@theartofori
@lanzjoseg
@chris-the-batman
@gingbabida
@myjob
@angelro
@oliviackl
@nathyortiz
@daysiselena
@theresa16 and
@bxlphabet
to join this time. I am looking forward to hear what this community means to you and why you use the tag #ccc.
💰 What are the Rewards / Prizes ? 🎁
Updated rules from the sponsor:
1 winner will be chosen out of 6 valid #ccc entries.
If there are 6 valid entries in the first week, the winner (randomly chosen) will get 1 SBI share.
If this week's contest does not garner enough 6 valid entries, the reward and the entries will roll over to another week, up to 3 weeks. - In the 2nd week, if there is enough 6 valid entries, there will be 2 SBI shares up for grabs - 2 winners will be chosen from the entries from 1st week and 2nd week. - However, if by the 2nd week, the number of valid entries are still less than 6, then by the 3rd week, there will be 3 SBI shares up for grabs - 3 winners will be chosen from the entries from 1st week, 2nd week and 3rd week. - Once there are 6 valid entries or more and winner/s has/have been chosen or when the contest reaches the 3rd week, the subsequent week will reset as week 1 and this process continues.
The winner/s will be randomly chosen via the random number generator.
Additional rewards: If it is your first time winning in this contest you will get 2 SBI shares
Winner may also choose to nominate another Steemian to receive the SBI share as a paying it forward gesture. Let me know in your post/comment with your link underneath.
If you are wondering what SBI is:
Steem Basic Income is a social experiment to bring a basic income to as many Steemians as possible. Members join by sponsoring others into the program. Steem Basic Income is delivered through providing regular upvotes to member content.
Many of the steembasicincome members use the #steembasicincome tag for their contests, so check there for contests!
Come and join our #ccc weekly contests!
This is an Invitation to join #ccc for [Guaranteed 👍 Daily Income 💵 and Payout 💸 for Newbies (2.0) 🐟 🐜 🐛 in #ccc 👣 and Follow 👣 the Honor Code 🏅 - the Creed (Conditions and Limits Inside)](https://steemit.com/ccc/@freedomshift/guaranteed-daily-income-and-payout-for-newbies-2-0-in-ccc-and-follow-the-honor-code-the-creed-conditions-and-limits-inside) <br>AND <br>the [latest update](https://steemit.com/ccc/@freedomshift/an-update-v2-1-to-guaranteed-daily-income-and-payout-for-newbies-2-0-in-ccc-and-follow-the-honor-code-the-creed-conditions-and) <<< _please click to read._
Posted using Partiko Android