Is It Time For Steem To Start Embracing Investors?
I once worked for a guy who owned a company that sold and serviced equipment. The guy was pretty successful although he suffered a long term trend downward. His sales peaked in 2008 and he never recovered from the economic collapse. While the industry turned around, he lagged behind.
He had a single problem that, I believe, caused a great deal of his issues. This individual has a visceral hate for salespeople. He thought they were only out for themselves, lazy, and pompous. While a great deal of that is true, he did not realize what he was doing to himself. The simple truth is sales people made his company. Each month, when he had a manager's meeting, he did not discuss how service had a bad month. Instead, it was something about sales being down.
It is an ironic energetic twist when you are dependent upon what you despise. The emotions this guy had to salespeople was evident, especially in the corporate (flagship) office. This was one of the worst under performers in the company.
Why do I bring this up?
Simply because we have a lot of people on here who are doing the exact same thing to this platform.
The problem with a decentralized system is that the message is not controlled. We can say what we want about the centralized entities like Facebook and the censorship taking place, the bottom line is the message they want out there is being promoted. Those who go against it get muted.
Now I am not saying that we are better off with that. I am all for free speech and applaud projects like 3Speak. However, there is a point where we need to act responsibly with that freedom.
So what do we see on Steem? The bashing of the greedy investors. Everyone knows they are after the ROI and many are all too happy to post that. They do not build nor create. Their tactic is to place their holding in an area where their return is maximized. Essentially, they care nothing except for money.
Well yeah, that is what investors do. They speculate and put their money at risk in an effort to get a return. This is what their entire reasoning for getting involved.
Of course, to many Steemians, the ecosystem would be a lot better off without them.
There is just one problem: many of these same people complain about the price of STEEM and how it is dropping. We went from being ranked third at one point to 60something in market cap.
Hence, we have a situation just like the guy I worked for.
People like to come up with creative solutions. We see people screaming for marketing to be done to increase the number of users. Of course, this is a major disconnect. Marketing 101 teaches to identify your market so you know who the consumer is. If everyone is a prospect, nobody is a prospect.
The only challenge with this is users are not investors. We can see this clearly in the numbers.
There was a push for 10k Minnows. According the the latest numbers posted by @arcange, we have 80,000 active Planktons. With the price of STEEM at 40 cents, one can go from zero to Minnow for about $200. Since we are roughly 700 people short of the 10k Minnows, could 1% of the active Planktons afford $200?
I do not find that unreasonable. Yet, here we sit with those same numbers, not really changed since the initiative started.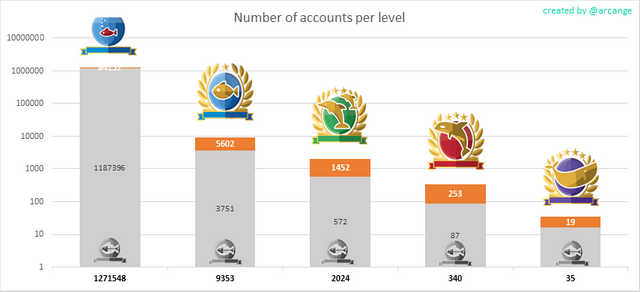 https://steempeak.com/statistics/@arcange/steem-statistics-20190609-en
For those who are into the esoteric and Law of Attraction, you will know what I am referring too. If you are one outside that belief system, simple common sense will bring you to the same logical end.
Does anyone on here think Mike Novogratz put tens of millions of dollars into Block One to build and create stuff? Of course not. He invested in that for one reason: to get a return on his money. Did that help to fund the development of Voice? Perhaps.
Even if 800 people bought a couple hundred dollars worth of STEEM, that would only be $160k. That is nothing. We do not need people who buying in hundred, or even thousand, dollar increments. This ecosystem needs those buyers who buy in hundred thousand dollar blocks.
That all presupposes that one is focused upon price. If we want people who support the price, that means investors. If we want to look at it from the reverse, what do you think would happen to the price if the bigger accounts decided to dump their holdings?
Many pointed to the pricing pressure put on STEEM by Steemit Inc dumping more than half a million a month to fund their operations. Picture this across 5 or 10 major accounts. What happens to the price of STEEM?
The reality of the situation is that for pricing to move up in a big way, a lot of buying needs to take place. If we want this quickly, it requires deep pockets. The longer term path will see hundreds of thousands of users buying STEEM but this is a slow process.
We are at a crossroads. If we want to focus upon price, which many do, then it is time to stop blasting investors at every turn. These people are needed to place buy orders. And it is true, they are looking for a ROI on their money, we cannot get away from that.
If, on the other hand, you want an ecosystem where the users are investors, then put on the patience hat and dig in for the long term.
---
If you found this article informative, please give an upvote and resteem.