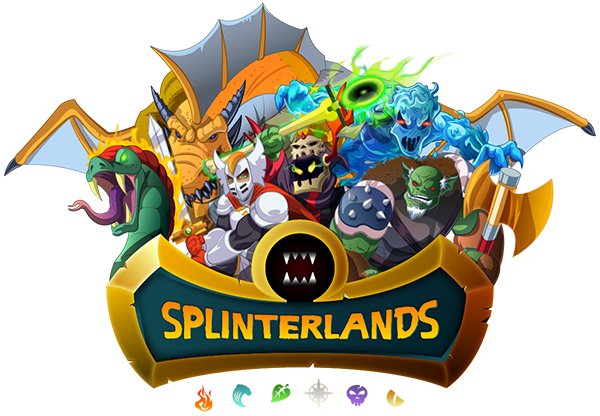 I am going to be breaking down the new rewards cards on this post. There are some ones that are going to be very helpful. Right now a lot of them are priced well but you might not want to sell them. There will be a giveaway in this post also. You will need to read over my card reviews and give me some feedback. Also, tell me which of these cards you think makes the biggest impact on their team. I will pick one random person that does this to win 500 DEC.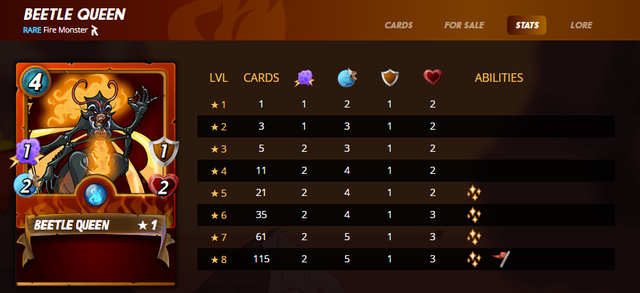 Beetle Queen is a very important card for fire. This is the first time they have a tank heal. I am sure when you first get one you think it is a nothing card. But now you can have a thank heal for Serpentine Soldier or Serpent of the Flame. It is also played with Lord Arianthus. All of these options will make your team very strong. With the season-ending today the price is being driven down. So now might be the time to get the cadr to level 5 to start playing with the heal. Level 6 is important for that extra life point. The major weakness of this card is low life when facing magic reflect. That is something you will need to remember when picking your team. If you are in a no ranged match this card might not be a good play as chances of magic reflect go way up in that format. The last thing I will talk about is inspire at level 8. This will only matter to those of you playing at the max levels. Yet it adds a lot more power to the fire team. The one extra attack can stack with the right cards to provide up to three for the team. I see this becoming a must play in many fire decks.

!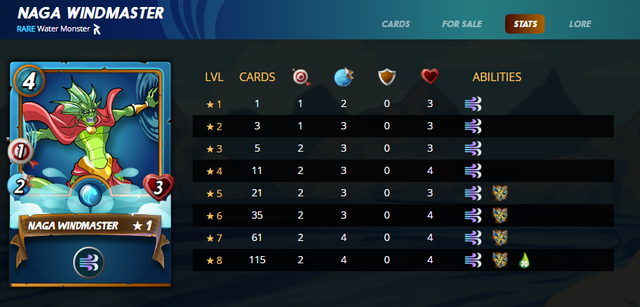 Naga Windmaster doesn't seem that special until you look at the combined effects it can offer. This card is playable at level three and becomes very useful at level five. Let's face it ranged teams are strong, really strong. This one card on your team can turn what would be a loss in the past to an easy win. When you add shatter to the mix you get a card that can also break the big armor tanks. Once you get to level 8 you also get a chance for poison. This is the only card on the blue team with poison. Poison can be a game-changer in a lot of fights. While this card is more fight for high mana fights vs Selena or no melee matches. It will be a card that can win a fight for you so it is one that is also good to own. Prices are also down now that the season is over.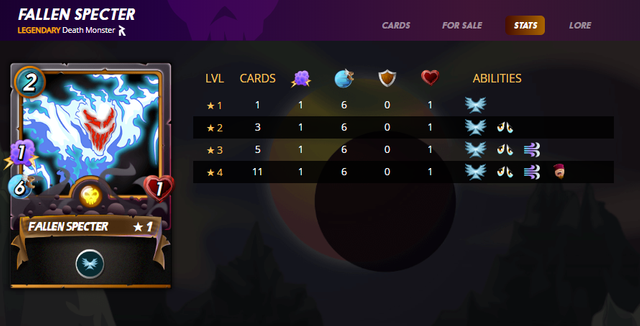 Fallen Specter is going to be the hardest to get. This card makes the Death team a lot more usable in some formats you wouldn't always think of. The one that you should know right away is low mana matches. With this card, they now have four that cost two mana and another three that cost only three mana. So you will have a lot of options in a 12 mana fight. Besides doing that this card is going to be the easy add on for a lot of status effects. He will be a flying card that lowers melee, ranged attack and chance to hit. The main problem with this card is the one life point with a lot of speed and magic attacks. Very often he will have the first attack and kill himself. For this reason, the card isn't as usable as I hopped. In under 4 mana cost matches, he can be a star. As so far there is no magic reflecting tanks that cost four or less. This is the only game mode he will be very safe to play. I wouldn't rush out to get this card yet. Let me know if you think I am wrong.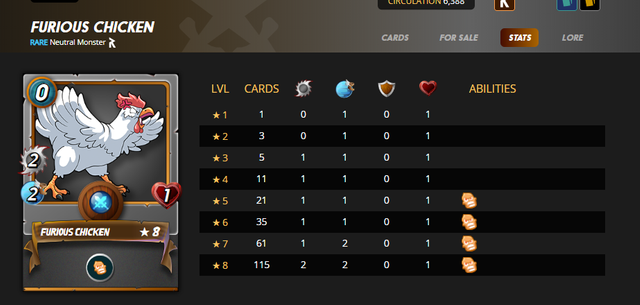 Furious Chicken looks very week. Yet he is a card that can win you match when you use it in the right place. The main use of this card is to take a hit for one of your other cards. You can put him first or last and if he takes a big hit for you then he did his job. The card can be used in a lot of ways. So this is one we all need to make sure have. He has extra use in a no skills battle and super sneak. This card for sure is going to be one everyone is using all the time. So it is going to have one of the biggest effects on the game. It is going to seem small a lot of time but when you forgot to add him you will lose a game you could have won. Here is an example of this chicken win

For me, the most impactful card is the Beetle Queen. That tank heal is going to make Fire a lot more playable. I have used a few times and been very impressed with how the card is working. But let me know which one you think is going to be used the most to help their team.
I am a member of the CCC group also. I am always trying to support others here with my giveaways. This is a Contest Kings giveaway No Upvote, No Follow, and No Resteem are needed to join
This is an Invitation to join #ccc for Guaranteed 👍 Daily Income 💵 and Payout 💸 for Newbies (2.0) 🐟 🐜 🐛 in #ccc 👣 and Follow 👣 the Honor Code 🏅 - the Creed (Conditions and Limits Inside) AND the latest update <<< please click to read.
I am now going to recap a past giveaway so you don't need to look one unless you want to see who won the giveaway from this post.
Frist winner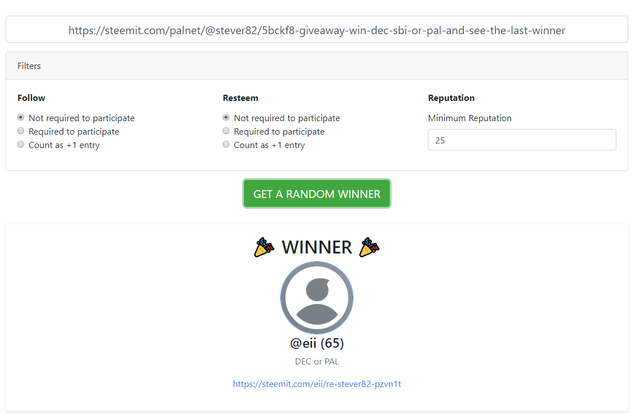 Second winner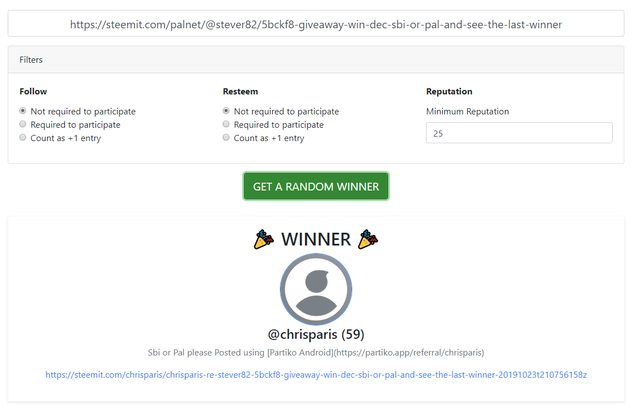 Congrats to @eii and @chrisparis your prizes have been sent.