Satoshi's treasure hunt. The street key and 100 STEEM bounty.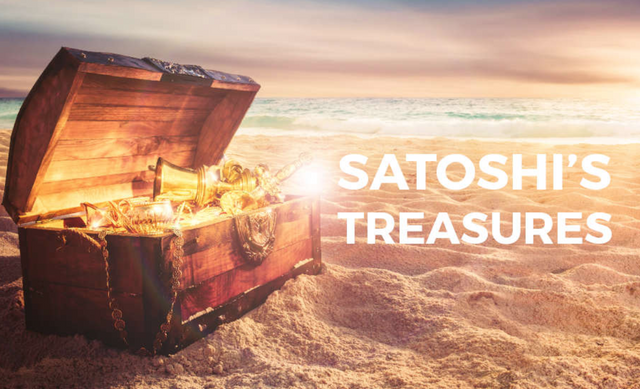 The street key.
I'm sure that a lot of you have heard of Satoshi's treasure hunt before from some of our previous efforts. It's been going very well and i can say that the STEEM clan is right at the front of the pack as we chase down more new and exciting clues every week. This week I'm bringing to you the STEEM community, "The street key."
This one is going to be exceedingly simple and purpose built for the STEEM community. All we need to do is hit the streets and interview people about crypto and the Satoshi treasure hunt for quick twitter videos.
Myself and @prettynicevideo are putting up 100 STEEM bounty for people who will get involved to help us achieve this goal.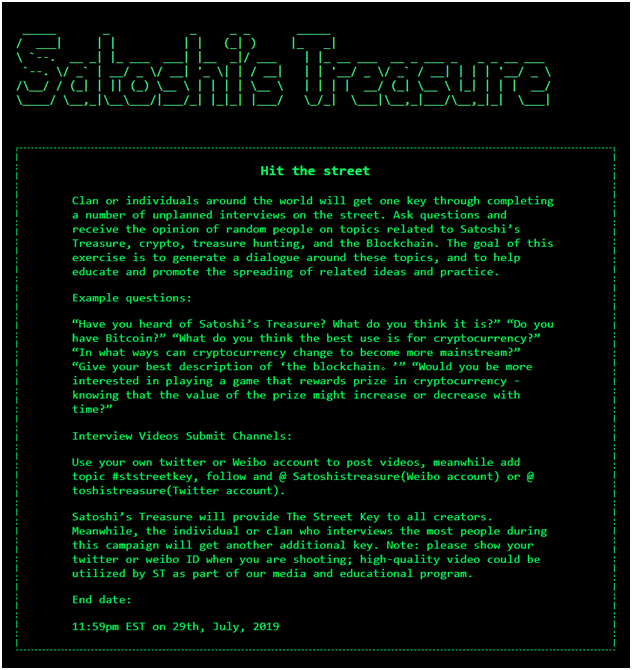 What we need..
What we need is very simple.
A short twitter video between 30s and 2m, interviewing a person on their crypto knowledge. (If you can get multiple people together in the video, even better)
You need to follow @Satoshistreasure on twitter. (Very important!!!).
Then ask....
Have you heard of crypto?

How about Bitcoin / STEEM?

Do you own any?

Have you heard about the Satoshi treasure hunt?

What do you think of it?

Would you be interested in competing for prizes in Crypto?

After that






Upload the video to twitter. Add the tags,



Add your Twitter ID and #steemclan in the video itself as well. ( Very important!!!)




Example here
Do you have moment to talk about our lord and savior Satoshi?#ststreetkey #satoshistreasure #steemclan #Steem pic.twitter.com/gKO37IZ3U3

— रविंदर चावला (@d0ct0rcrypt0) July 18, 2019
To qualify for the bounty you will need to add a minimum of three videos. ( Very important!!!)
You need to resteem.( Very important!!!)
That is all that we ask from you to get part of 100 STEEM.


The deadline is 11:59pm EST on 29th, July, 2019. After that, the bounty will be divided up equally between the qualifying videos. Please link them into the comments.
The more videos that you upload the more STEEM that you will earn. If there are 100 legitimate videos following all of the rules and you posted 10 of them then you will earn 10 STEEM. If there are only 20 legitimate videos and you posted 10 of them then you will earn 50 STEEM.
It's all for a good cause so please get out there and post some videos. Just follow the rules and you could do very well from it. We are using this to spread the word about STEEM and have some fun chasing Satoshi's treasure.
Let's win this one for STEEM.
If you don't have twitter you can sent the videos to me on discord (niallon11#6392) and I will get them posted.


I'm hoping that you will all join in to help out.


So who is up for it?:
@mariannewest
@felt.buzz
@thereikiforest
@blueeyes8960
@bluengel
@steevc
@abh12345
@freecrypto
@chesatochi
@mytechtrail
@jongolson
@exyle
@theycallmedan
@novacadian
@ecoinstant
@jeffjagoe
@clixmoney
@zekepickleman
@jaynie
@runicar
@revisesociology
@mistakili
@wesphilbin
@steemflow
@stackin
@xcountytravelers
@newageinv
@neopch
@kenny-crane
@therealwolf
@andrarchy
@melinda010100
@robertandrew
@pennsif
@soyrosa
@crimsonclad
@isaria
@justineh
@coruscate
@elipowell
@blewitt
@carrieallen
@meno
@fullcoverbetting