Neurology and low carb paleo
---
We all know about a keto diet for epilepsy
and a low carb diet to deter Alzheimer's...
---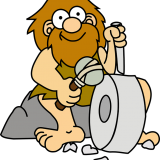 But have you heard of the other neurological benefits of a LCHF diet (especially, imo, when a whole foods paleo diet)?
My personal story is a great example, but research exists to make it not just another anecdote. I was diagnosed in 1990 with Aspergers (high functioning autism), what they now call autism spectrum disorder, or what the kids in the 60s called "retarded!", even though I was reading at near college level by six years old. It came with severe OCD and what looks like (in retrospect) ADD. I eventually learned to mimic normal human behavior pretty well, but the symptoms have derailed my life over and over and eventually ruined all my relationships and left me chronically under-employed.
Six weeks into the diet my (ex) wife said, "You don't seem nearly so OCD anymore."
Within the year I found myself responding to a whole host of emotions that previously I knew I had to box up or they would have overwhelmed me (I think it's a myth that aspies can't feel empathy, it's more that we don't dare to). Even more dramatic, the three times I fell off the diet over the last two decades, all those symptoms came right back.
A myriad of other stories exist, and science is catching up with common knowledge.
Here is an article on developmental delays in mice and low carb diet, but again, there are many such neurological results. I keep trying to get my brother on a keto diet because he has an autoimmune degenerative paralysis, but since he is under constant doctor's care, he eats almost nothing but processed grains. It's sad.
https://www.eurekalert.org/pub_releases/2016-12/jhm-lda121916.php