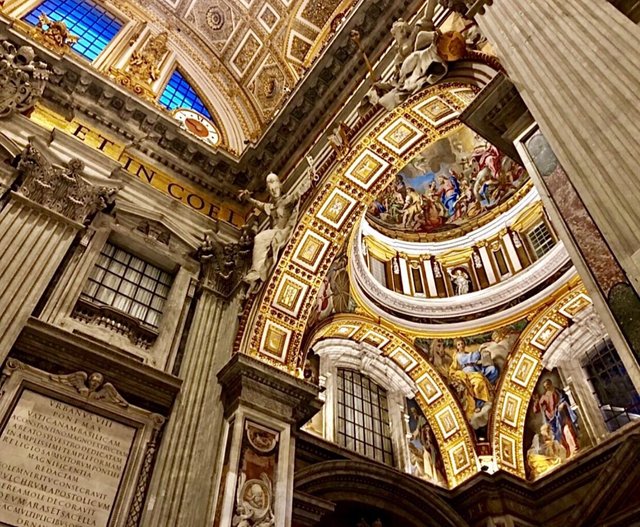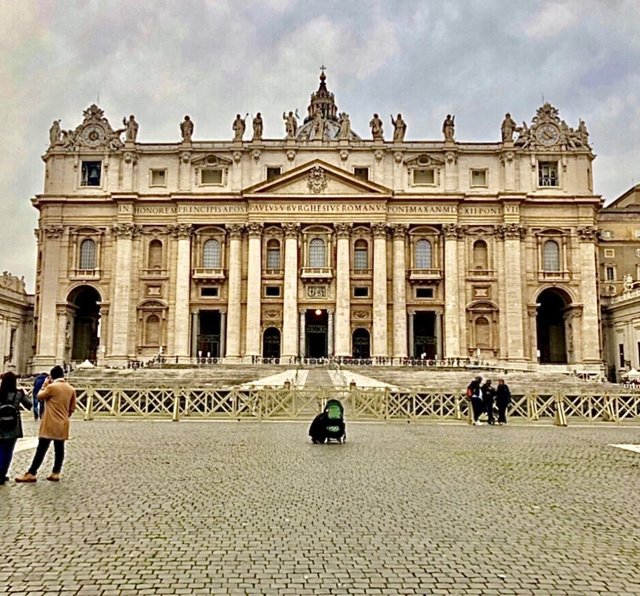 When deciding on a cover image proves impossible, feature the brightest one first followed immediately by a second equally extravagant cover image—welcome to the Vatican. Located inside the walls of Rome's city center lies a smaller walled off settlement of Italy. Encompassed by a 39 foot tall wall is an independent city-state that's protected on every corner by assault rifle toting military servicemen and servicewomen in fatigues, with only one way in, one way out, and airport grade security screening—Vatican City, the smallest country in the world.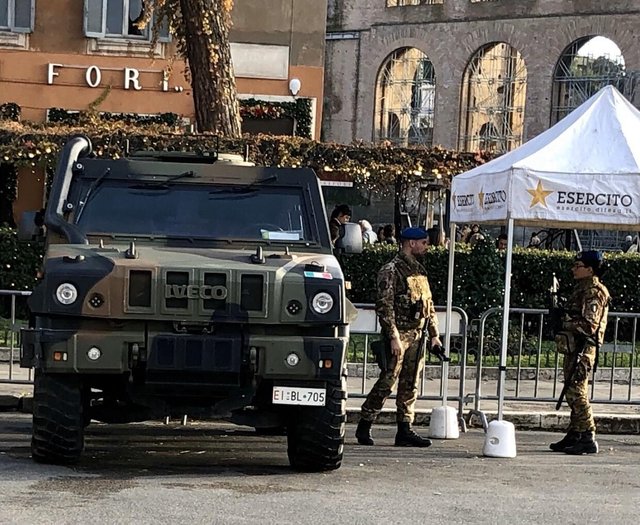 Images - iPhone 8+
The cover image is called Musei Vaticani, one of four corridor ceilings at the main entrance of the Vatican, painted by Michaelangelo and completed in the year, 1499—a centered picture of the same painting is featured a little later in this article, followed immediately by his critically acclaimed sculpture, Pietà. The second cover image is the striking appearance of the Vatican as it appears today after nearly 2,000 years since its original construction began—40 AD.
The remaining ceilings you're about to see, the ones not painted by Michaelangelo are gold. You read that right, "gold." My plan is to steadily build up this Roman series of articles for you until I have just one left, the finale. At that point, I'll reflect on each of them and go into greater detail about the iconic structures lining the streets of Rome as well as this luxurious structure and its 24kt gold plated ceilings but, for now, just know the images you're about to see are not paint—that's the precious metal lined ceiling inside the Vatican at heights between 68 and 120 feet.
Vatican City—built on top of St. Peter's Basilica required a team of architects including, amongst others, Michaelangelo di Lodovico, Buonarroti Simoni (known as Michaelengelo), and Gian Lorenzo Bernini. Some of the most appreciated paintings inside the Vatican were commsioned by Italian painter, Caravaggio. Other highly anticipated #art inside the Vatican were commissioned by Michaelangelo, Leonardo da Vinci, and Raphael (Rafello Sanzio)—the brilliant Italian painter who died at the young age of 37 who is since recognized as the "supreme High Renaissance painter" and argued to be more versatile than all of the other artists responsible for the masterpieces on display inside the Vatican.
The sculptures outside the Vatican, as well as those found inside, lining the walls both high and low, up and down each corridor, have a team of artists responsible for their creation. Those artists include, but not limited to, Giovanni Antonio Campani, who's responsible for sculpting the "fainted" Cleopatra. Athens, Greece sculptor, Leochares, who's marble sculptures include The Greek God Apollo, The Diana of Versailles, and the highly celebrated sculpture of Apollo Belvedere. Colonna Venus, an ancient sculpture of the lost Aphrodite of Cnidus, was commissioned by 4th Century BC Greek artist, Praxiteles, who is also the very first artist in #history to sculpt a life-size nude female. The list of world renowned artists whose sculptures are currently on display inside the Vatican is extensive—click here for a complete list of all who are responsible.
The final piece of art I'd like to bring to your attention, also pictured in this article, is St. Peter's Baldachin, a 94 foot tall bronze sculpture, commissioned by Gian Lorenzo Bernini in the mid-17th century. When I first saw the sculpture, I thought it was a fine piece of rare wood. It wasn't until I began researching this article I was made aware it's actually made of bronze. The sculpture is roped off and monitored by Vatican security with people all around it taking pictures while admiring its brilliance. I watched as a couple of people were granted access to the structure so I approached security and asked them if I could get a closer look. I was asked my purpose for approaching the sculpture to which I responded "I want a better picture" and was denied—apparently that's the wrong response.
St. Peter's Baldachin rests at the far end of the Vatican and draws your attention immediately upon entering the multi-century old Catholic Church draws an estimated six million tourists per year. In comparison to other world famous attractions nearby such as the Colosseum, drawing an estimated four million tourists annually, and Trevi Fountain, drawing nearly seven million tourists annually, St. Peter's Baldachin is one of the most highly sought after tourist attractions in all of Italy.
The official picture tour of this article has begun. Stay tuned as @puravidaville and I continue sharing our remaining two week tour of Rome, Italy, with you—thanks for following along and enjoy the show!
The Vatican - Vatican City, Italy