So as some of you are surely aware, we have a bit of a celebrity musician on steemit - @benleemusic is the actual real life musician Ben Lee and he has signed up become an active steemian, best yet he just entered Open Mic!
So for those of you not already on the Ben Lee bandwagon or a little unfamiliar with his story - here's a little bit of the back story (Cheers to Wikipedia for the extra info and dates here):
Ben is an Australian singer and songwriter
He started his music carer at only 14 year of age with the band Noise Addict, they were signed to label Fellaheen Records
His solo carer started at 16 years of age (seriously people what were you up to at this age, I may have been singing but I wasn't making anything happen with it)
He started recording his first solo album "Grandpaw Would" with producer Brad Wood
In 1997 he recorded his second album "Something to Remember Me By" also produced by Wood
His song "How to Survive a Broken Heart" was featured on the "There's Something About Mary" soundtrack
The songs "Cigarettes Will Kill You" and "Catch My Disease" both reached No. 2 on Tripple J's Hottest 100 (a big honour and traditional day of music in Australia, aka what to listen to on Australia day during the barbie and beers)
-The song "Catch My Disease" was featured on the sound tracks of both "Just Friends" and "Deuce Bigalow: European Gigolo"
"Catch My Disease" was also featured on the soundtracks of the television series Grey's Anatomy, Hidden Palms and Scrubs.
His 6th album featured artists like Mandy Moore and Benji Madden
in 2009 his 7th album featured artist Missy Higgins and Patience Hodgson and peaked at No. 21 on the ARIA charts
In 2013 he featured as a mentor on Joel Madden's team in the Voice Australia
Really the list just keeps going.
His Albums include:
Grandpaw Would Released: 22 June 1995
Something to Remember Me By Released: 20 May 1997
Breathing Tornados Released: 16 November 1998
hey you. yes you. Released: 15 November 2002
Awake Is the New Sleep Released: 22 February 2005
Ben Lee Sings Against Me!'s New Wave Released: 19 August 2007
Ripe Released: 18 September 2007
The Rebirth of Venus Released: 6 February 2009
Deeper into Dream Released: 11 October 2011
Ayahuasca: Welcome to the Work Released: 22 April 2013
Love Is the Great Rebellion Released: 29 May 2015
Freedom, Love and The Recuperation of the Human Mind Released: 21 October 2016
Ben Lee Sings Songs about Islam for the Whole Family Released: 3 March 2017
Radnor & Lee (with Josh Radnor) Released: 10 November 2017
His musical nominations include:
2008 ARIA Music Awards, Best Independent Release for Ripe
2006 ARIA Music Awards, Best Male Artist for We're All In This Together
2006 ARIA Music Awards, Best Pop Release for Into the Dark
2006 ARIA Music Awards, Best Independent Release for We're All In This Together
2005 ARIA Music Awards, Album Of The Year for Awake Is the New Sleep
2005 ARIA Music Awards, Best Pop Release for Awake Is the New Sleep
2005 Australian Music Prize, for Awake Is the New Sleep
2003 ARIA Music Awards, Best Male Artist for hey you. yes you.
1999 ARIA Music Awards, Album Of The Year for Breathing Tornados
1999 ARIA Music Awards, Single Of The Year for Cigarettes Will Kill You
1999 ARIA Music Awards, Best Male Artist for Breathing Tornados
His musical Awards include:
2005 ARIA Music Awards, Single Of The Year – "Catch My Disease"
2005 ARIA Music Awards, Best Male Artist for Awake Is the New Sleep
2005 ARIA Music Awards, Best Independent Release for Awake Is the New Sleep
2005 ARIA Music Awards, Best Cover Art for Awake Is the New Sleep
2006 APRA Music Awards, Song of the Year – "Catch My Disease"
2006 APRA Music Awards, Most Performed Australian Work – "Catch My Disease"
So yeah he is kinda in the music scene and he is here on steemit, so I am loosing my shit a little bit and of course just fan girling out a bit - I mean I did grow up listening to his music, so to have sudden access to him on a whole different level is rather surreal.
Now in my enthusiasm I got a little ahead of myself, I should state I have been a fan of Ben Lee's music for a good chunk of time now, he first came into my attention with the massive hit "Cigarettes Will Kill You" in 1998 - I was in grade 8 just entering high school and what can I say his lyrics spoke to me and I was hooked.
So imagine my surprise when I see him posting under the Team Australia tag, I set out to verify it was really him - and sure enough it was! There he was posting videos of himself, talking about steemit and encouraging people he knows (aka famous people, fans and followers) to join the platform.
He has started off his journey as a steemian with the great promise, regularly posting and replying to comments - not to mention all of the juicy never before seen or heard gold, like this piece he recorded with Kylie Minogue.
Kylie Minogue and Ben Lee
The really amazing thing about this track isn't just that it features Kylie's vocals, the song was written by Ben Lee and his then 7 year old niece - what an amazing idea and a huge treat for us, hearing a never before heard song featuring Kylie Minogue I still can't get over it!
His journey on steemit only started 25 days ago, but that hasn't diminished his real world impact on raising awareness of steemit - here he posts about Blondie (yes that Blondie - Debbie Harry) re-tweeting his steemit link!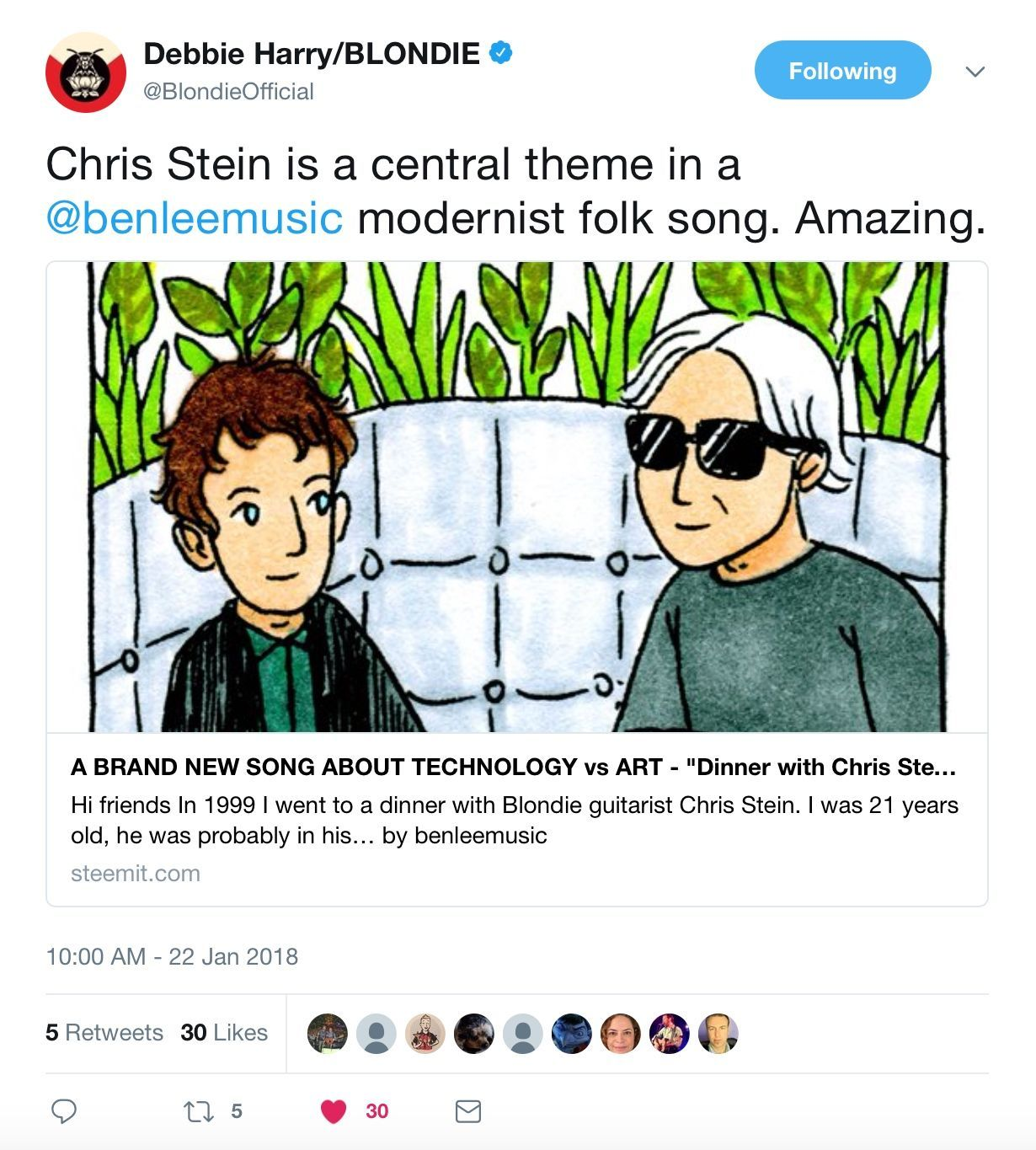 So why am I giving him a shout out, well firstly as I said I am a fan I love his music - but secondly I think that he will be blown away, by the musicians we have here at Open Mic!
I feel he is a valuable steemian for a few reasons, he makes high quality original content, he comes with his own existing following that he is telling about steemit, he is actively learning how to best act on the platform asking and taking advice, he has no sense of entitlement and was seemingly surprised when I asked if he would mind if I wrote this post, he has access to musicians and people in the music industry most of us would kill for, he is humble and gracious and seems to be the perfect fit for our budding community.
Well there are more reasons but I'm sure you guys get the gist, you may have noticed I mentioned when I spoke to him - yes through steemit I got my first chance to engage with him, that alone really made my day but then to have him ask my advice just shows he is here for the right reasons and wants to do well.
I thought the Open Mic community would be the perfect place for him to come and hang out, meet some other amazingly talented musicians and who knows what the future possibilities could bring!
I asked him if he would come and check out our top entrants from the Songwriters Challenge, he then blew me away with this: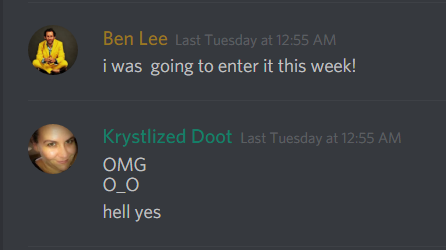 This is when I learned he was planning on entering our Open Mic, I was a little gobsmacked but super stoked - and as you can see the lovely @choogirl legendary TeamAus member and recruiter, called out the possibility of things being a little unfair for him to enter.
So publicly there in chat and here now in this post, he has a LOT of serious competition - I am a very strict with my judging and I take my role very seriously, I will only award the very best entries I hear each week.
I mean seriously guys have you been listening each week, I don't say it for fun but we have countless entrants that in my opinion should be at Ben's professional level already - he has skills don't get me wrong I'm a fan, but I have also become a massive fan of so many of our entrants!
Now there is so much I could go on about here, but I am trying not to make this one of my massive posts - that is a little hard when there is just so much content to draw on and talk about, but I think it's important to share some more of his music.
So here is a combination of different songs of his and even an interview I found he did here in Aus a few years back, just to give you an idea of his music, who he is and what he is about:
"Catch My Disease"
"Were All In This Together"
"The Will To Grow"
"I Love Pop Music"
A beautiful cover for his daughter on her birthday "Daughter"
"Happiness"
"In The Silence"
"The Body of Love"
"Gamble Everything For Love"
"Love Me Like The World Is Ending"
TV Interview
---
Now for some newer tunes
"Doorstep"
"Hello My Beloved" by Radnor and Lee
Live from Josh's couch
Interview with Radnor and Lee
"All Shall Be Well"
"It's Yours Once You Give It Away"
"You Can't Fire Me, I Quit"
This is one of Ben's latest musical endeavours, where he and fellow band member Josh Radnor play truly poetic music together - for me this music is intrinsically linked with the lyrics, which take you on deeper journeys into reflection of life, love, even existence itself.
I am having a hard time trying to pick just one favourite, so a few I really really enjoyed are "Doorstep", "It's Yours Once You Give It Away" and "You Can't Fire Me, I Quit" - these three, I just fell for immediately and have listened to countless times over.
I'm sure by now you can understand why I am a big fan of his music and him in general, so I think he deserves a proper welcome from Open Mic'ers - Team Australia has already come and claimed their prize, welcoming him to the team I'm sure Open Mic can do the same.
Well I hope to see you all dropping by and giving him our traditional Open Mic welcome, we are community that prides itself on diversity, a love of music, support and compassion - our community is filled with insane talents with seemingly endless supplies of content he is just another to join our ranks, let's show him what Open Mic can and has been doing for musicians everywhere!
All the proceeds (Steem and SBD) of this post will be donated to @benleemusic for him to use as he wishes
What's your favourite Ben Lee song?

Like what you've read so far?
Check out my story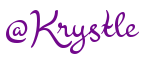 or follow me on twitter @krystlehaines
Please consider voting @ausbitbank for witness here