Steemit Open Mic Semana 91 | Atrapados (original song)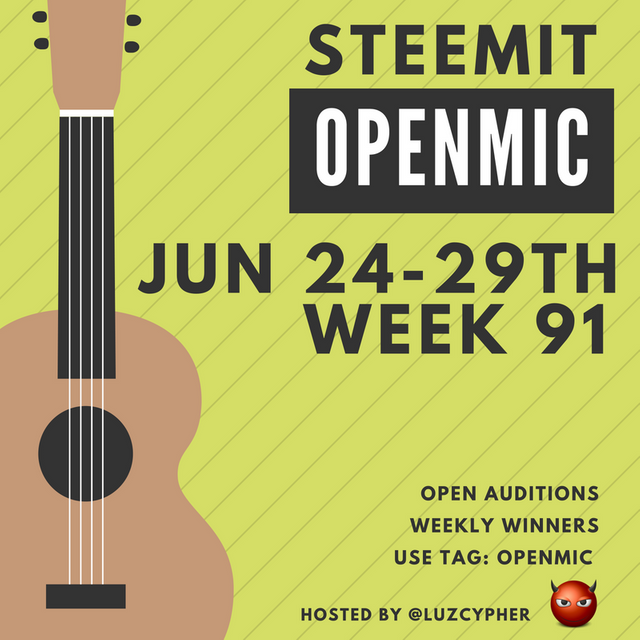 ¡Hola, amigos de Steemit!
Esta semana, para participar en el Open Mic, les traigo una canción original, "Atrapados" se llama; y es realmente una canción muy muy especial y única para mí, ¿y cómo no? Si la compuse yo misma, con ayuda de la persona más especial en mi vida, mi novio❤️,
@rodgamag
, él es la persona que más me apoya en el universo, y está todo el tiempo para mí, cuando más lo necesito, es alguien verdaderamente increíble en todos los sentidos existentes posibles, y lo amo con mi vida entera.
Ahora les contaré algo de mí.
Personalmente pienso que el arte de la música está en ser transparente, en relatar lo que ves, y lo que sientes, y cómo lo sientes en puño y letra (componer/escribir canciones), haciendo que cada verso concuerde, que cada palabra exprese una historia, logrando que en cada nota, tu voz se convierta en una sola con los acordes de los instrumentos que utilices. Es increíble el sentimiento, pues queda grabada una parte de ti en cada canción que escribes, una parte de tu corazón queda allí, y es lo que causa la música día a día en mi vida, ese furor que me da vida, y que me permite ser yo siempre. Y FELICIDAD! Lo más importante, pues feliz me siento de formar parte de esto, de este asombroso universo musical, y afortunada además. Agradecida estoy con ella hasta el final de mis días, pues, como muchas otras cosas que amo, la música es una de las que, sin duda alguna, le da sentido a mi vida.
Bueno, sin más preámbulos, espero que disfruten de mi canción, y que logren sentirla, como lo hago yo!
Letra:
Siento que las palabras son un juego
Veo que tu alma tiene miedo
Estamos como locos de cabeza
Me ves, te das cuenta que te enredas
En mi arte, ignorante, tú no expresas
Lo que amas,
Lo que quieres,
Lo que en verdad tú no entiendes es que...

Coro:
No, no me importa tu emoción
No quiero más tu compresión
Igual, no te guardo más rencor
Y no, yo no quiero tu perdón
Quiero ser tu perdición
Y no soy la única en esta situación.

Un alma está en silencio
Y el pacto es incorrecto
No me gusta estar lejos
Pero te vas, y yo festejo

Coro:
No, no me importa tu emoción
No quiero más tu compresión
Igual, no te guardo más rencor
Y no, yo no quiero tu perdón
Quiero ser tu perdición
Y no soy la única en esta situación.
(x2)
Now in english, for those who doesn't speak Spanish😉
Hello, friends of Steemit!
This week, to participate in the Open Mic, I bring you an original song, "Caught Up" is called; and it's really a very special and unique song for me, and how is it not? If I wrote it myself, with help of the most special person in my life, my boyfriend❤️,
@rodgamag
, he is the person who supports me the most in the universe, and he is there all the time for me, when I need it the most, is someone truly amazing in all possible existing ways, and I love him with my whole life.
Now I'll tell you something personal.
Personally I think that the art of music is in being transparent, in telling what you see, and what you feel, and how you feel it in your own handwriting (composing / writing songs), making each verse agree, that each word expresses a story, making that in each note, your voice becomes one with the chords of the instruments you use. The feeling is incredible, because a part of you is recorded in each song you write, a part of your heart is left there, and it is what causes the music day by day in my life, that rage that gives me life, and that it allows to be me always. AND HAPPINESS! The most important thing, because I feel happy to be part of this, of this amazing musical universe, and lucky as well. I am grateful to her until the end of my days, because, like many other things that I love, music is one of those that, without a doubt, gives meaning to my life.
Well, without further ado, I hope you enjoy my song, and that you can feel it, as I do!
(Link is UP there!)
Lyrics:
I feel that words are a game
I see that your soul is afraid
We are like crazy heads
You see me, you realize that you get tangled
In my art, ignorant, you do not express
What you love,
What you want,
What you really do not understand is that...

Chorus:
No, I don't care about your emotion
I don't want your compression anymore
Anyway, I don't hold more rancor
And no, I don't want your forgiveness
I want to be your downfall
And I'm not the only one in this situation.

A soul is silent
And the pact is wrong
I don't like being far
But you leave, and I party

Chorus:
No, I don't care about your emotion
I don't want your compression anymore
Anyway, I don't hold more rancor
And no, I don't want your forgiveness
I want to be your downfall
And I'm not the only one in this situation.
(x2)