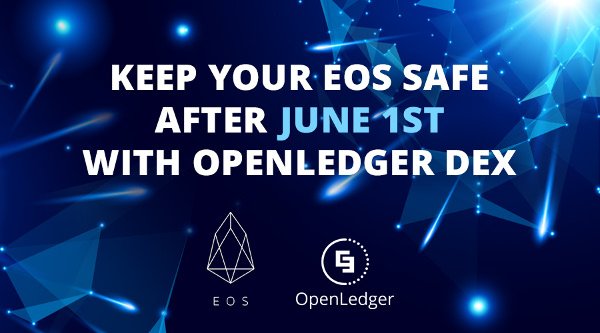 Hello, friends, investors and OpenLedger DEX users!
Interested in getting core tokens on the EOS blockchain?
OpenLedger DEX will connect users with the new EOS blockchain when it becomes available this summer.
If you've taken part in the EOS token distribution, you should know that all EOS Tokens will become fixed (non-transferable) on the Ethereum blockchain within 23 hours of the end of the final EOS Token distribution period, on June 1, 2018 at 22:59:59 UTC.
So it's important to make sure that your ERC-20 compatible tokens are in a compatible private wallet before that date!
When that date does arrive, there will be a transition period during which all EOS tokens will roll over to the new blockchain automatically.
We're happy to announce that OpenLedger will be taking particular care of its users during this exciting but uncertain time.
We'll handle your security in case of emergency and fraud, and you can deposit, store, trade, transfer your open.EOS tokens before, during and after the official EOS release moment, without worrying about your ETH wallet, private keys or transferring.
That makes OpenLedger DEX the natural choice to store and trade your EOS tokens safely and securely.
If you have an OpenLedger DEX account, you can just log in and trade as normal. If you don't, getting one is easy, quick and gives you access to multiple currencies across multiple blockchains as well as a crypto-fiat exchange. Sounds good? Go here and get started!
Best wishes,
The OpenLedger DEX team.
Follow OpenLedger on socials
---
www.openledger.info