Fellow Steemians,
I have a problem.
I am 100% addicted to Steem Monsters.
The problem is not the addiction (I have many), the problem is I am going to lose my job as I am doing nothing else but playing.
However, there is a fantastic solution. Very soon @steemmonsters will allow the delegation of cards.
Practically, this means ANYBODY can get an opportunity to play at the top with fully maxed out card sets etc.
Are you my saviour and the new Steem monsters champion?
If you like playing and you're good, I am giving you the opportunity of a life time, I will delegate my maxed out card set to you and we just split the profits.
I am a very dedicated winner in everything I do and I will share with you all the strategies and secrets to win many tournaments and become a top 10 player.
If you don't have a clue what kind of money we are talking, just look at the price pool of the tournaments. If you are young and smart and living in an Asian country, you could become the first pro game player in the world.
I don't have many pictures but here is one with a Proof of money-making, I won the very first automatic tournament in the diamond league, good for 275 steem and you know that will be worth 2000 USD soon :-)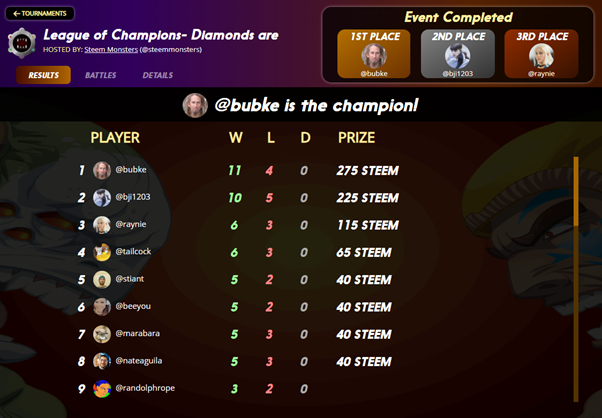 Every 2 weeks there is a new season, rank number one is good for a 100! Bonus packs and you can get loads of reward cards too when you are playing in the highest league.
Impossible? Not at all! The secret is time, patience and off course good game play.
A quick fresh screenshot to show off a bit :-)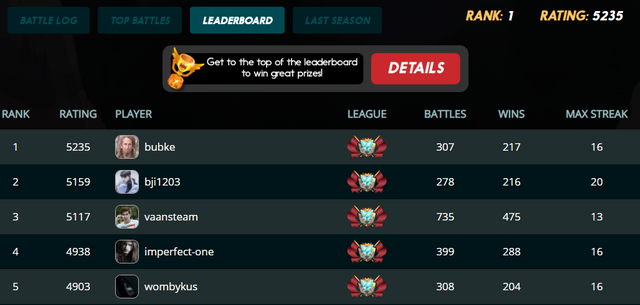 The only difficult issue
My only problem with this action is finding the right candidate. I think the 2 most important things needed are time and that extra thing. That extra thing is knowing exactly which 2 teams are strongest in each type/manna game (that's easy) and feeling your opponent, what will he/she play, is it a creative player or a copy-paste player etc?
If you are interested, let me know in the comments and we can talk further in private through discord or something.
If you think automatic tournaments was the biggest thing coming to Steemmonsters, think again, delegation will change everything (again)!
The creators of Steemmonsters are true creators, the game is bound to succeed big time. I discovered @yabapmat on Steem before he was programming for Steem, he is a super talented programmer and I am so glad he took the leap towards Steem. I met @aggroed on my first SteemFest this year, he is the perfect complimentary companion to @yabapmat, he knows how to get things done and has all the insights needed to get wherever he wants to get.
Get in there! It's all about the 'who' behind the curtains!
Much love!
bub