Top 6 lessons we learned when moving off the grid and what we would do differently!
If people are serious about moving off the grid, then might as well learn from those who took the leap already.  I am not afraid to admit that we learned a LOT when we sold everything and moved out into the country over 10 years ago.  If I had to do it again, I would make some changes to save money, work, heart ache, blood, sweat and tears.  So if you are interested in this life style, then here are some of the top mistakes we made and what I would do differently.
Build a much smaller earthship
When we started our project we thought that the priority was to build a home.  Since we did not know any differently, we built a home the size that most modern homes are built - huge.  The earthship is 1500 square feet with a 700 square foot atrium on the front, bringing the total to 2200 square feet.  What we found was that building an earthship this big requires a lot of resources, time, energy and work.  As a result, it took us two years to get it to the point where we could at least move in, whether it was done or not.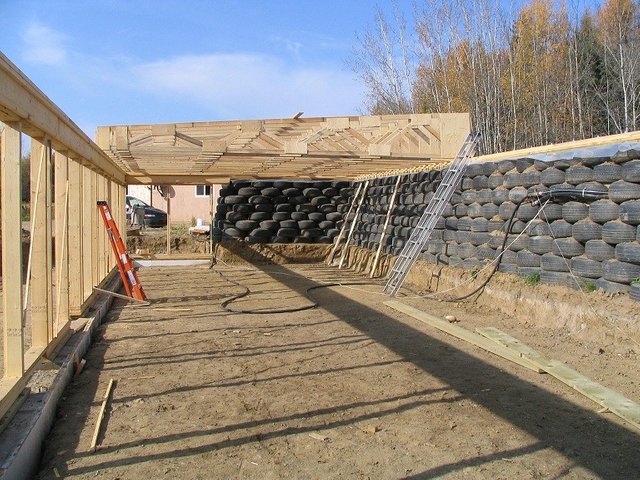 Because it took so long to build, we ended up chewing through a lot of the cash we had to do this project.  We had to stop working on the earthship and direct our efforts to other matters which I will discuss below.  Our objective was to do this with no line of credit, no mortgage, no debt of any kind.  So everything had to be done out of pocket.  
What we did not realize was that living off grid is very different than living in the city.  When we were in the city we lived in the house.  While living off grid we live out side.  So the need for a large building did not exist and we could have easily accomplished our goals with an earthship that was around 500 - 800 square feet rather than 2200!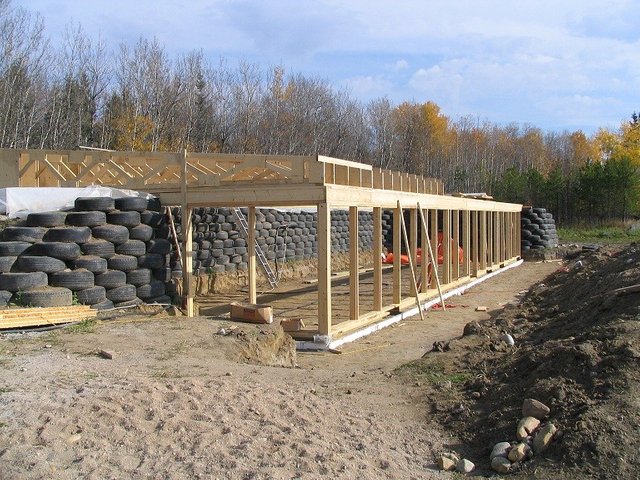 This ended up being a lesson in knowing the difference between needs and wants.  So if we were to do this again, our home would be much smaller.  That would significantly reduce the capital, time and energy required to get the building done and increase the probability of finishing the building and all the other goals and infrastructure needs.  It would also ensure that our capital, which is scarce, would be best utilized for key infrastructure requirements to help us get ourselves established.  Because we failed to do that we had to get really creative in acquiring the things we needed to get setup.  We learned valuable lessons as a result of this experience and I'm grateful for it!
The tiny house movement will have a significant impact on those who want to move off grid.  We built a tiny home and it was a project that can be moved and will easily keep an individual warm during the cold winter nights in the northern climates.  It took about 700 hours to build and it finished nicely.  That will go a long way towards maintaining a healthy relationship with ones spouse!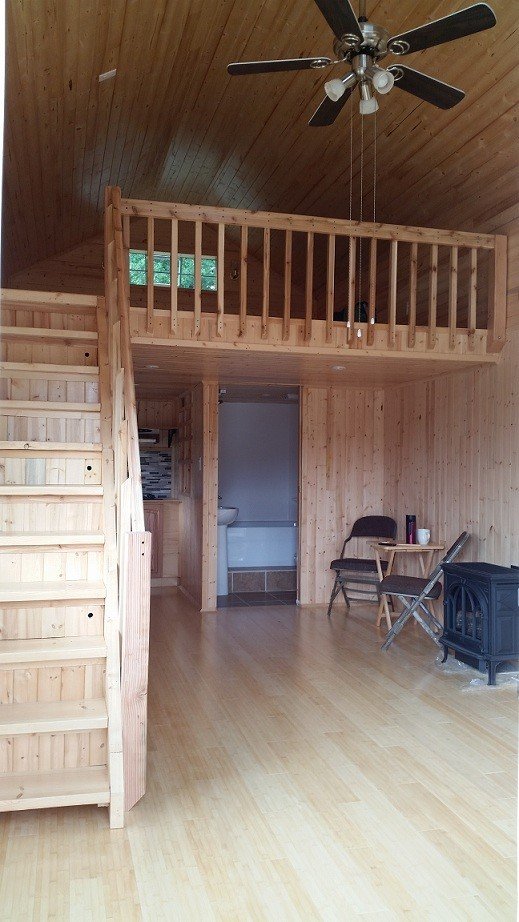 Establish our economy
When we worked on our project we had two earthships to build as we partnered with another family.  We worked on their earthship first before working on ours.  As a result we were living in the shop for three years before we moved into our home.  Through that time we used our capital to pay for our day to day expenses like food.  This ended up being a huge mistake as the capital got spent and did not allow us to finish our earthship.  We quickly figured out that we were in trouble, so we stopped working on the buildings and started working on gardens and a barn for raising chickens and vegetables so that we can start growing our own food rather than spending capital to by it from the stores.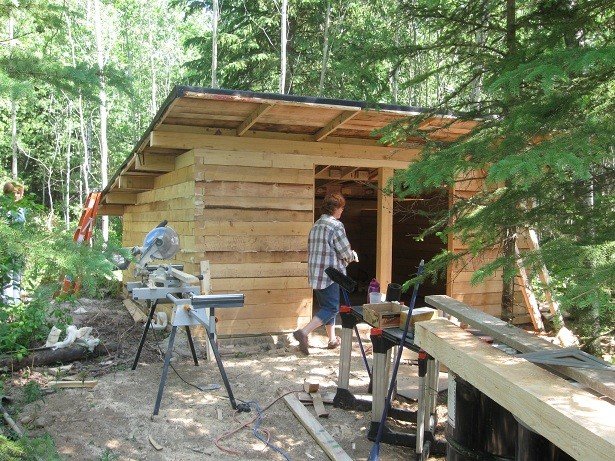 We built a small 15x15 barn to house the chickens and we have also used it for goats as well.  We ended up with outside paddocks over time as well, but this simple structure has really helped us keep our live stock safe and warm through the cold winters, which provided us with eggs, milk and meat.  If I was to do this again, this would be one of the first projects to do so that we can become as self sufficient as quickly as possible in order to best utilize the capital we had for this project.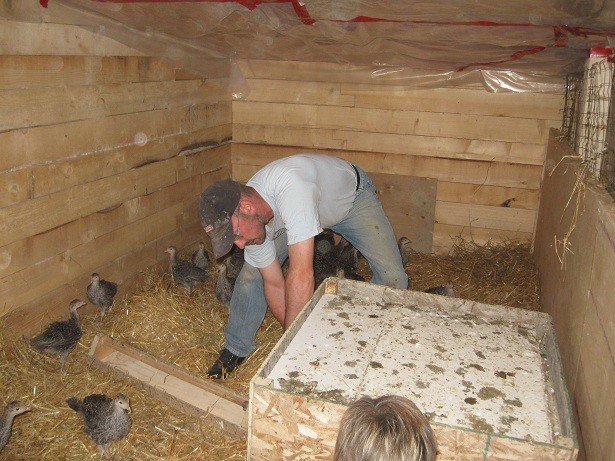 We also realized after a few years that raising animals requires a lot of work, resources and capital.  The industrial food system has turned animal products into widgets and can produce them cheaply as a result.  That has caused these products to be viewed as inexpensive when in actual fact they are VERY expensive.  As a result of this lesson, we drastically cut back on the volumes of animals that we keep and instead ramped up our gardens and greenhouses.  With our production more in balance, we find that our gardens produce about 90% of our food and our animals account for about 10%.  This is a much healthier and more sustainable ratio for anybody wanting to become self sufficient in food production.  
Tool up properly
When I had capital there is a strong desire to purchase what I needed, so purchasing solutions, lumber and other things was direction we took with our project.  However, once the capital started running out, that required we get more creative and start making our own solutions rather than purchasing it from the industrial system.  
For example, we could have taken the $7000 we spent on lumber for the earthship and used that money to purchase a wood mill.  We would have had to mill our own lumber for the earthship, but then we would have a tool to then build the barn, sheds and other infrastructure we needed for our project or help others as well.  It would have been more work, but at least we have the raw materials to accomplish that goal and the tools to work with those materials.  Other tools like a good wood splitter and wood working tools would have proven beneficial for the project in the long run as well.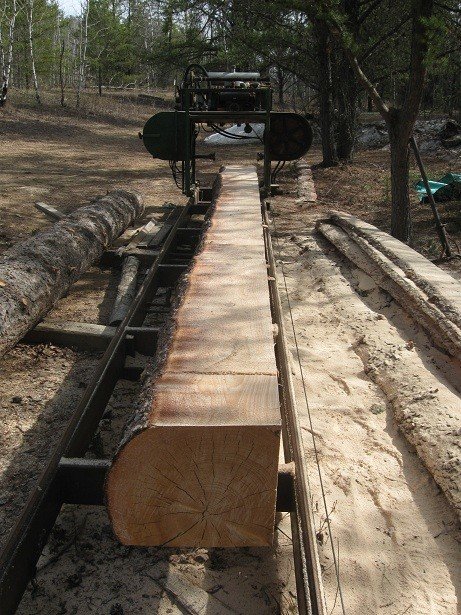 We did get creative and found out that a neighbour had a mill which we used to build the 4x6 timbers for our small barn.  But if we had our own, then we would have been much farther along in our project by utilizing our capital properly.  Also, don't cheep out on the tools.  We purchased a cheep box store chain saw and I was very disappointed in how long it lasted.  So I then invested in a high end chain saw and it has not let me down.  I would say the same thing about generators too. 
Re-purpose, scavenge & get creative
As I hinted above, we used capital to purchase a lot of the materials we thought we needed for the project.  Once the capital ran out, we then turned our efforts to being creative and finding alternative solutions to solve the problems we faced.  As a result I have learned how to make stuff out of garbage that people throw away or give us.  I've made numerous wood stoves out of water pressure tanks found in the dump and have all kinds of materials donated.  Whether it is a wood stove heated hot tub, stock water tank that can keep the water from freezing in the winter or a solar food dehydrator all made from garbage, it proves that with some creativity, time and effort, we can make all the things we need with very little capital at all.  If I took this approach right from the beginning, I am confident that we would have been able to make our capital stretch for several more years and allowed us to finish our projects.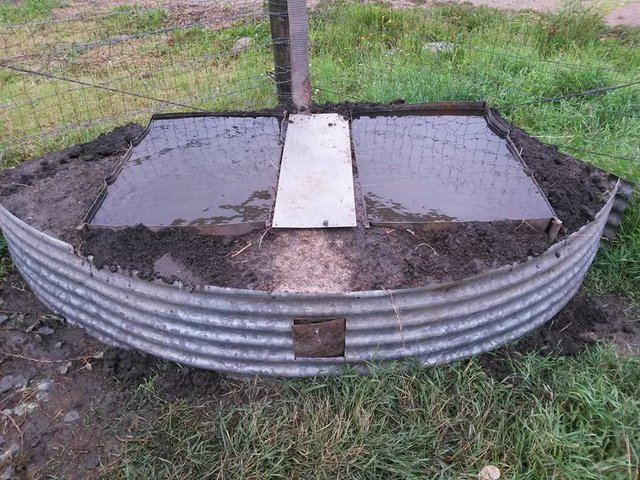 This stock tank was built with 100% recycled materials and will keep the water from freezing during the winter without an electric heating element.  There is a small stove under the water and earth that when burned for 5 hours will keep the water thawed for up to three days during -30C weather.  Cost:  few hours of labour.
Stoves
This may seem strange, but the wood stoves that I purchased when we started this project was not what we needed.  A wood cook stove has made the biggest contribution to our independence because it allows us to cook on it and heat the home at the same time.  The downside is that the fire box is small so it will not burn all night.  However, the barrel stove that I just built does the job way better than any stove I've built or purchased.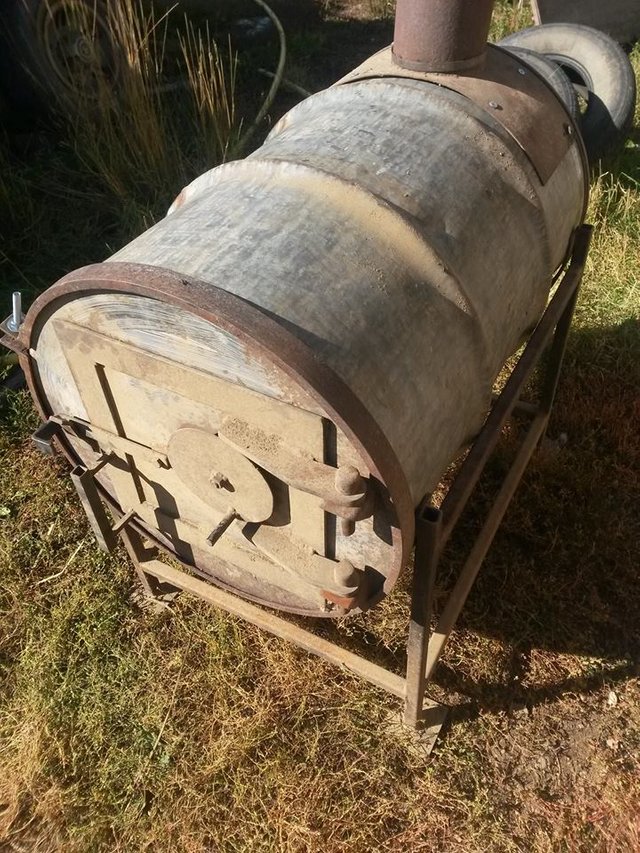 We put this stove in a few weeks ago and I am very surprised at how much heat it produces and it will burn all night long too.  I had a good friend give me the parts and I had a heavy steel barrel already, so it only cost me $7 to make this stove.  The wood stove we purchased ten years ago cost $2200.  So when I contemplate the best bang for the dollar, this home made stove wins hands down.  So don't be afraid to play around with solutions like this.  Be safe about it and make sure you don't burn your house down.  But with the proper research and due diligence, great accomplishments can be had and it is also very rewarding as well.  
Needs vs Wants
This topic is by far the biggest lesson for us throughout the last ten years.  We quickly realized that our task was to ensure that all our needs were being met and to be discerning to make sure that our wants did not interfere in that goal.  When we ran out of capital, this skill was an absolute necessity!  Being able to evaluate whether our goal was meeting a need or a want was a huge lesson for us.  For many years we just got what ever we wanted, but when living off grid, our wants became secondary as we are now 100% responsible and accountable for our needs.  We could not jeopardize a need because of our desire for things that satisfied our wants.  To ensure our survival, Carey and I would sit down each morning during our daily planning session and prioritize our tasks ensuring needs were being met.  On occasion our wants were satisfied, but they must never jeopardize our needs and that has really helped us make the best of this experience living off the grid.  Now that the infrastructure is in place to provide for our needs, we now have the luxury to start working on some of our wants which brings some luxury into our lives.  No reason one cannot enjoy luxury while living off grid.  Building my hot tub was one of the best feelings in the world!  
I'm sure there are lots of other mistakes we made not listed here, but these were the biggest ones.  If you have made any mistakes and learned from them, feel free to share so that others can benefit from years of experience, wisdom and life!