Task #14: Let's Find Prominent Steemians!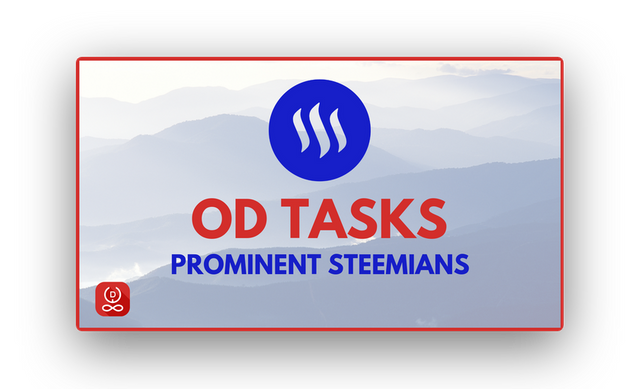 Hello Everyone,
This task is a bit different from what we have usually. We would like to make a list of prominent Steemians and hence we need your help.
WHY ARE WE DOING THIS?
Find amazing video content creators(vloggers, technical reviewers, blockchain/ Crypto influencers etc.) who are having highly engaged audience or who are deplatformed/ demonetised from other social platforms like Facebook, Twitter, Youtube etc. More info in TO DO section below
REWARDS
Every valid entry is eligible for a small upvote on their comment based on our own discretion.
TASK DURATION
Start date: 04 - June - 2019
End date: 11 - June - 2019 12AM UTC
MANDATORY GUIDELINES
Upvote & Resteem this post if you are participating.
TO DO
Mention/Tag steemians in comment section of this post as per following criteria:
a deplatformed or demonetised content creator (creator should have been demonetised or deplatformed from social media sites such as YouTube, twitter, facebook etc).
a great citizen journalist with a good following on you tube such as @lukewearechange or @pressfortruth.
a blockchain/Crypto influencer with a good following on other platforms such as Facebook, Youtube, Twitter etc. such as @crypto-daily .
You can tag as many Steemians you think who can satisfy any of the above conditions. But please don't overdo it!
Also, mention the reason and provide evidence to show why the content creators you are suggesting meet any of the above 3 criteria. [This step is most important. No rewards will be given if this is skipped by the participant]
If you are suggesting a Youtuber, they should have more than 40k subscribers. A few examples of such content creators will be mentioned in one of the below section.
NOTE - BEWARE!
Please do not use multiple accounts to make multiple comments. Only one comment per user is allowed. Mention all the suggested users and their reasons in the same comment. You can edit them before the payout day of this post.
No spamming allowed.
In case you are not sure what you are doing, please do not participate.
Do not mention anything in comments unless it is related to the task itself.
If you do not adhere to above points of this section, you might risk getting downvoted.
EXAMPLES
Please check this list of Steemians for example:
---