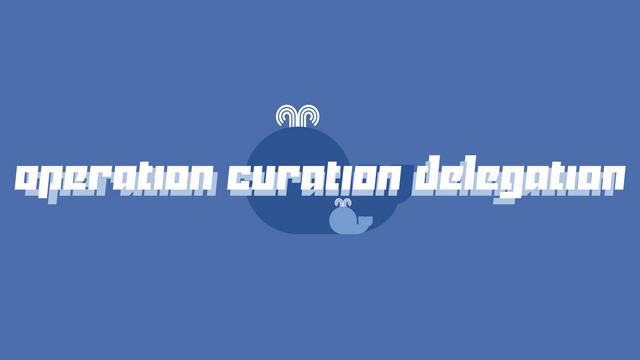 In case you haven't had the chance to read about OSD yet, we wrote about it in a post on the @ocd account a week ago, you can find it here.
I wanted to talk about how we will make sure to raise as many minnows so they get their slider permanently and over time grow the roster of active users having the delegation and growing alongside others. Our goal is not just to get as many as possible to 500 SP, but also to do it somewhat fast.
When we curate users with @ocd we have quite a thorough process of checking for plagiarism, the accounts history, etc before we curate them and at the same time add them to the @ocdb whitelist where they can continue to grow their stake by bidding for 10% profitable votes daily, currently at 20 SBD max per vote. Without getting too much into how @ocdb works and why it exists, etc, I just wanted to make sure people know that OSD will mainly be about already whitelisted users, but don't be alarmed as @ocd is daily curating new users which are added to the whitelist, many which will be of low stake since our priorities are newcomers.
What this means is basically that we are growing our activities in general for users that connect with @ocd and all of their services. This will be a nice combination and it is going to be exciting to see how quickly we can get people to have their own slider and hopefully this will increase engagement as they'll be able to vote on more posts daily without putting a strain on their voting power.
So here's an example:
User A who is a somewhat new account and posts 3-5 times per week gets curated by @ocd one day. With this he receives quite a big vote but this vote won't occur that often, especially not with more users joining our platform in the near future. User A is now whitelisted and eligible to purchase profitable votes from @ocdb. Even if said user has not been able to purchase Steem or SBD himself, the initial vote from @ocd will allow him to start purchasing votes from @ocdb. Since half of the stake is rewarded in SP and many don't want to power down to use @ocdb we have noticed that a lot of authors aren't using it because they can't, many have even started to power down just to use @ocdb as they know the votes give them a 10% profit from their bids meaning that long term they are growing from it by using it daily.
With @OSD, this user will receive a delegation up to 500 SP so he has his slider, at the same time @ocd-witness will be autovoting on his posts. Abuse when noticed will of course not be tolerated but the chances of that are low considering they have already been curated by @ocd once and if they are found to abuse they will lose their spot in the whitelist thus it's in their best interest not to. So while they are growing from posting, self-voting those posts and curation with the delegation we have provided them, they will also be receiving votes from our witness account and at the same time they will be easy to find for other curators as @ocd-witness will be following all the authors currently in the @OSD roster.
Over time we will also be undelegating a little here and there depending on their growth while still maintaining the slider for them, this will be done to allow more and more under 500 SP users to be in the roster at the same time. Even though we at @ocd are all long term oriented, prices are not that great right now so we will require to have an active power down on the account which in this case will work well for us cause 12/13th of the stake being powered down will be used to autovote on the roster of slider delegates.
We also plan on adding stats, such as how many minnows we have helped create, how much SP was raised through us and many more things, we believe this will be a fun incentive to have people be more active in curating these users on their new journey to get their own slider.
One rule we will be having will though be not to power down while the accounts are in the roster, we understand that some want to so they can purchase @ocdb votes but it will be unfair to other authors wanting to get into the roster if a user powering down will remain there forever. We believe that the added curation for example from my account, other OCD curators and any other user from the platform focusing on this will be enough to get them the liquids so they can also use @ocdb on a daily basis if they so wish. An account in the roster using all of the sources we provide will find themselves growing the fastest and we are looking forward to helping them out and guiding them in their journey.
If there are other ideas or things we can do differently in this scenario and you managed to read this far into my free write then feel free to let us know about them and we will of course consider adding them before we officially start the first roster of @OSD very, very soon. :)
Thanks for reading!
---