ArtVenture Contest: Boat with pastel chalk
---
---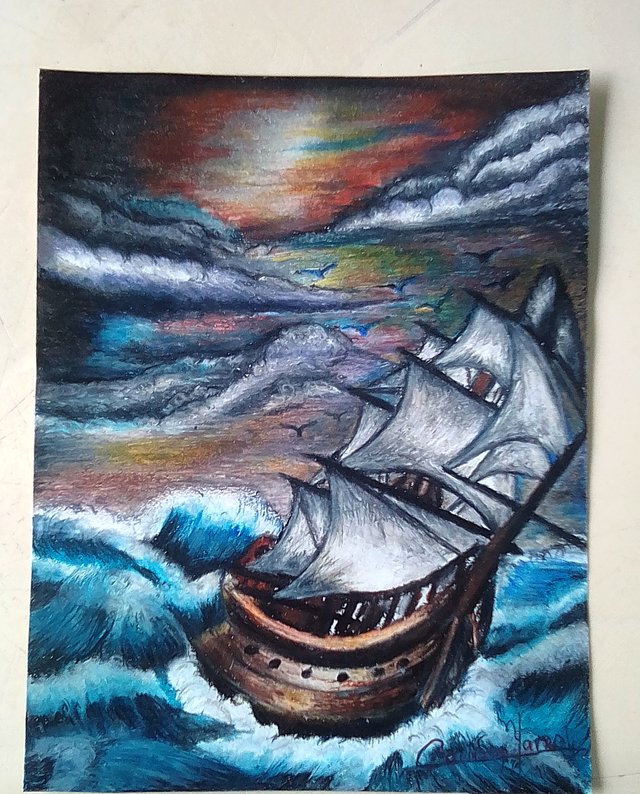 Good morning dear friends!
When I started making drawings here at #Steemit I did it with pencils only, because I was terrified to use the colors and also because buying materials to draw was too expensive (E Now, I can not imagine how much a pencil will cost...), after One time I was able to buy some school colors and little by little he was grabbing love and learning to use them. As artists we have to have the necessary materials to be able to carry out our work and I had the opportunity to buy several, among them some cake tizal. But I never used them! First because I did not know how to use them and secondly because I could buy the Wacom, then I just kept them in a trunk, literally...
A few days ago I saw the contest that performs @stef1 and his project @art-venture which deals with marine landscapes, if you have not seen it, look it up and you can see all the information about the contest. The fact is that it was just traditional art, so I thought... let's dust off, right? A good excuse to do something different and use the cakes for the first time, which was difficult, for God's sake! My fingers ache XD. The truth is, I do not know if I did it as I should, but beyond the pain I enjoyed using them and I wanted to learn how to use them better and do more things with them.
For my entry I made a boat that is a bit, just a little twisted XD. I wanted to do something like a rough sea with several waves and poor pirates are having a hard time, hmmmm but calm! it will get worse XD.
To start with my idea I looked for a recycled sheet, I made several attempts to make the boat and I was doing it wrong, until I looked for some images and saw what they were like, I oriented myself a bit and finished my doodle that was not useful at all but it was as the initial sketch, then I passed it to the special sheet for pastel chalks (that's what the package said...) to start painting.
Step 1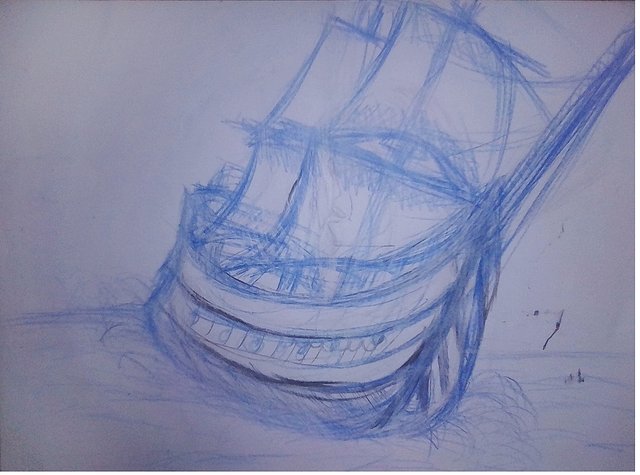 Step 2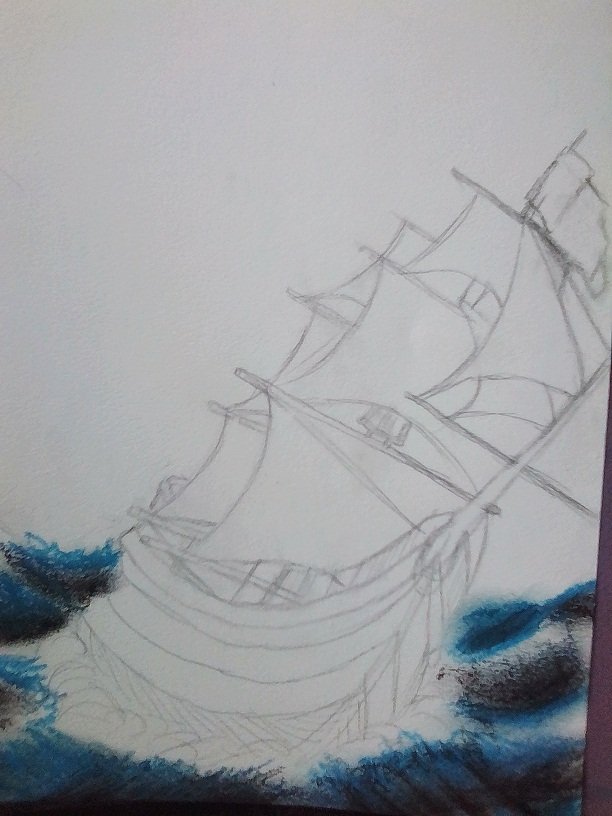 Step 3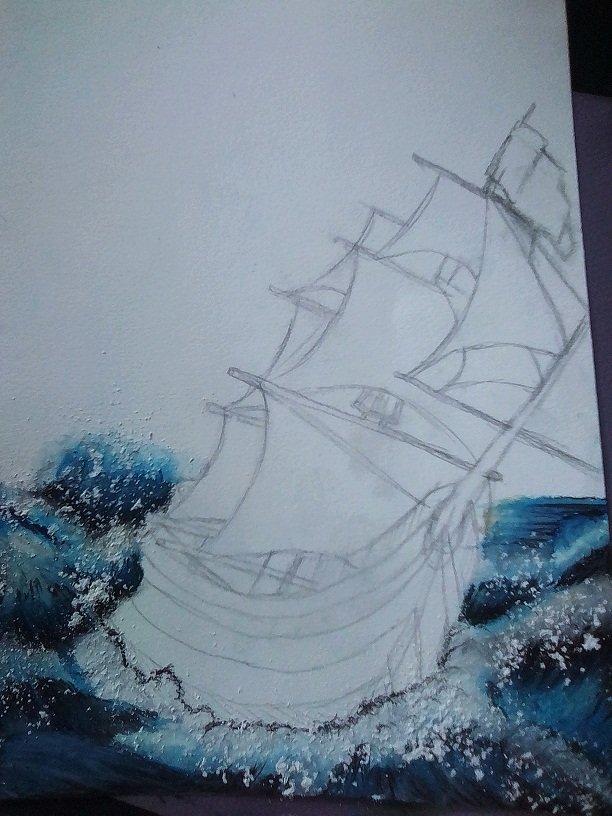 As I said before, it is the first time I used this material, so I had to look for some videos (the one I found had the boat side too LOL) to know how to use them, I was very happy because there was Internet on Wednesday, but then it failed and it was reestablished last night for about 2 hours I think and then my Internet failed again and it has not arrived yet, because of what I find myself publishing in a Cyber-Cafe at this moment. (The sources will be placed at the end...).
Step 4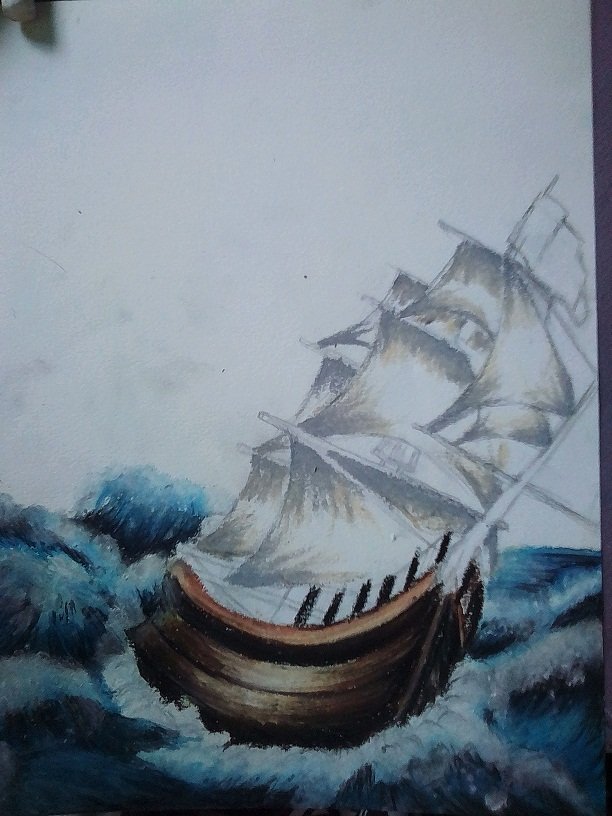 I admit that I was getting anguished because I did not know how I was going to finish everything, but it took a little bit of shape as I went along, like it was a kind of storm, I made the waves and the sky with some clouds and I used several colors for that.
Step 5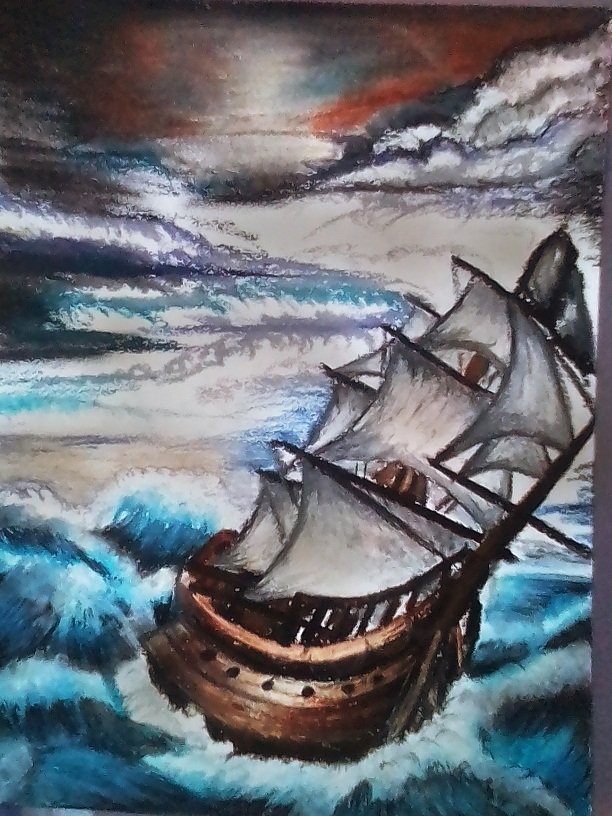 Final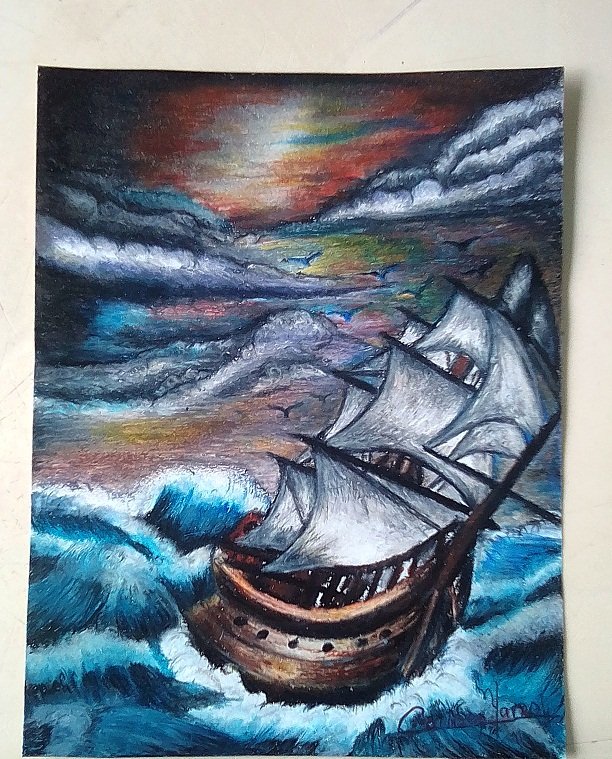 Reference
Thank you very much to all who see my new work, I thank you for your support and you can leave me any criticism that I would be happy to receive.
I say goodbye for now and I wish you a happy day. ;)
Copyright @yanes94 - All rights reserved.
---
---