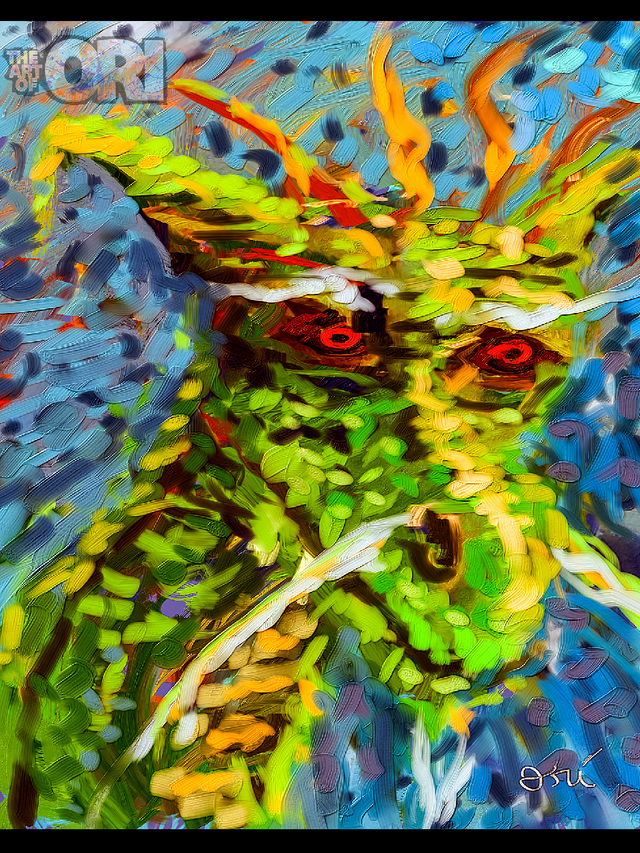 What's up Steemians? Thought I'd share a painting of a dragon.
What can I say about this one?
Well, I love dragons... always have. You ever seen the "Dungeons and Dragons" books / boxes? That's the kind of art I'd love to do some day.... This painting.... It's not at that level yet... I've still got a few years of working my ass off. But this one isn't an attempt to make art at that level -- This one is practice with a technique for creating Impasto. Impasto is that "Thick Paint" effect. See how this looks 3D'ish? That's impasto.
Now, you should know, this one is digital... So I had to figure a way to create thick paint and depth in this. There are a few apps that offer this functionality.
Impasto is pretty fun to do with traditional paints. There's a few techniques that I've found so far:
1)Plop a huge blob of paint on the canvas (A Palette Knife is a great tool for this.... It's the tool that you use to scoop paint out of the tub with it.. It's also one of my favorite tools for scraping paint around on the palette.)
2)Since paint is expensive, there are things you can add to the paint to make it thicker... There are thickening agents- Impasto Gels... Which you just add to your paints, and it'll thicken them. You can also apply Impasto Gels between layers of paints... Impasto effects are definitely enhanced by using layers.... paint, let it dry, paint some more.... So... between the layers, add layers just for textures.
3)I have a friend that adds Sand to her paints. This seems to thicken them...
Different things work for different kinds of paint (acrylics vs. Oils) - so... make sure to look up the specific kind of paint you will be using)
Whether it's digital or traditional - acrylics or oils (I don't think you can impasto water colors) - create different depths... For example... the top horns on this dragon are the tallest (most depth)- because I think that's the tallest part of this dragon - The bottom dark green portion has the least depth, because the other scales, and the whiskers .
Impasto painting is (generally) faster / easier than actual 3D, and it's fun as heck... I recommend trying it. If you want to try it, you can use Tempura Paints, or cheap acrylics... just to mess with it... You don't have to get the expensive stuff.
Oh yeah--- GOOD paints are expensive... So, you can mix the gels / sand / etc... with cheap paints (or just glob heavy amounts of cheap paints) for the Impasto Effect... and then paint with the better quality paints over top of that... That way, you get the Impasto Effect AND the great paints on top... So, that's what people will see- as if the whole thing was painted with the higher quality paints.