Evolution of my drawing skills : from 2012 to now.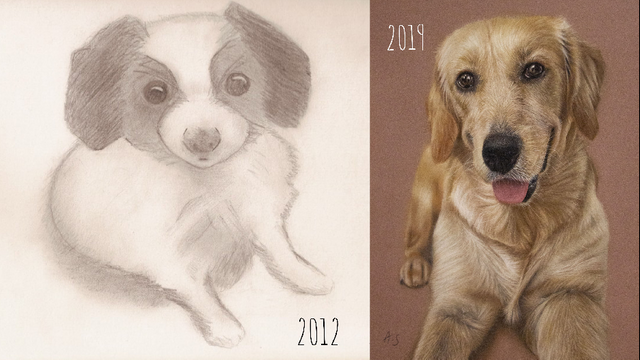 Hi everyone!
It is a particular post today, that i wanted to make. Sometimes, we can be very critic about ourselves, and only see our defaults, what we missed,...
As it is impossible to be at 100% objective in art, we are searching comparaisons to evaluate us. Drawing from others artists is the most current.
But, in art, everything is possible. You can do whatever you want, even if you make a very special art, you can't please to everyone, but you will always have a fan. (if you share it enough ehe)
However, there is some rules to make a drawing pleasant to the eye's people, especially when you draw realistic things.
So, my models has always been reality and photos.
As i said, we often see our defaults and sometimes are not satisfied by our works. But what if we look a little bit in the past ? Pull out your old works. It is a very good thing. The comparaison is sometimes very striking, and it's at this time that you really realized your improvements.
About my story, i really begin to draw at the age of 13, in 2012. So, the progress is all the more obvious given my young age, my brain was not yet complete, and I had a big problem with proportions and spatialization.
As you can see, my biggest problem was the face, wish look very flat. Especially for the eyes, I couldn't see them in 3D at all.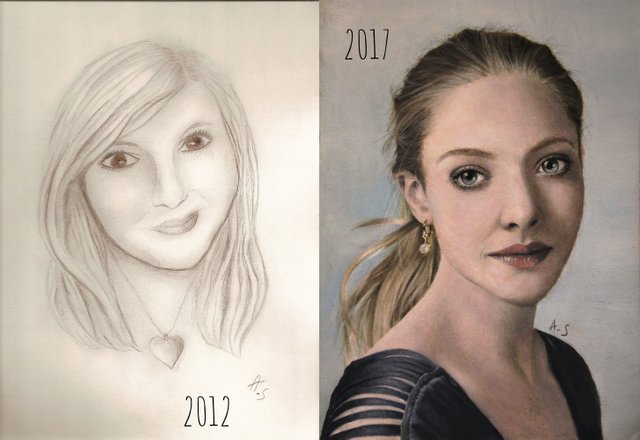 An other point to highlight is my contrast management. At the beginning, i was very shy with it, all the portraits were made with the same shades of grey. It is a very common thing in all drawing beginners.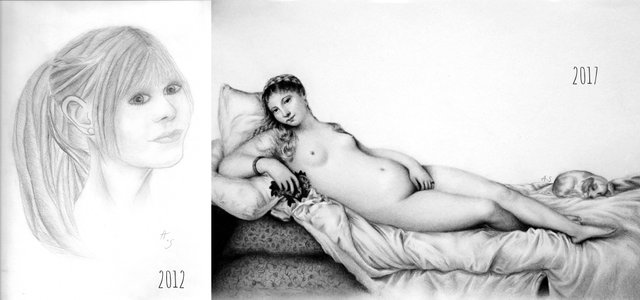 I put a comparaison between two eyes drawings, one made in 2012 and the other made a couple months ago, for a tutorial here on steemit
https://steemit.com/art/@pipoune/drawing-tutorial-1-eyes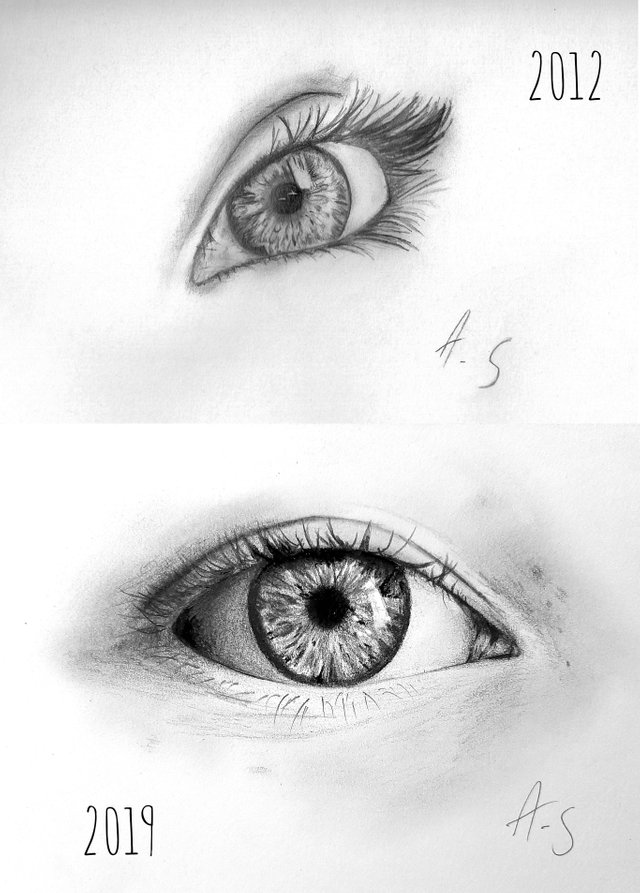 It's the comparaison wich is the least obvious. I just can relevate the same things that i said precedently, the proportions are not so good in the first one, and the eyes shape is quite strange. Also, i put no so much contrast, in relation to the second. (but my scanner may have something to do with it). But, it's not an impressive evolution. Eyes is not a particular difficult thing to draw, regarding to the entire face, and it has always been my favorite thing to draw, so even in 2012 i practice a lot eye's drawings. ;)
---
I don't make comparaisons between drawings from like 2 years ago and now, because the evolution is absolutely not obvious ;
Progress is not a regular and exponential thing.
In fact, when you begin to draw, you will progress a lot at the beginning. After, you will have some periods of unprogress, until you see a tutorial, or whatever thing that transcend yourself and makes you progress once again a lot.
But, when you get to a certain level in drawing, especially if you do realistic drawing, you will stagnate, and not find ways to improve your drawings.
At this time, i think that the material plays a lot. Indeed, if it's only a question of improve contrast or colour pigmentation to bring as close as possible to the photo, then you have to think about buying professional equipment.
---
I hope that it was interesting, and that you appreciated to see, like me, my evolution in drawing. It was very pleasant to me to look back at my first drawings, very funny too :D
This article inspire me to create a second one, with a similar concept : i will draw again my first drawing. I was able to find the model of the time. It will be very funny :D
Have a good day, and see you soon, for others creations. :)