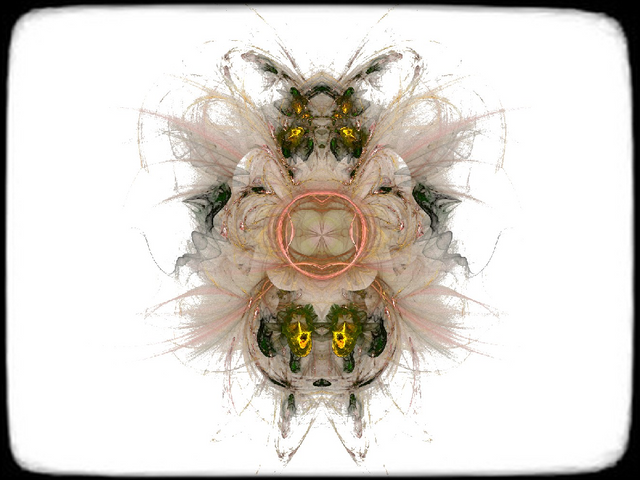 Recently I was trying to discover a new style for my fractals. Until then, I was reluctant to use symmetries in my fractals, because I see tons of symmetric fractals all over the internet and I am trying to make my fractals stand out. So, if everyone uses symmetry, I will NOT! But, as I soon found out, the Great Old Ones had other plans... with their obfuscated machinations, they intended to subtly steer their Messenger of 1000 Masks straight into the thing he shunned so much!
As I was experimenting with various color palettes and fractal transformations, something began to take shape in my screen, hidden deep behind the mathematical formulas, and right behind the symmetrical effects of a "juliascope" final transformation. Here is the initial stage of the project:
I dug deeper, moving decimals and fractions out of the way, poking at algorithms and mutating formulas, until the shapes were clearer... Then, I dropped patches of color, having the shiny carapace of a beetle in my mind, reflecting yellow sunlight and diffusing reds and grays. When the shapes and colors were ideal for my taste, I put the fractaloid insect in the designated frame and quickly grabbed my old-fashioned camera to take a picture of it.
In this post, I present to you the photograph -- I hope you like it!