[CR] EXPRESSION DRAWING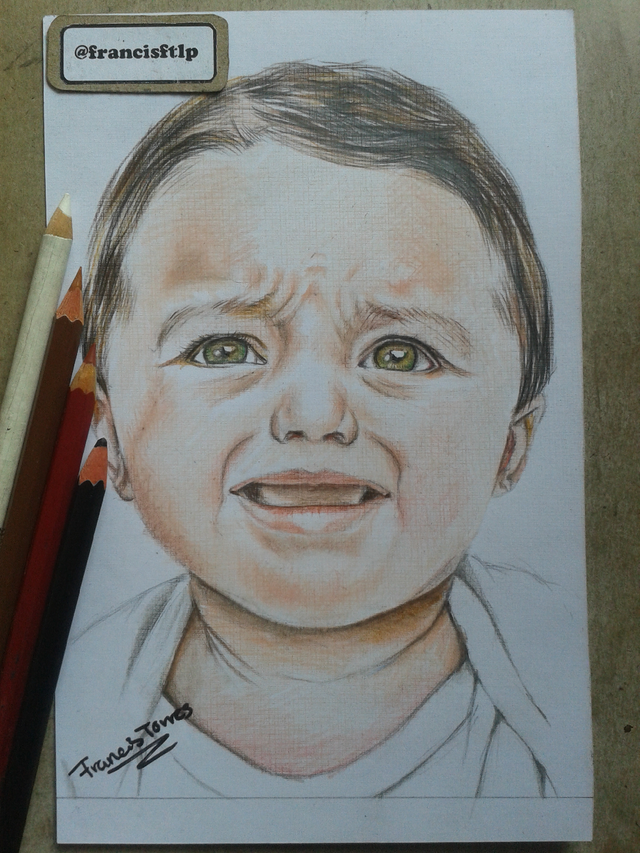 Hello everyone!
I have not published for a long time, this is because I have had an artistic block, I have been really disconnected by feelings such as anger and sadness, and so I can not be creative. The cause of this spiral of blockage is the situation in my country.
I will tell you what happened to me: a month ago they came to steal my house, apparently they were young people who live very close to the street, the neighbors who saw them announced it to us, but my frustration is because the police force has not done anything , the complaint was filed and nothing happened, as well as that sircustance many things happen that do not apply justice. Although it was only material things that were taken away, it is an economic expense that has been generated in my family. In addition, days later, the same young people stole a store of school supplies, and still do not do anything with them.
The drawing that I present today is the portrait of a baby, who finds himself annoying, wanting to cry and scream, that is how I have felt many times. But I have calmed down and I hope that eventually we will recover some of the things we have lost. In the meantime I will continue to draw and share my work with you.
Finished Drawing:
❢Technical Information:❢
Materials I used:
Color Pencils: Faber Castell, Paper-Mate, Norma, and Prismacolor.
Graphite pencil scale 2H.
Sheet of white thread, dimensions 125 mm x 206 mm.
Draft.
Total time to do the work:
Approximately 4 hours.
Photography:
For the photos I used a samsung galaxy s3 mini gt-i8190.
To make the Gif, I used Adobe Photoshop.
Other tools:
To see the image I'm painting, I use a tablet called Canaima.
Here I present the process in a Gif.
Oh! and here you can see the original image so you can compare it with my drawing.
Copyright @francisftlp -All Rights Reserved
I hope you enjoyed!
I want to thank you for all your support and for being here. A kiss and a big hug. Blessings.
Until next time!
"To be happy, we have to start loving ourselves and our work!"
✌