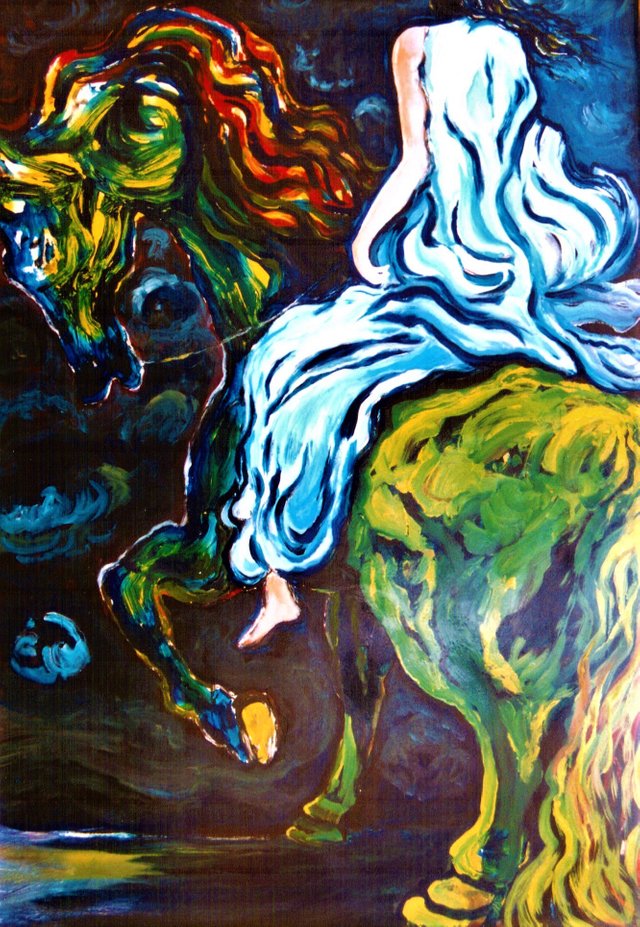 Antiope the queen of the Amazons

2  0  1  8
synthetic enamels on cardboard - size 100x70 cm.- private collection - Rome
Antiope the queen of the Amazons.
Fly Antiope, straddling the Moon, with the Sun behind you illuminating your loyalty. fly on your horse that will lead you to death, as a woman, in the chauvinist kingdom.
Warrior women of ancient Greece, who fought with courage and determination against men.
On the origin of the name there are many sources, the meaning in the Greek classicism is that of without breast in fact many classical authors and Publius Virgil Maron first, in the Aeneid states that these women, as children had the amputation of the right breast for being able to shoot better with the bow.
Another practice consisted in placing a red-hot copper disk on the right breast to the girls in the first years of life, so as to strengthen the muscles of the shoulder and right arm.
Another thesis is that of the origin with the Iranian name ha-mazan which means woman-warrior.
However, we only have one certainty:
an ancient sculpture of an Amazon without a breast has never been found, so the Eastern thesis is more adequate.
Antiope, despite the ferocity associated with the Amazons, represents an ancient woman's drama, which seems to have a lot to do with today's crimes.
Among the many stories about Antiope and her husband, the hero Theseus, I choose the most accredited.
Antiope was given as a gift to Theseus by his companion, in the battle against the Amazons, Heracles.
Theseus brought with him during his travels Antiope, but not feeling feelings of love towards him.
one day one of Theseus' companions, Soloone, fell in love with Antiope, Theseus then at that moment understood that he too was in love with Antiope.
Theseus married her, during the marriage period, Antiope always remained faithful to him.
From their union was born Ippolito, who the famous tragedian Euripides, remembers in the tragedy of the same name.
But Theseus, a handsome hero and an insatiable womanizer, wanted to marry Fedra the queen of Crete, whom he had fallen in love with.
Antiope began his personal revolt, trying in every way to hinder his marriage and threatening to exterminate all the guests.
Theseus killed her, despite his loyalty.
An embrace of equality.
Armando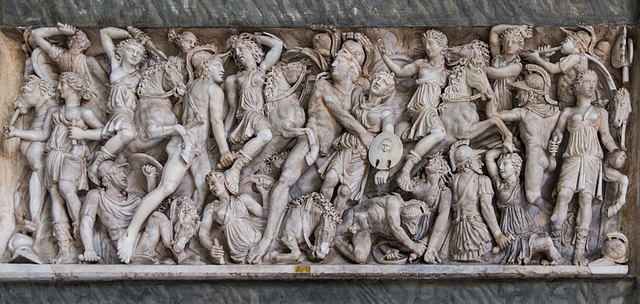 source
Antiope la regina delle Amazzoni.
Vola Antiope, a cavallo della Luna, con il Sole alle spalle che illumina la tua fedeltà. vola sul tuo cavallo che ti porterà alla morte, come donna, nel regno maschilista.
Donne guerriere dell'antica Grecia, che combattevano con coraggio e determinazione contro gli uomini.
Sull'origine del nome esistono molte fonti, il significato nella classicità greca è quello di senza mammella infatti molti autori classici e Publio Virgilio Marone per primo, nell'Eneide afferma che queste donne, da bambine avevano l'amputazione della mammella destra per poter tirare meglio con l'arco.
Altra pratica consisteva nel porre un disco di rame arroventato sul seno destra alle bimbe nei primi anni di vita, in modo da far rinforzare i muscoli della spalla e del braccio destro.
Un altra tesi è quella dell'origine dal nome iraniano ha-mazan che significa donna-guerriero.
Comunque una sola certezza la abbiamo:
non è mai stata ritrovata una scultura antica di una amazzone senza un seno, quindi la tesi orientale è più adeguata.
Antiope, nonostante la ferocia associata alle amazzoni, rappresenta un antico dramma della donna, che sembra abbia molto a che fare con i delitti di oggi.
Tra i molti racconti su Antiope ed il suo sposo l'eroe Teseo, scelgo il più accreditato.
Antiope fu data in dono a Teseo dal suo compagno, nella battaglia contro le amazzoni, Eracle.
Teseo portò con se durante i suoi viaggi Antiope, ma non provando sentimenti di amore nei suoi confronti.
un giorno uno dei compagni di Teseo, Soloone, si innamorò di Antiope, Teseo allora in quel momento capì di essere anch'egli innamorato di Antiope.
Teseo la sposò, durante il periodo matrimoniale, Antiope gli restò sempre fedele.
Dalla loro unione nacque Ippolito, che il celebre tragediografo Euripide, ricorda nella tragedia omonima.
Ma Teseo, avvenente eroe e incontentabile donnaiolo, volle sposare Fedra la regina di Creta, di cui si era innamorato.
Antiope iniziò la sua rivolta personale, cercando in tutti i modi di ostacolarne il matrimonio e minacciando di sterminare tutti gli invitati.
Teseo la uccise,nonostante la sua fedeltà.
Un abbraccio di uguaglianza.
Armando

https://www.ntopaz.com/ go for a ride, for art lovers.