What's new?
This is the first edition of @Scipio 's NSFW Hotties List! I first planned on making it one (permalinked) page, which I wanted to keep on updating once in a while, until I found out that (currently) it's not possible on Steemit to edit posts older than 7 days.
How to get on to Scipio's NSFW Hotties List?
Currently it's pretty simple: if you're a HOT looking female and you post NSFW pictures of yourself, you can self-apply to be on the list, or somebody else notifies me that you should be on the list! Only the top-10 NSFW Hotties of Steemit can be on the list, so make sure you get and stay on top of your game!
Scipio's NSFW Hotties List
No. 1 @talia69



@talia69 is still in her first week on Steemit, and she already made a knock-out impression. Just watch those perky boobs and that slender belly in her introductory post !
No. 2 @nsfwjen



@nsfwjen made an absolute glorious entry on Steemit! Multiple hot-hot-hot NSFW selfies would have made her all the way to No.1 of this "Scipio's NSFW Hotties List" 1st. Edition... if she would have only followed @scipio! @nsfwjen you now know what to do even better to get to the No.1 spot of Ed.2!
No. 3 @julienbh



@julienbh not only posts beautiful - and hot! - photos of herself, she also knows a good photographer. Is this a Canon or a Nikon. @julienbh could climb all the way to the top of Ed.2's Hotties List (only to be found at #3 on ed.1 because... well spots #1 and #2 were already taken!)
No. 4 @azzurra92



What can I say more? She even likes math! Just look at that infinity sign!
No. 5 @eveuncovered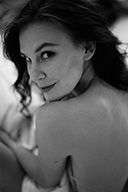 Nominated by @julienbh, on the Hotties List herself, how can I ignore @eveuncovered ? I can't! Eve is both sexy AND funny at the same time, as you can tell from her Halloween Slutty Ghost Tutorial!
No. 6 @aasiangirl



Also nominated by @julienbh, I discovered @aasiangirl. Just read how she's in doubt if her boobs are big enough, but what do you all think about that?
=======================================
Who deserves to be at #1 of Scipio's NSFW Hotties List? Let me know in the comments below!
=======================================