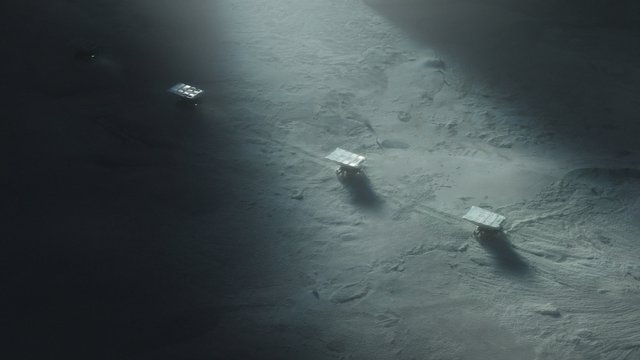 The great war and its devastating destruction of our home planet, which forced people to flee from Earth, dates back several years. Mankind was forced to leave Earth at that time. It feels like it's been several generations.
Technology has evolved rapidly and many colonies are now managed by artificial intelligence. On some planets, there is no sign of life at all, and only robots and artificial intelligence are building ships and empty the mines. If human-level general machine intelligence is developed, how far away it will be from then until a machine becomes radically superintelligent? Optimization power will increase more rapidly if AI reaches the 'crossover' point when much of the optimization power is coming from the AI itself. After the crossover, a 'recursive self-improvement' feedback loop would kick in. AI would become unstoppable.
Many settlers have existential fears and send scouts into space to search for new and safe coordinates. They join alliances that have formed in the meantime to obtain protection. Some settlers had no chance to survive in the alpha galaxy and fled to the beta galaxy to found a new colony to get a new chance to survive.
The secret program 'Nemesis' of the interstellar research community has now been revealed, and it is known that these are plans for the construction of a powerful battleship. About 100 of these blueprints have been sighted in various colonies, many of them have already been activated. There are already several reports with notes about upgrades of these powerful battleships.
The universe is on the verge of collapse, and the Yamatos are getting stronger and stronger. Time is running out. There are only 26 days left. Now we need you to save the interstellar community. Follow the path of justice to save Steem and the whole universe from demise once again. It is time to battle for justice. It's time for inescapable justice.
Embark on a breathtaking journey, brief your alliance, and fight Yamato before it's too late.
---
There is hope...
The new interstellar currency represents a significant step forward. Iris Schrijver, professor of pathology at the wrecked Stanford university annotated Stardust as follows...
"Everything we are, and everything in the universe, and on Earth originated from stardust, and it continually floats through us even today. It directly connects us to the universe, rebuilding our bodies over and again over our lifetimes."
Thanks to technological progress, Stardust can now be extracted from almost anything in space. The process is costly, and it is only possible to extract small amounts of stardust, but it is important for the interstellar community because it allows settlers and raiders an independent and transparent market.
"There is now a realistic chance to finally strengthen poorer colonies with Stardust to ensure that every colony can operate independently in the future. This is another important step towards a free and justice interstellar society," says Gioquis Baljar, head of the interstellar financial supervision committee.
Not all colonies accept stardust as their main currency. The manipulation of the banks over many decades, high fluctuation, and several collapses of the financial markets continue to create uncertainty. We still have a long way and numerous negotiations to go before we find broad acceptance.