Recently I've had a few discussions about voting subscription services on Steem. It seems that the voting subscription services don't fit in with #newsteem and I want to share my opinions on why this is the case.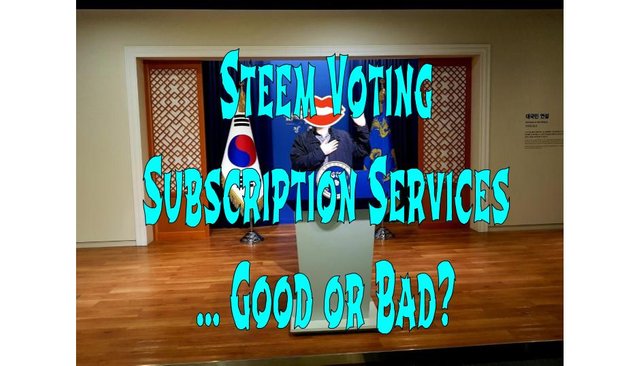 This is a replica at a museum, I'm not actually addressing the nation.
Also, I'm going to share some of my photos for your viewing pleasure. These are of various random things that are completely unrelated to the topic, so I'll explain those in the captions.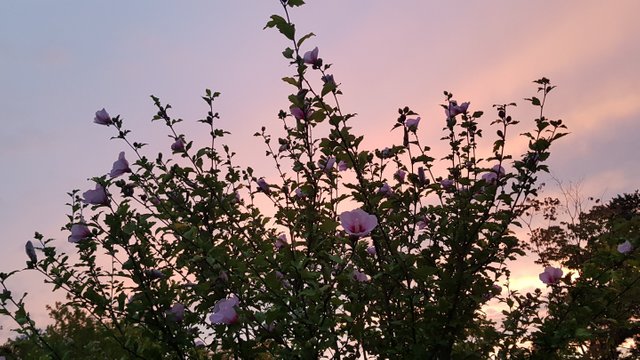 This is the Rose of Sharon at sunset. I like how the colors of the sky and flower match. I promise I just used the 'auto' setting on my Galaxy S8 for these tree photos with nothing but cropping after.
What is a Voting Subscription Service?
A voting subscription service is a service on #Steem where you subscribe to receive votes. Generally, you will have an account with a balance that increases over time. The more you input the faster your balance will increase gaining you more and more votes. You can send Steem directly. You can delegate to the accounts. You can upvote their posts and comments. Or any combination of the three. Unlike direct vote buying, they will randomly vote on your posts and or comments. You do not tell them specifically what to vote on.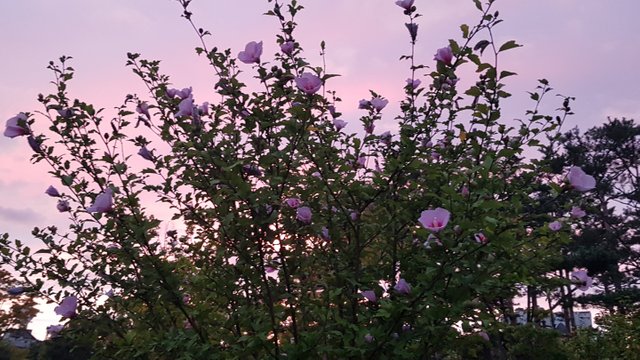 Here is the same tree. It is the national flower of Korea called Mugunghwa (무궁화). You can read about it on Wikipedia
My Problems with Voting Subscription Services
First of all, these are not universal, they are not decentralized, they are not sharing anything. They are barely even a #communty. They are membership clubs with automation, precise calculations, clear rules, and centralized authority.
The votes are usually small enough for 'stakeholders' that these fly under the radar. I don't think the majority of users are abusers. It's like a pyramid. If anything, they are more likely victims or just subscribers.
However, the main accounts tend to be large and growing larger. It's also unclear what they plan to do with the riches they've accumulated. They certainly didn't make it promoting or producing quality content. They offered a quasi-vote buying, vote trading service. Sometimes they run 'contests' to make you feel good. Sometimes they offer 'refunds' when they get a lot of pressure. Sometimes, they change. We cannot paint them all with a brush either. We have to look at them case-by-case
The main issue with voting subscription services is they have not adapted to #NewSteem. New Steem is basically the change in attitude and consensus after Hard Fork 21 and free downvotes were enabled. I know it isn't a consensus, but there has definitely been some change.
I'm not telling people they must adapt. I'm saying there are gangs and possies going around downvoting everyone who offends them. They will come for you if they believe you are over rewarded or abusing Steem. Voting subscription services have not adapted to New Steem are either abusing the reward pool or borderline abusing the reward pool.
Actually, until now, NewSteem has avoided them, and they just keep springing up. Some actors are just trying to hold on to that old Steem goodness. Eventually, the grey zone will become black as the worst of the abusers are beaten into submission.
It's only natural New Steem enthusiasts will target Voting Subscription Services. So let's take a closer look at what they are and why they may be considered abusive.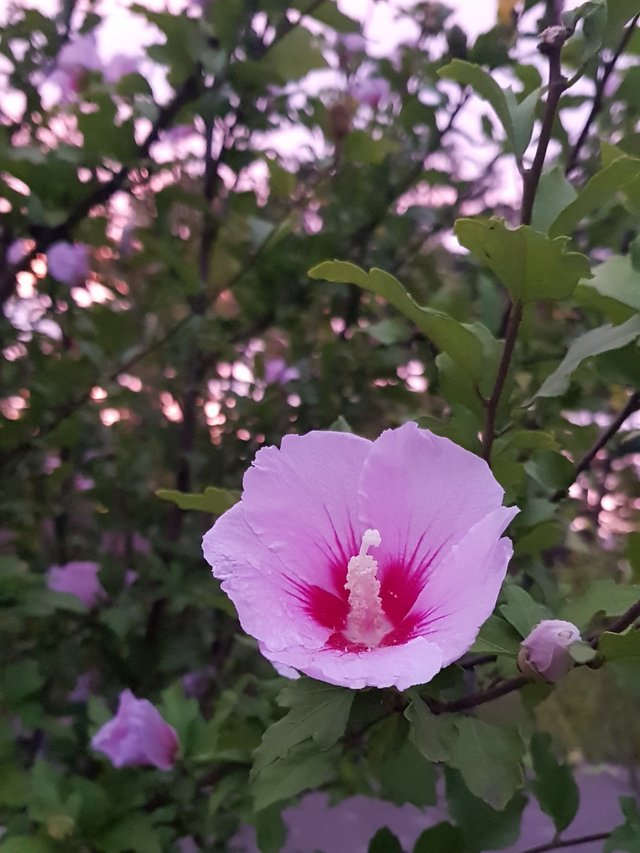 Here is a close up of the flower. This tree was in the Splash Park
Steem Basic Income
There are several vote subscription services on Steem however @steembasicincome also knows as #sbi is the most famous one. They meet all the categories in the subscription service and are the best example. Also, I'm not aware if they adapted for newSteem yet because they just keep on spamming the same boring posts that no one reads but thousands of people seem to upvote to like 50 SBD.
The way #steembasicincome works is if you send one Steem and say an account name, both of you will get 1 share. You can also get 1 share for every 2 Steem you delegate to their account. The more shares you have, the faster your 'vote subscription balance' increases. This is the balance that is used to give you votes. Also, if you upvote their comments and any of their 10 or so accounts, you can increase your balance by more than 100% of your vote.
Don't take my word for it. They post at least once a day in their main account and about once a week in the others. They also write hundreds of comments a day, especially when people use the !sbi status command.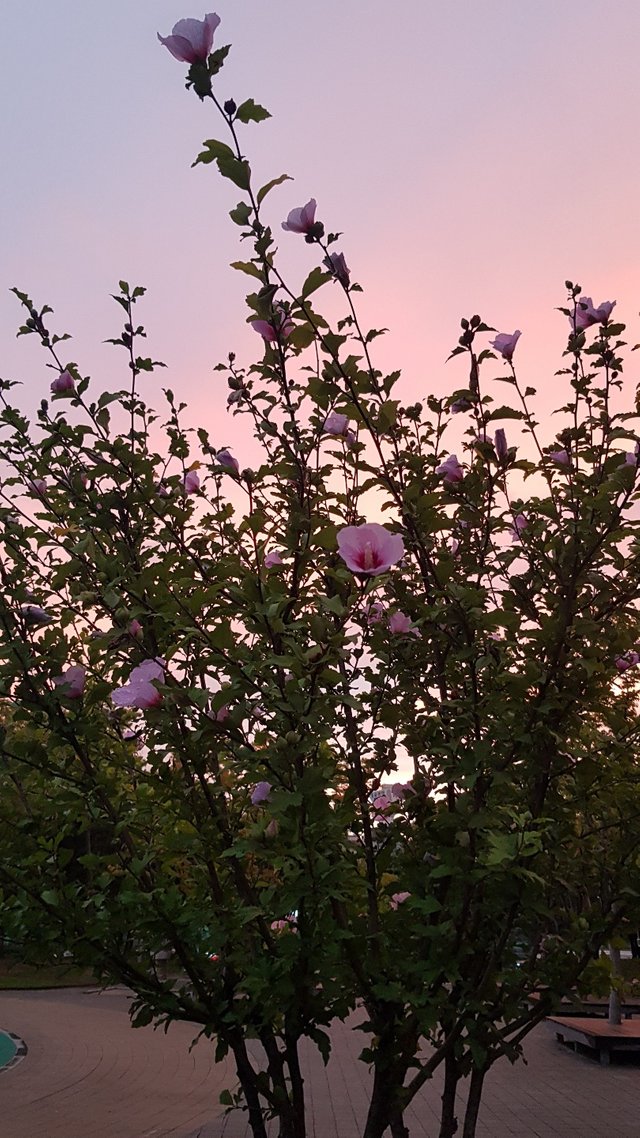 I kept taking a picture of the exact same tree even though there were others. I was just blown away by the stunning beauty when I walked outside of the supermarket and saw it.
Other Subscription Services
Some of the other vote subscription services I'm aware of are #steem-UA, #tipu, #backscratcher and #smartmarket. I know there are a lot more, some are dead, some are probably offering services in other languages and some are trying to fly under the radar. I'm not so familiar with all of them or what they are up to.
@tipu has adjusted and doesn't vote sell for a positive ROI anymore. If you send them 1 SBD, they will give you an upvote of 1SBD. This means that you will get around 0.5 SBD after curation (if you don't consider the curve) and you are losing 50%. They figure that since you are losing money, it's not going to be used for making income. It's going to be used for promotion. Many people have said this is okay under the new Steem as long as it isn't excessive.
EDIT: Some people who are very close with TIPU have commented below. They want to clarify that TIPU is not a subscription service. I also believe this is the case. They are unique and do not offer vote trading. They are also working on their curation system at the moment to improve it.
EDIT: Steem-UA actually has an interesting rating system to decide how much your vote is worth. It is based on the number of followers you have and the level of engagement surrounding your post. You can only get 'shares' by delegating to them and it is capped at 7 votes on posts per week.
My guess is the people begging for promotion service and defending bots won't be so eager to use it. Prove me wrong.
@smartmarket or @smartsteem is changing. They announced an announcement and then they announced the announcement wiill be on Saturday. I think @therealwolf is Justin Sun or at least thinks he is. In any case, I like them and wonder what they will turn into.
As far as I know, the other services stayed the same, died, or just went full curation, so I won't mention them.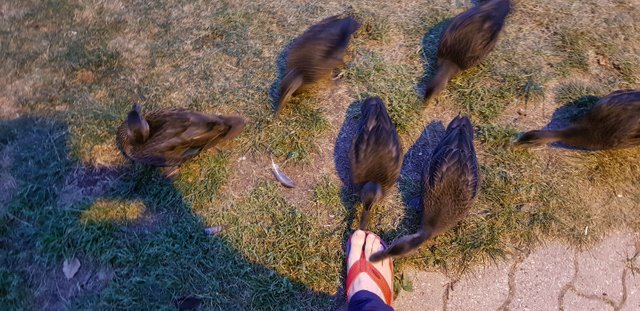 I ran out of mugunghwa pics, so here is something for those of you with a fetish for ducks and feet. I woke up to see the sunrise because of jetlag and these ducks were hungry for my toes. It tickled and I was laughing hysterically at 5am and if anyone heard or saw me they probably thought I was very high.
Why Turn into Pure Curation?
I mentioned that some services are trying various things. However, because of free downvoting after #HF21, people are getting carried away with the enforcement of #newSteem ideals. If bots go pure curation, unless they are upvoting absolute low-quality crap and comments or secret vote-trading, no one will bother them. Curation, Content and Engagement are the safest route because that's what #NewSteem is all about. -feel free to use my jingle
As a new Steem absolutist and an avid downvoter since before it was cool, I'm very excited about the changes. So much so, I just love writing about New Steem and the Demise of Bid Bots and even just plain old fun Downvoting to Encourage Correct Thoughts and Opinions albeit in a tongue in cheek manner.
Most #bidbots have stopped selling bids now. Some are hybrids and some moved to pure curation. Even the most ethical ones under old Steem like @ocdb have switched to pure curation. So what's the holdup @sbi1toinfinity and the others?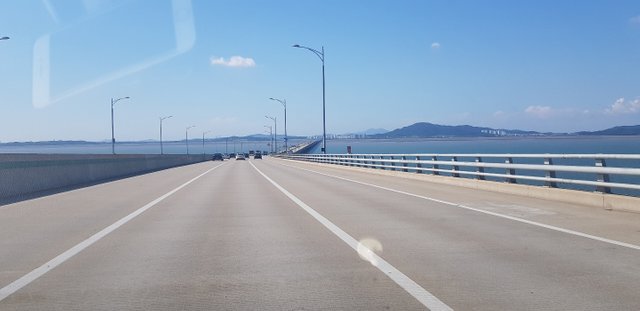 This is the Incheon Bridge, it's one of two bridges going to the main airport near Seoul and is around 20km long. Long Sea Bridges don't look that exciting when driving across them because the view tends to be monotonous.
The Solution to deal with Subscription Bots
Shouldn't it be obvious: Downvoting, downvoting and more downvoting!
We can downvote because we disagree with post or comment rewards.
We can downvote because we think it's bid bot abuse or spam
We can downvote because we love downvoting
Whatever the reason you feel like downvoting. Leave a comment if you think the person will be confused. Or don't. Downvoting is your right.
Down Vote Revenge
One problems with downvoting to your hearts content is down vote revenge. Personally, I find it is the worst reason to downvote. It's even worse than downvoting because you disagree with someone's opinion.
I downvote people all the time. Don't worry revenge and opinion downvoting is actually not that common (I've never done either, but I've counter revenged for the hell of it).
There are a few whales who have made it clear they will revenge downvote. I'd avoid counter-revenge downvoting them. Then there are the tiny little accounts that are giving out 10% downvotes on an account with 20SP. I'd ignore them. You obviously cannot accommodate them because they don't have a motive.
The best way to avoid being downvoted is to not downvote. Actually, I dislike that cowardly attitude. If you cannot be bothered I get it, but remember without downvoting, the people wanting to abuse Steem will reign supreme. Don't avoid downvoting entirely just because you fear revenge. There are people out to help.
But please don't follow downvotes of whales and orcas, punching far above your weight is a bad idea. Follow #steemflagrewards, and manually downvote, it's more fun and helps to avoid revenge if you use common sense (stay away from the crazies).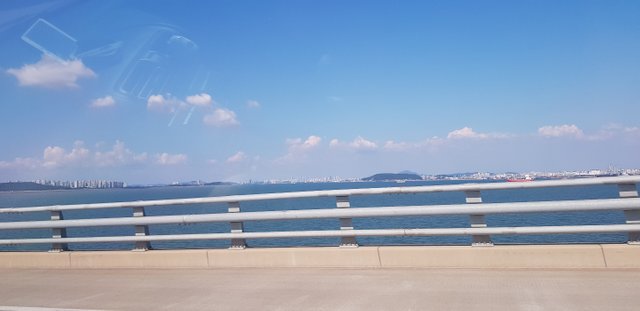 Here is the view off the side of the bridge. Actually, the ocean here isn't really deep and most of the 20km length goes over tidal flats so the actual ocean channel is usually much more narrow, especially when the tide is out. Other than the middle section (fixed cable), the bridge is mostly a causeway.
What I think
Personally I think subscription services should keep offering their services. However, they should have a discussion with large players who are downvoting. I'm not going to say who they are because anyone can look into it, or just start doing abusive things and they will come to you.
No matter how you explain subscription services, they tend to vote trade, vote sell & buy, vote on any member's posts regardless of content or quality and even vote on comments. New Steem enthusiasts tend to disapprove.
But who are you to judge? I'm no authority, but I have a voice and a downvote. HF21 had a consensus amongst top witnesses that this was good. It's not too late to fork Steem and get rid of downvotes (good luck).
In my humble opinion, I think voting subscription services should all strongly consider the following to support new Steem:
Stop upvoting comments
Enable and follow the blacklists EDIT: They already do this to an extent
Not allow anyone to vote for their posts more than 1 time a day EDIT: They announced they will get rid of the post voting bonus
Adjust the ROI for upvoting their posts to below 100% ROI so it definitely isn't profitable. EDIT: They announced they will get rid of the post voting bonus
Set some rewards to beneficiaries like @null, @steem.dao and/or @steempeak (I'm going to do 11%,11%,11% in this post)
Consider some curation of random posts with their accounts
establish a clear individual limit, and not the biggest practical vote possible EDIT: They announced they commented below that they are considering to do this
In the end, the votes from subscription services are directly related to the service and your balance, so there is no way to consider it organic.
Now that the worst abusers are mostly gone, have stopped or have moved on, it's time for the revolution and crusade to move on.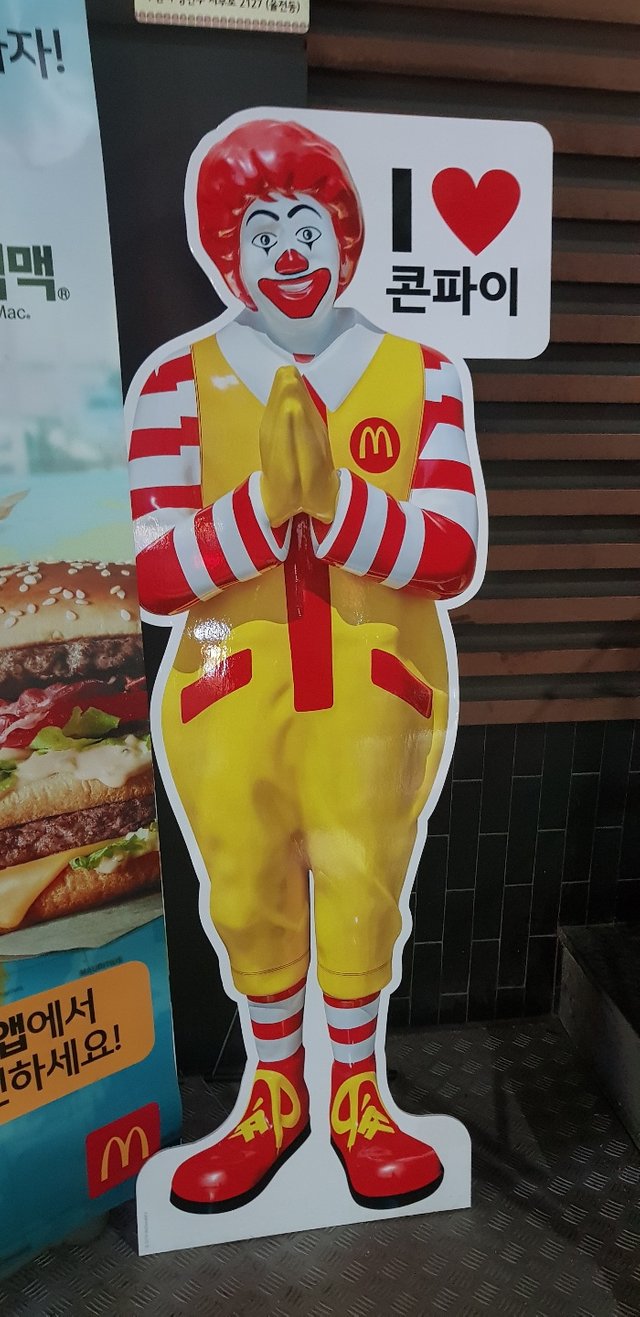 This clown loves corn pie. Do you love corn pie, too?
Disclosures
Earlier I noticed some of the whales who used to vote trade are now maximizing revenue for subscription services. When I see every single SBI account voting 100% for a whale, it tells me there is nothing fair about this service. The name alludes to universal basic income, but it's not even close. Sorry for picking on you. I like you @josephsavage, I just think you need to consider some changes.
I canceled all my delegations earlier in the week and they expire in a couple of days. I won't be delegating to @steembasicincome or @steem-UA anymore. I won't vote for any of their generic posts or comments. I won't buy any more subscriptions (however feel free to buy me some, lol). I'm free. However, that said if they unfairly cancel my subscriptions just because of this blog, I will not be pleased.
I think the discussion should be attempted. You don't have to discuss before downvoting, but you should be willing to discuss if you downvote and they want to discuss. If no one is willing to budge or discuss improvements, they aren't being reasonable. That works both ways.
Do you think this post: https://steemit.com/upvotes/@steembasicincome/outgoing-votes-report-16-october-2019
deserves over 1500 upvotes and 30SBD rewards? Actually, the comments are a great place to look for scams and schemes.
I think SBI a scheme not a scam. Under old Steem it used to be great. I hope it improves.
EDIT: SBI has left a great comment below. They also re-steemed this post. They even made an announcement and I've tried to incorporate the changes or leave comments above. It's great to see that they are already preparing for changes. Hopefully others offering similar services consider changing, too. Here is their post link: https://steemit.com/services/@steembasicincome/let-s-talk-about-upvoting-bonuses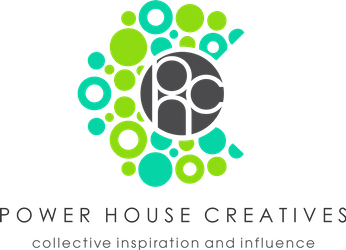 This is powerhousecreatives, I'm a member and need to disclose and discuss some things.
PowerHouseCreatives and other Groups
I am a proud member of powerhouse creatives. Actually, some discussion there encouraged me to get this post out sooner (I've been thinking about it for a while).
Some fellow members are worried that they will eventually be targeted, so I want to address that.
#Powerhousecreatives requires its members to vote for 5 member accounts a day. One is the main account, one is a specific post and the other 3 are any posts by any member (you also have to do one other thing for those 3 like comment, resteem or repost on a different social media site).
I consider these engagement clubs. Actually, you don't even need to vote with a specific amount of voting % or have a certain amount of SP. Sure you get selected as the daily upvoted account every so often (less than once a month), also you do get other members voting for you.
However, #PHC is not vote-buying or trading. Nothing is calculated other than Y or N. There is no %, there is no promise of ROI. The more you participate, the more you will get back, but there are no guarantees. Also, if you upset the leader or devoted members, either by being nasty, lazy or whatever, there are repercussions. Members get booted all the time.
Also, it is endorsed and supported by several whales and orcas leading the new Steem change. I doubt it will be targeted by anyone trying to make Steem better any time soon.
That being said. If anyone has a problem with how Power House Creatives operates, I would like to know so we can consider reaching a reasonable compromise.
Also, if you see non-members using our tags or images (unless they are writing about us), I consider that abuse.
If things like @steemitbloggers go under, I think Steem will go under. It's more like a community or tribe. The aim is to improve engagement, quality, and socialization, etc. I don't see communities being taken out. However, that said, the members are reasonable and have the best interests of the blockchain and large community in mind. Please apply if interest, it's free to anyone who is willing to put in the effort and be devoted (it's not that difficult if you are familiar with Steem and Discord).
Vote Subscription services are not a community for the most part and their main purpose is to vote and increase votes for Steem and votes. See the difference here? Well what is the difference between a voting subscription service (like SBI) and a vote-buying service (like bid-bot) and a vote-trading service (like backscratcher)...well SBI is all 3...that's the difference.
Become a community, become a promotion service or become a curation service. Make a new Steem effort and you will be rewarded. =)