300 crocodiles Killed By An angry mob in Indonesia after a local man was killed by one of the reptiles.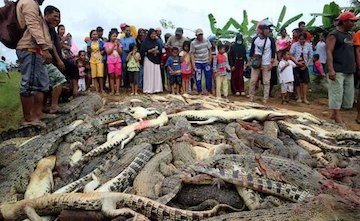 The revenge killing happened Saturday in Papua province following the funeral of the man, who perished when he fell into an enclosure at a crocodile farm while looking for grass to feed his livestock, police and conservation officials said.
The victim, identified as 48-year-old Sugito, was bitten on the leg and then fatally struck with a tail of one of the crocodiles, which are a protected species, they said.
Sugito's relatives and local residents, angry over the farm's location near a residential area, marched to the local police station, authorities said.
Local conservation agency head Bassar Manulang said they were told that the farm had agreed to pay compensation.
"We made an agreement with the victim's family and conveyed our condolences," he added.
But the mob, which numbered in the "hundreds", was not satisfied and headed to the crocodile farm armed with knives, machetes and shovels which they used to slaughter some 292 crocs, from four-inch-long babies to two-metre adults.
Source Is Here