Witness Vote Staking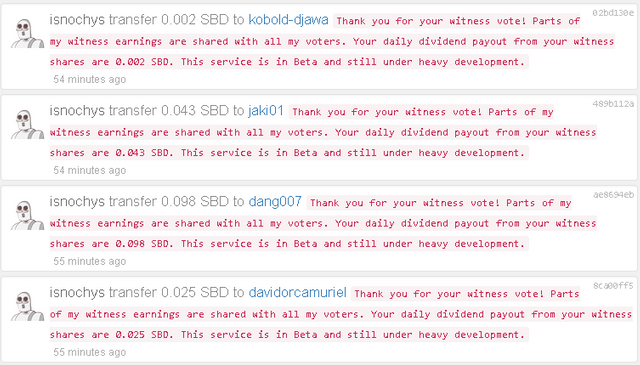 I've been busy.
The witness vote staking program is now in active Beta.
What?
You vote for me as witness.
I get producer rewards.
You get your share, according to your vote weight (your vesting shares).
How much?
No, not everything. Currently 20% of the producer reward are payed out.
But I dare you to find a better witness vote staking deal
;)
Yes, there is none, I am the first witness to do this.
Any Drawbacks?
Yes, you have to vote for me as witness.
But I have just so little SteemPower!
This doesn't matter. Your shares will be smaller, but once they reach 0.001 SBD, you will get your payout.
I am calculating the share to the nSBD.
That is 0.000000001 SBD.
Nothing gets lost, everything is stored in my DB.
Wait, producer rewards are payed in VESTS!
Yes, and I just recalculate it into SBD.
Wow, that sounds so easy, the setup was a nightmare.
Just show me a function in steem-python, to see, who is voting for me.
And my produced blocks?
Block by block search is my current solution.
(Update: history_reverse(filter_by='account_witness_vote', batch_size=1000, raw_output=True) I should have looked into that raw option more in detail.;)
To participate, you need to vote for me as witness and wait for your payouts!