The Cost of Courage - Part V: Monica Petersen and the horrors in Haiti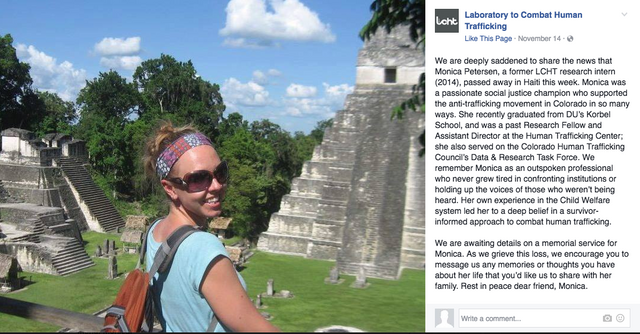 Monica Petersen truly lived what she believed and fought bravely to bring an end to human trafficking. Despite her outspokenness and the mysterious circumstances of her death, much of her case has been lost to the digital aether, poor press coverage and an equally poor official investigation. Enough pieces of fact exist, however, to make a compelling argument that her death warrants further (and more thorough) law enforcement and open-source inquiry.
Monica Petersen was a pioneer in human trafficking research and one of the first scholars to begin speculating about the involvement of the Clinton Foundation. You could say Monica Petersen was the original Pizzagate researcher.
As Petersen herself was an avid blogger, I feel it entirely all-too appropriate for us to dedicate a little slice of Steemit to her work and what may have actually killed her. If she was alive today this platform would almost surely have been a tremendous boon to her research, so I think it's fair we take some time to help like-minded researchers whenever we can with the powerful tools at our disposal.
This is part of an on-going series to highlight the stories of individuals who died mysteriously when disclosing information on government-sponsored criminal activity, in particular child trafficking.
Petersen's career
Monica Petersen dedicated her life's work to the fight against human trafficking: She earned a Master's in International Development from the Korbel School of International Studies, was previously a research intern at the Laboratory to Combat Human Trafficking (LCHT), was a Research Fellow and Assistant Director at the Human Trafficking Center (HTC), and she also worked for the Colorado Human Trafficking Council's Data & Research Task Force.
Not simply content with office work, Petersen would give presentations on human trafficking throughout the country.(1) She also testified along with Professor Claude d'Estrée in front of the Colorado-Senate Committee on human trafficking.(2)
Petersen avidly published her work online through blogs and Facebook. One of her most famous posts, Root Causes and Contradictions of the Displaced Youth along the U.S./Mexico Border, was written in 2014. It harshly criticizes the United States' immigration and interventionist policies with Mexico stating that such rules not only increase the prevalence of child trafficking, but they fundamentally violate human rights as well.
Here are some important takeaway points from this particular blog post:
Illicit markets thrive where licit markets have been destroyed.
Minors in Central American conflict zones are at a higher risk for various types of child trafficking.
Hasty deportations of unaccompanied Central American minors violate international children's rights.
The international principle of non-refoulment is being disregarded by the United States government. "Non-refoulment" is the obligation of states to accept refugees and asylees seeking safety from life threatening risks in their home countries.
The U.S. has a sixty-year history of provoking regional instability in Central America.
Research overwhelmingly shows increased border militarization is an ineffective, inhumane solution for stopping migrant flows everywhere in the world.
Work in Haiti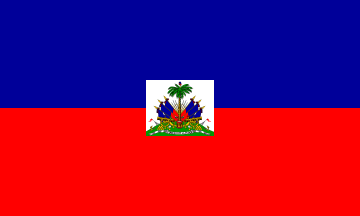 In an article I wrote here on Steemit, The Case Against DynCorp - Part V: The Real Shadowmen of Haiti, I discussed the prevalence of human trafficking in Haiti and the involvment of U.S. contractors, USAID and the United Nations. It would be reported in 2015 that at least 231 individuals, mostly children, had been sexually assaulted by United Nations peacekeepers trained by DynCorp International on behalf of the United States State Department under Hillary Clinton.(3)
On August 15, 2015 it was announced that Monica Petersen was going to Haiti to investigate human trafficking there.(4) That would be where Petersen would live until her death in 2016.(5)
By January 3, 2016 it was becoming apparent to Petersen that the Clintons were intimately involved in the trafficking occurring in Haiti. She begins to communicate with her friend "Bella" over Facebook and reveals important insights into her research. One of the first posts sent by Petersen to Bella directly implicates the Clintons.
Ms. Clinton has corrupt & dirty business to finish in Haiti. The people suffer so.
This is the theory my masters thesis puts fort...this is modern structural slavery.
Disaster Capitalism at its finest.
Just a day later Petersen would also tell Bella:
The real significance of this scandal for me, I know you feel me Bella, is the link to contemporary slavery and trafficking. I can't say to what extent, but there is human trafficking happening through the Clinton's [Caracol] Complex.
The reader should be aware that these posts from "Bella" were disseminated before Petersen's death. Many have accused the still-unknown source, "Bella", for seeking fame, but this seems highly inconsistent with the facts and that she still obscures her identity.
In addition to these posts her boss, Claude d'Estrée, said she was producing a 110-page analysis on human trafficking in Haiti that focused on "one of the demagogues in the field".(6)
The truth about the Caracol Industrial Complex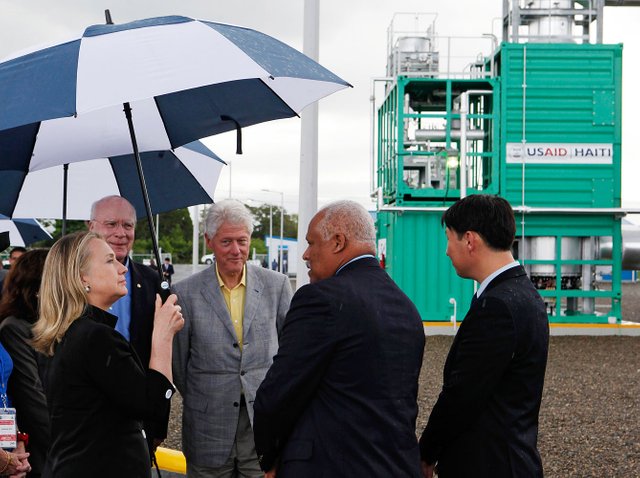 Hillary and Bill Clinton meeting with Woong-Ki Kim at the opening of the Caracol Industrial Complex
The core of Petersen's theories on the Clinton connection to Haitian trafficking revolves around the Caracol Industrial Complex, built in October 2012.
The Pizzagate Wiki has done extensive research on this project and discovered some interesting findings. For instance, the Clinton Foundation's chariman told ABC News that the Foundation "was not involved" in building Caracol or attracting its biggest tenants, particularly Sae-A Trading Co, Ltd.(7)
Well...
One Clinton Foundation official, Greg Milne, was quoted in a press report saying the foundation "helped to promote Caracol as an investment destination and worked … to attract new tenants and investments to the park." The website adds that the foundation was part of the "collaboration" to plan Caracol and "assisted with [its] development." Sae-A officials credited the Clintons for bringing together "the private sector, [aid groups], individuals and others who care about the country to tackle and work towards a better Haiti."(8)
If that wasn't enough, however, the connections go far deeper, more internationally and way more suspicious than you might have ever expected.
Before the 2010 Hatian Earthquake, Bill Clinton had been appointed by UN Secretary General Ban Ki-Moon to be the special envoy to Haiti. At this time Bill's wife, Hillary Clinton, would be Secretary of State for the United States and in charge of international aid and USAID.
Almost immediately after the earthquake, the U.S. would pass a law known as the Haiti Econcomic Lift Program (HELP), which gave "preferential tariffs for Haitian-produced garments." USAID's Fiscal Financial Report for 2011 announced that the U.S. government itself would work with Haiti using HELP funds to build the Caracol Industrial Complex and include the South Korean clothes manufacturer, Sae-A Trading Company.(9)
By October of 2012, Sae-A Trading Co. would establish Caracol Industrial Complex in northern Haiti. Chairman of Sae-A Trading, Woong-Ki Kim, officially opened the park together with Bill Clinton, Hillary Clinton and the President of the Inter-American Development Bank in October. At the same time Sae-A broke ground on their kindergarten, primary and middle school, S&H School, at Caracol.(10)
It turns out that Woong-Ki Kim also employed the consulting services of Black Ivy, a company founded and run by Cheryl D. Mills.(11) At the same time Mills was Hillary Clinton's chief of staff and counselor,(12) as well as the former defense attorney for Bill Clinton during his impeachment. Mills was also the U.S. representative on the Interim Haiti Recovery Commission.(13)
Mills was remarkably close with Hillary and is found sending some of her some of the most suspicious emails discovered by WikiLeaks, including the infamous 2012, "HOW'S SEVEN DOING?" email.
In 2013 the Clinton Global Initiative (CGI) would also directly support Sae-A Trading Co's building of S&H School in Caracol mentioned earlier.(14)
It's safe to say the Clintons were intimately involved with Sae-A Trading Co. and its development and childcare programs, but if Caracol was just an industrial park, why is it so controversial and why did Petersen believe it supported child trafficking?
The shady history of Sae-A Trading Company and the Clintons
It turns out that in addition to direct claims of sexual harrassment,(15), poor working conditions and wage slavery,(16) Sae-A Trading Co. has strangely set up shop in numerous countries that have been plagued by human trafficking. These countries include Cambodia, Vietnam, Nicaragua and Guatemala. In these countries Sae-A Trading Co. will also set up child-specific projects, such as the Tam Binh orphanage near their Vietnam factory,(17) an orphanage near their Guatemala factory, as well as S&H schools at the Caracol Industrial Complex in Haiti.(18)
Cambodia is one of the more peculiar cases. Just days after the Caracol Industrial Complex was built, Hillary Clinton became the first Secretary of State to visit Cambodia since 2003.(19) She spoke with Prime Minister/dictator Hun Sen and "pledged to strengthen the partnership between the United States and Cambodia". Apparently Hillary's brother, Tony Rodham, had also visited with Hun Sen back in 1998.
Since Hillary Clinton involved the State Department in Cambodia human trafficking and sex slavery has remained not only prevalent, but possibly even grown.(20) In fact, according to Cambodian police:
The big business of selling prepubescent girls to foreign pedophiles for thousands of dollars still exists, though it looks very different than it did a decade ago.
The days of brazen selling with a storefront are gone. The underground business, though, is thriving.
Source: Washington Post
It appears then that Monica Petersen was correct in her skepticism about Caracol Industrial Complex.
Petersen would also point out that Tony Rodham, again Hillary's brother, sits on the board for VCS Mining, a company that would receive lucrative contracts to operate suspiciously close to the Caracol Industrial Complex within the same year of its construction. Monica took this as a red flag:(21)
Mining has always been historically linked to trafficking, slavery, and labor exploitation.
I'd like to go see for myself who's laboring at Morne Bossa, but I would hypothesize that the Dominicans are doing the contractual oversight of the mining, while marginalized Haitians are being exploited for low or no cost labor in dangerous mining conditions.
Monica Petersen was definitely getting close to something and many of her conclusions (while unverified at the time) have turned out to be true. Even USAID admits Haitians are not in management positions at Caracol(22) and locals complain that jobs are "taken by foreigners" in Morne Bossa.(23)
It's almost a certainty that Petersen's conclusions were starting to be corroborated and she was going to use the information to affect Hillary Clinton's chances in the 2016 Presidential Election. Petersen stated herself in January as she was discovering the Clinton connections to Haiti:
Hillary Clinton is just as bad as Donald Trump! Who knows what she'll do once she's in office?! #fucked
The death of Monica Petersen
Monica Petersen died in Haiti on November 13, 2016 by apparent hanging, but many including Monica's own mother suspect foul play.(24) Several friends close to Petersen also believed she was murdered.(25)(26)(27)
A Reddit user by the name of "rutkdn" was responsible for a Reddit thread which collected a great deal of the information on Monica Petersen. Copies of these posts can be found on the Pizzagate Wiki. While impossible to verify, this individual had some interesting insights on Petersen's death:
It was not immediately clear under what circumstances she died, and this remains so to this day.
As of today, Nov. 22nd, the family has not received Monica's body.
Although the family held a Memorial Service on Friday, Nov. 18th, there was no proper funeral/burial for Monica.
The family is relying on information coming out Haiti and has not had the chance to conduct a proper autopsy in the US.
Correction NOV 28 - a good friend of Monica confirmed to me in private that she was murdered.
Authorities in Haiti are still not giving the family any indication of who murdered Monica.
Rutkdn claims to have also been contacted by individuals who denied the connection to the Clintons, said Petersen's death had nothing to do with her research in Haiti and corroborated that the family hasn't yet seen the body.
Cover-ups, Fake News, DynCorp and Claude d'Estrée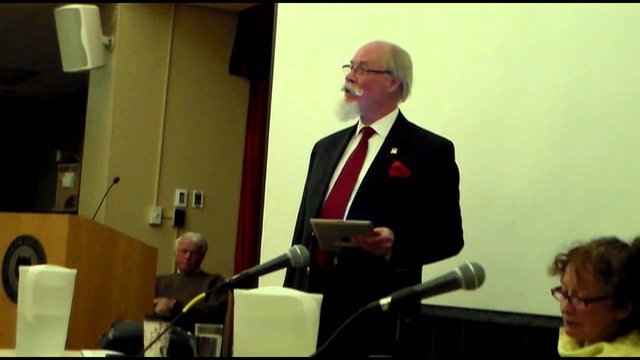 Claude d'Estrée
On December 6, 2016, the Washington Post published an article titled, 'Pizzagate' rumors falsely link death of sex-worker advocate to nonexistent Clinton probe. Author Glenn Kessler interviewed Claude d'Estrée, Monica's boss, to "disprove" the claims that she had been investigating the Clintons or human trafficking. More specifically:
D'Estree said Petersen had gone to Haiti a number of times, but she was not there to research human trafficking and was not investigating the Clinton Foundation.
General skeptic blogger OneAngryGamer would be one of the first to point out the obvious problems in the Washington Post's story. In every way d'Estrées testimony directly contradicts what was presented in Monica's Facebook posts. It appeared that d'Estrée supported Petersen and her work when she was alive, but why would he lie outright about her research after her death?
It turns out that Claude d'Estrée worked as a supervisor in the U.S. Attorney's office on behalf of DynCorp between 1999 and 2002.(28) As was discussed in my Case Against DynCorp series, this coincides with the exact time period DynCorp was caught sex trafficking children in Bosnia and Kosovo and no prosecutions were made. That same series also discusses that DynCorp played an active role in sexual abuses in Haiti.
Logic dictates then that Claude d'Estrée would have had more than ample motive and means to monitor Petersen's research and cover it all up after her death. This is the only explanation I can find for why he would brazenly lie about the work of a close and "respected" colleague.
Claude d'Estrée may have nearly succeeded in entirely wiping out Monica Petersen's story, but thanks to brave researchers inspired by her courage there is still hope that her work will make the difference she certainly would have...