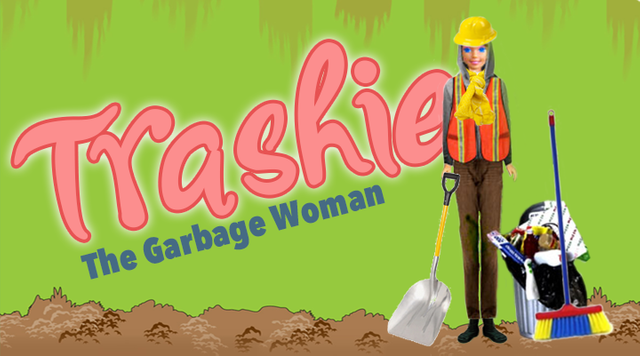 Female municipality official creates Trashie: The Garbage Woman to encourage girls get into trash collection
A leading female government employee, Kimberly Nylos based at the Kalinga Municipality has been involved in creating a new doll designed to encourage girls into waste collection.
——it is important to read the whole post until the end——
The Trash-Collector-Doll is described as a 'pro-girl' doll. The body is based on the proportions of a real life nine-year-old, practical night glowing clothes and no makeup or jewellery. Afterall, sexist accessories can only get in the way. Real women get dirty.
Dr Maren Baronos, senior lecturer in the Institute of Disposal and Sanitation, acted as the project's 'garbage consultant', offering guidance and advice on the design of Trashie. In her own words: I was thrilled to be asked for input in creating this doll. I think it is extremely important to inspire the next generation of female waste collectors with creative ideas like this one, and I hope Trashie will serve as an inspiration to future trash collectors everywhere.
The doll is dressed in an orange night glowing jacket over a long sleeve gray hoodie and sturdy brown boots for those slimy nights. A yellow hat and scarf keep Trashie snug and warm— essential clothing for picking up filthy treasures outdoors on a cold night.
"This is indeed a great way to fight sexism" Susan Leroy, a local community feminist, pointed out. "A privileged masculine profession such as the one of the trash collector should be equally enjoyed by both sexes".
The doll also includes a shovel and broom, as well as a set of sanitary spraying bottles. There is also an additional information sheet in the doll box featuring famous female waste collectors such as Mrs Nobody, Lady Nonexistent and Mrs Schrodinger.
Children can download supplemental materials from the Trashie.com website, including biographies of notable women in garbage and waste collection activities.
Max Bundy, co-founder and creative director, said:
"Dr. Maren is a real life role model for young women, so it has been an honour to have her valuable input on this project.
"She has provided Kimberly with ongoing guidance to make sure that the doll and packaging are based on government trash collecting specifications while keeping the feel of a toy."
The toy, which has been created in collaboration with the European Waste Agency, was launched this week at the Royal Garbage Society. It will receive external funding so it can empower women all around the world. It is hoped that such initiatives will bring an end to ongoing sexist stereotypes and discrimination at the workplace.


---
Over the last decade or so, feminism and political correctness have saturated public perception when it comes to issues of so-called "equality". The truth is that some markets are dominated by women while some others by men. Nothing should be forced to be made equal just for the sake of political correctness.
EDIT: The Doll is not a real product. I made it up along with the news. The purpose of this post was to create satire in order to demonstrate the absurdity of pushing certain social stereotypes instead of others. For example reputable fields that are male dominated such as Astronomy, Physics, Engineering and Math are pushed extensively from feminists while others (like garbage collecting or military) are not. Modern Feminism aims for equality but only in respect to highly regarded areas of life—while purposely ignoring the ones that males are in great disadvantage. If you want to see the absurdity of the situation check this woman who actually designed a doll to push astronomy to young girls.
---