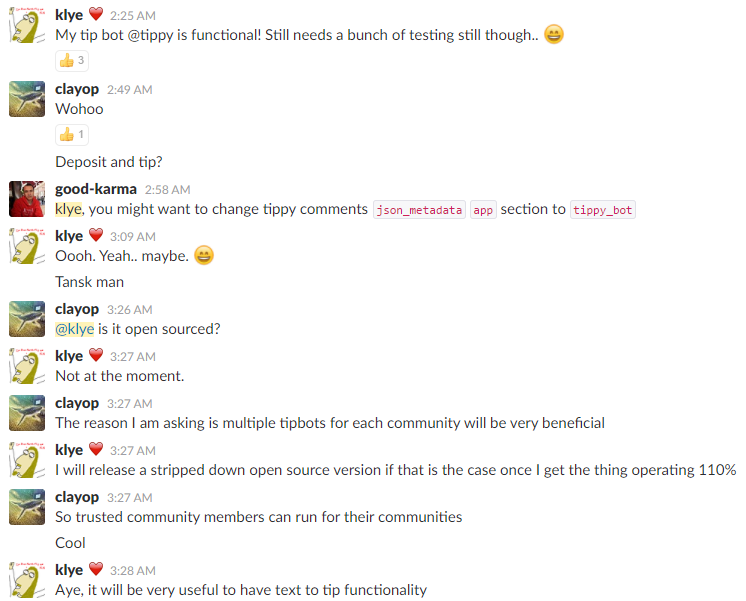 ( A screencap from the top secret cool kids Steemit slack with @clayop inspiring me )
It's no secret that I'm a nerdy code mercenary who creates unique and complex services for our STEEM network. When @steemitqa approached me with the idea to develop a text to tip service I loved the idea and immediately began planning it. While initially python 3.5 and the python-steem was initially used recently it was ported over to NodeJS utilizing steem.js as the workhorse behind it. Javascript is far more fluent for me than Python and the switch over to NodeJS has made the build far less difficult!
No dealing with account keys or having to go into your wallet to send STEEM or SBD once the @tippy service launches in the next few weeks. It'll be as simple as send your STEEM / SBD to the @tippy account and it will be automatically added to your @tippy account balance. With a positive balance you will be able to send tips via the "@tippy tip user 0.001 STEEM" or "@tippy tip user 0.001 SBD" commands quickly without ever having to leave the post!
Currently working on this project, having got the following systems implemented:
Deposits
Tips
Balances
Statistics
Information
Will create a post when we get closer to launch with a better explaination of how to use it.
Please don't deposit yet! Any deposits will likely be lost and will be considered donations!
---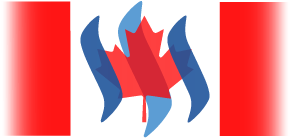 A Proud STEEMbassador of Canada
Thank you for your votes, the opportunity and support!


( STEEM.GLOBAL is ONLINE! Get a Fauceteer Subscription Today! )