Just recently Jamie Dimon, the boss of JP Morgan called Bitcoin as "fraud" and also claimed that he would immediately fire any employee in his firm if anyone trades in crypto-currency. And now JP Morgan has been caught red-handed purchasing a bunch of XBT(XBT is the ISO code for Bitcoin and BTC is a code which became popular as people have been using it) shares. XBT are also known as exchange-traded-notes, that track the price of Bitcoin.
According to public records of Nordnet trading logs, the two associated firms JP Morgan Securities Ltd., and Morgan Stanley bought roughly 3M euro worth of XBT note shares. Interestingly after the recent regulatory crackdown in China, and the statements from JP Morgan's senior executive Jamie Dimon talking trash about bitcoin, his firm bought the dip on September 15. In fact, out of all the companies on the list, like Goldman Sachs and Barclays, the JP Morgan team of buyers purchased the most XBT notes.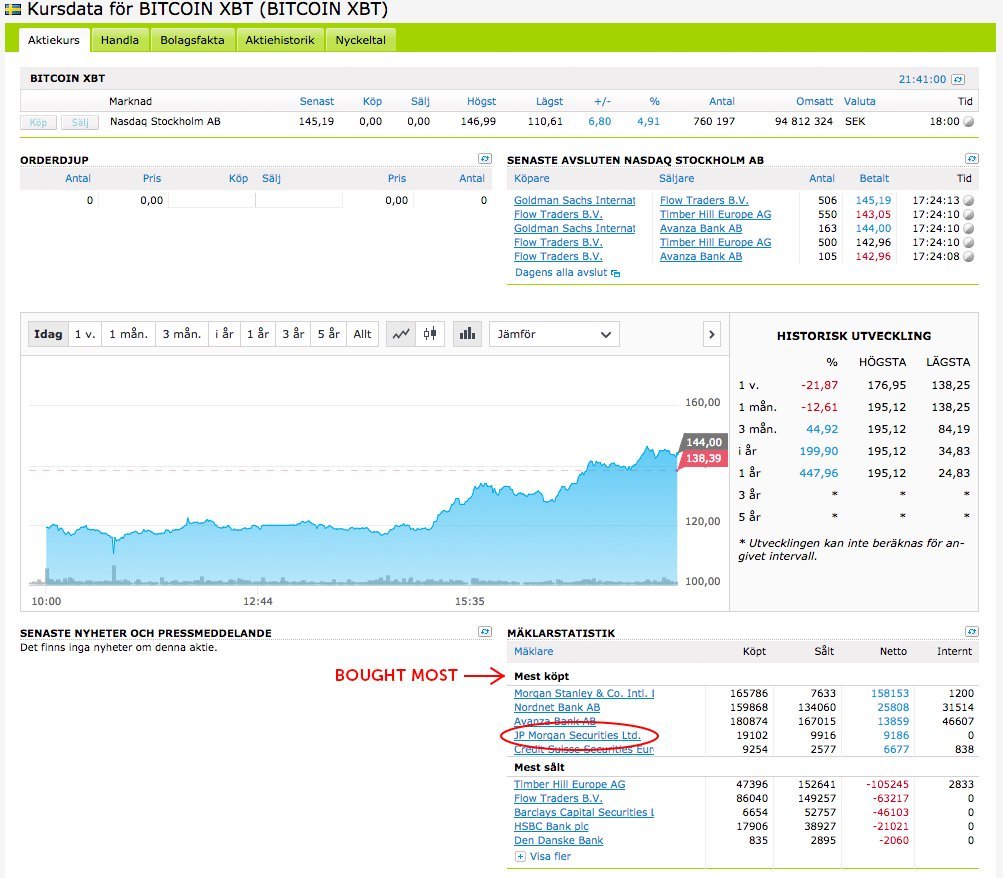 (Source : Twitter posted by I am Nomad - @iamnomad)
The above picture was tweeted by the I am Nomad in Twitter which clearly shows the purchase made by JP Morgan. Also JP Morgan applies for Bitcoin patent for 175 times : o which was rejected all those times. The company is also working on an ethereum-based blockchain alongside. With the ethereum project called "Quorum," JP Morgan has its own Github repo that explains how the permissioned blockchain does not need consensus mechanisms like Proof-of-Work (POW) or Proof-of-Stake (POS). I mean the Proof of work made Bitcoin what it s now why they are not going along with it ?
Here is a meme I came across which I found it funny.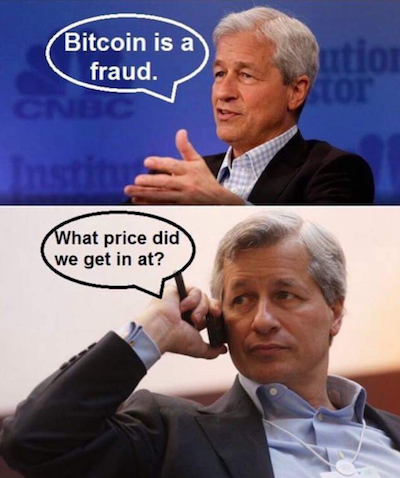 (Source : zerohedge.com)
The company is trading crypto-currency whether Jamie Dimon agrees with it or not. He made a very good move by doing it as he just used his power and right time to make it work. Also this is kind of unfair as he just manipulated the market with his power. Please comment your views on this topic.
You can check out my post on Jamie Dimon calling Bitcoin as fraud from here : Jamie Dimon attacks bitcoin saying that it is fraud.
If you like this please upvote, resteem and follow for more . For any queries and suggestions comment down below : )