Video credit to 6abc news in Philadelphia, PA
While this happened a few days on Monday night's game, the news downplayed it somewhat, and so did the victim. I am from Philadelphia, PA and have been to countless Phillies baseball games. I have tried to catch a hot dog or a t-shirt when the team mascot, "The Philly Phanatic" fired them out into the crowds. I've never even come close to catching one, let alone, get hit by one, by not paying attention. I've actually got 2 foul balls.
Admittedly, the injury sounds funny but as the days have gone on, the hot dog target, Kathy McVay, has just posted pictures of her injuries about an hour ago. I am surprised to see how bad she got hurt. I thought the headline was funny, and McVay herself admits that she can see why people would think it is funny. I didn't know she got this banged up though.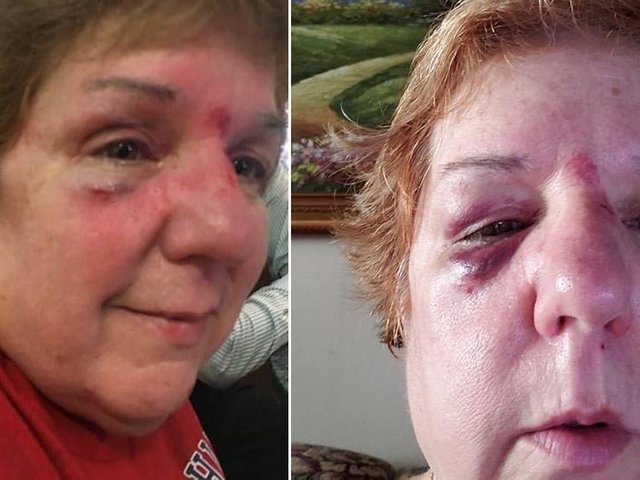 Photo credit: Kathy McVay
The Phillies organization said that no one has ever been injured by the hot dog cannon before. They offered apologies and The Phanatic himself feels terrible about the incident. Oddly, in these days of litigations and lawsuits, McVay doesn't intend to take any legal action against the Phillies. The Phillies have offered to give her free tickets to another game once she is feeling better. I think they need to up their offer. While game tickets are expensive, if I were part of the Phillies legal organization, I'd be handing out lots of tickets, merchandise, autographed items, food vouchers, along with a legal waiver for her to sign away any rights to litigate.
Here is a photo of the assault vehicle and weapon with the gunner in the seat. The Phanatic is a beloved character in Philadelphia, and there is no way he can actually injure someone intentionally. These projectiles fly out in a general direction he points it, at best.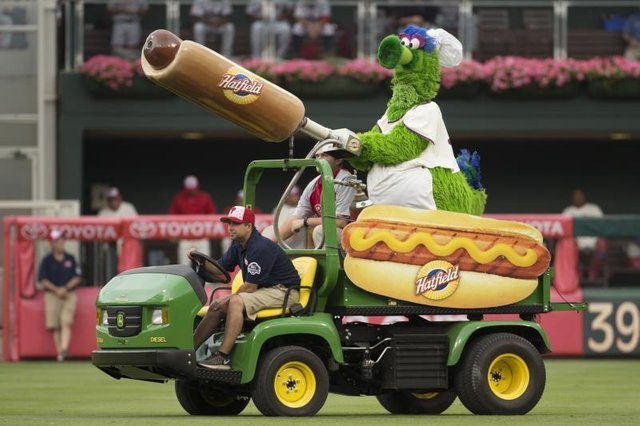 Photo credit: Chris Szologo - Associated Press
I've always been aware of broken bats, or foul balls, dependent on where I was sitting. I suppose I need to beware of the hot dog cannon now too. :)