Salvini supporting Jimmie Åkesson and Sweden democrats days before election!
Italy's minister of interior Matteo Salvini comes out just days before the Swedish election and shows his support for the Sweden Democrats. On his facebook and twitter page, he writes: "Election in Sweden this Sunday. Best wishes to the party of Jimmie Åkesson. After the election, I hope to meet him and to find common ground and solutions"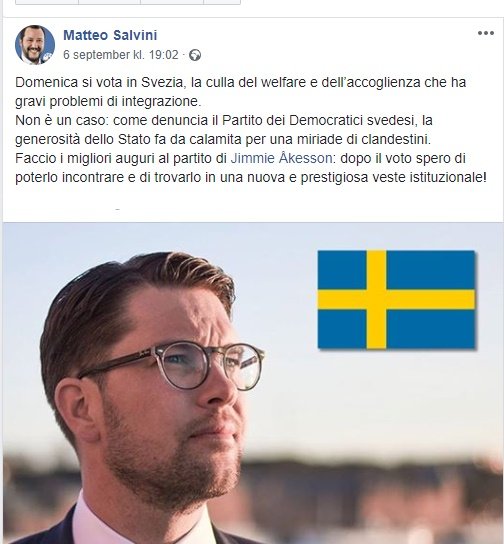 This is definitely something interesting that is happening. Something to stir up the debate even more, both in Sweden but also international. Salvini has been a controversial figure and criticized for his actions by European leaders and media. The latest notable action was when he refused to take in migrants from a ship that docked in an Italian harbor. His critique was aimed at the other European countries for not taking in refugees and making Italy the only country to take responsibility for these migrants. Therefore, he refused to the let them in before any other country accepted some of the migrants as well.
Matteo Salvini and Jimmie Åkesson have a lot in common in their policies and visions for the future. A future where the inflow of migrants are limited and where national interests are prioritized. They also share the same background in terms of starting off as a small party and then growing and growing to one of the biggest in the country. Salvini is probably well aware of how the Sweden Democrats have to punch back versus the establishment and the media. Coming up as a right-wing party is not easy while you have to fight the bigger parties and media but Salvini and Jimmie Åkesson have both succeeded in that sense. That's why Salvini has respect for Jimmie Åkesson and is happy to support a guy that has made a similar journey as himself.
It's very exciting times seeing conservatives nationalists in Europe supporting each other. It's usually the other way around where established politicians talk down to right-wing politicians. That was the case before the Swedish election as well. The French president Emanuel Macron raised his concerns for the Sweden Democrats and calling Jimmie Åkesson a man that "knows nothing about Swedish values". Something that makes it even more interesting seeing Salvini's support for the Sweden Democrats. He punches back versus the establishment for Jimmie Åkesson.
If Salvini did this after he saw what Emanuel Macron said is unknown, but one thing is for sure that the Sweden Democrats has Salvini's and Lega's full support going into the election. If the nationalists and conservatives want to see a Europe where their policies can be implemented it's important for them to stick together and unite. If Sweden wants to have secured borders, Italy needs to have secured borders. If nationalists and conservatives can unite around Europe just as the establishment can do, they can achieve great things and there are definitely more people to unite with in Europe. Just a few to mention: Poland, Hungary, parties in France, Austria, the Netherlands and others from all over the continent.
Interesting times ahead!