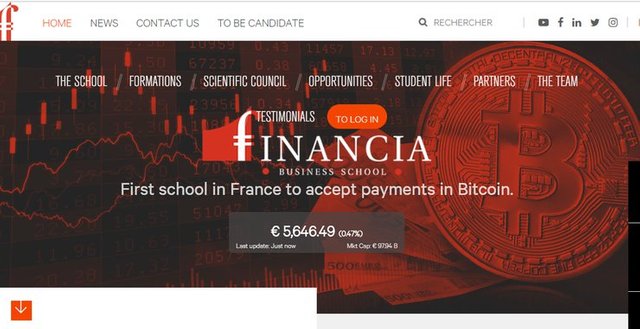 Financia Business School,  an institute of higher learning in Paris that focuses on finance and  business studies, now offers study programs and courses on blockchain technology. The degree-granting institute is also the first school in France to accept bitcoin (BTC) payments. Established in 2014, the Financia  Business School offers postgraduate courses such as a masters in  business administration (MBA), and other finance-related post-bachelor  degree programs. As mentioned, Financia also has  courses on blockchain and emerging fintech. Many of the institute's  alumni work for large Paris-based financial institutions including  Société Générale, BNP Paribas, and Crédit Agricole. 
Making It Easier To Pay For School
Financia's management noted they closely follow the latest developments in the fintech and business  sector, and that accepting payments in cryptocurrency has allowed them  to enroll students who would have otherwise had a difficult time paying  tuition fees. 
Financia explained that foreign  students account for approximately 25% of its total enrollment, and they  often find it difficult to make payments to the school due to the  complex nature of money transfers. Allowing students to pay with crypto  has not only made it easier for them to pay for school, but it has also  made it easier for the Paris-based institute to track transactions. 
Notably, Financia has partnered with Coin Capital,  a "multi-manager crypto hedge fund" that offers investors the option to  invest in over 40 different cryptocurrencies through a single  portfolio. The partnership with Coin Capital allows Financia to accept  digital currency payments from students. 
Five Students Have Paid In Crypto So Far
Only five students have paid  tuition fees in crypto for the academic year (AY) 2018. One of the  students, Adam Hasib, revealed that he was an early bitcoin investor and  that his investment is now helping him to pay for his studies at the  Financia Business School. Commenting on his experience as an early crypto adopter, Hasib said: 
I became interested in this technology very early on and quickly  became a staunch follower of the Blockchain's decentralized model. By  June 2017 I had acquired my first bitcoins, which allowed me to pay the  registration deposit at school. Adam Hasib    
Other colleges and universities  in Europe have also introduced various courses on blockchain technology.  The London School of Economics (LSE) began offering a course called "Cryptocurrency Investment and Disruption" in July of 2018. As explained on LSE's official  website, the course has been designed to help students "learn how people  interact with cryptocurrency structures, including exchanges, wallets  and ICOs." As covered on CryptoGlobe, New York University (NYU) now offers graduate-level specializations in cryptocurrencies