---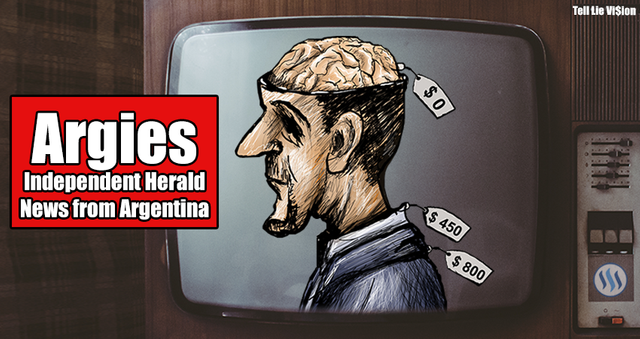 Today in Argentina, the media place and remove presidents practically at their whim. Except honorable exceptions, anyone who aspires to an important position in the political arena, needs the approval of the media. In case any candidate does not have the blessing of "Grupo Clarin" (big media corporation), automatically, before such audacity the entire media apparatus begins to operate against this candidate.
     When I refer to the "media apparatus", I mean that the "Grupo Clarín" today has around 100 radio channels with nation-wide reach, 30 television channels (public and cable), several newspapers (including the same bugle, diary that reaches the whole country)
     Faced with a machinery of this magnitude, we can say that by force of constant repetition, the media forge the reality of people. Not because people are stupid, I would not say that (although there are some ...) I refer specifically to that Why should not you believe what your favorite journalists say? After all, a citizen works 8 hours a day and when he gets home, he watches television. He does not have time to internalize, perhaps it does not interest him, nor does it correspond to him (in an ideal world) he receives what the communicator transmits as true. The peculiarity of this mechanic is that it is not spread information, what these journalists do is create a story lacking data and rickety of information or evidence. To my vision, journalists are degraded to the rank of influencers of a social network. They only irrigate us with a fantasy and functional story to the plans of these gigantic corporations. Lying is allowed and promoted in the name of "freedom of the press." I am not advocating censorship, but I am criticizing the blatant lie, using information as a commodity when actually it is a RIGHT.

---
Silence is for sale.
The tribute of the government to their masters.
---
     As if this were not enough, the imposed governments are only vassals at the service of real power. Multimillionaire sums are directed to these media and their journalists. Blogs without traffic, read by anyone receive giant sums in advertisements of the government of the day. They buy the silence. It does not matter that the salary of a teacher is below the poverty line, sums of millions go to these diabolical opinion-forming operators. Sadly where the media prevails, governments do not work for social welfare, but are only the puppets of a higher power, always in the shadows.
     Not all governments, obviously, i do not intend to criminalize politics in general. There are great patriots out there who seek a fairer world and fight these dark practices worthy of the most outlandish of dystopias.
     Pay attention to what you consume, do not be fooled. The truth in this era is a precious and almost unattainable phenomenon. Identify the communicators who inform you, look for independent media, do not let them tell you what to think or what to believe. Do not let them tell you who is criminal, dirty up honest governments with alleged cases of corruption without any evidentiary support. The thief is the one who steals, not the one who is told to. Sharpen your perception and discernment is a duty these days.