A Brisket a Day...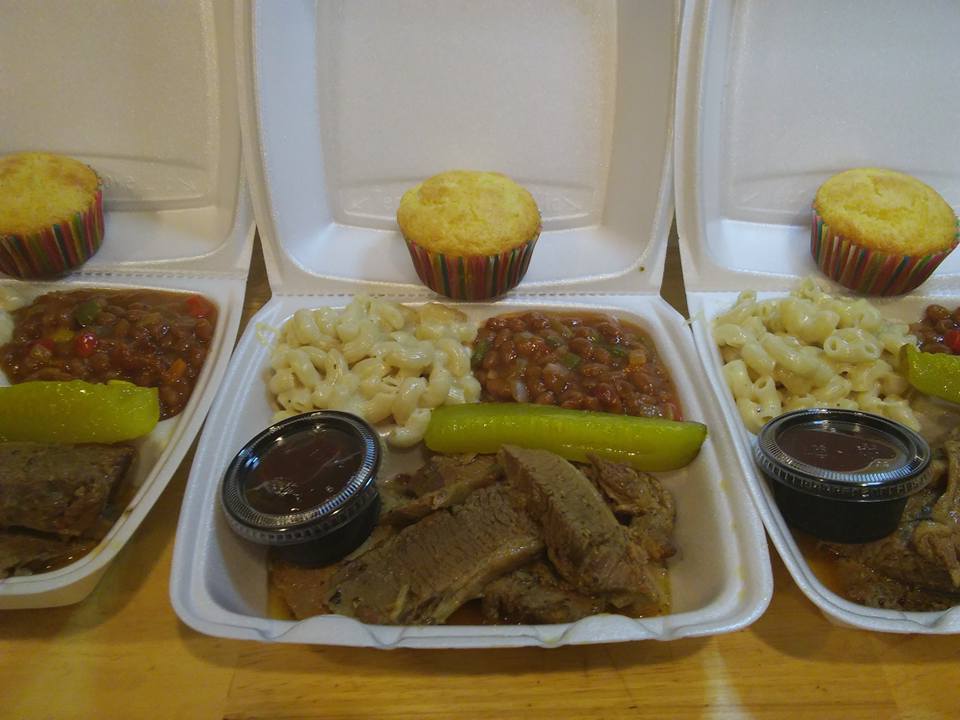 Saturday was a super busy cooking day for me. I'd found a small brisket of beef when I went to Walmart, just large enough to do a two way recipe day! I love beef brisket! It's one of those long cooking, low and slow meals, whether you're doing yours inside in the oven, or outside on the smoker. Wherever you cook it, it'll leave you drooling all day long, waiting for it to get in your belly!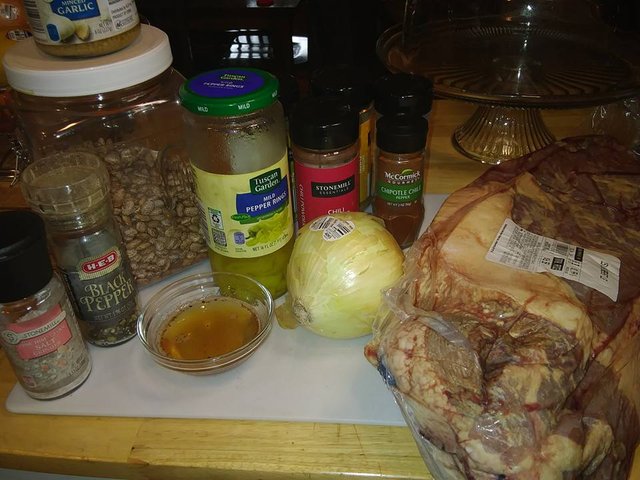 So, anyway, I figured I'd do sliced Brisket Lunch Meals with the flat part of the brisket and use the deckle, the fat half of the brisket, for a dish we call Bull 'n' Beans, which is a Texas hybrid of Chili and Brisket...absolutely delicious. We used to have a place that offered it, many moons ago, but they're long gone...so when I offer it, I know it'll be a sell out. And, it was. We managed to have just enough Oven BBQ Brisket left for us to enjoy for supper later in the evening. Let me share these recipes with you. First, the Bull 'n' Beans...
Texas Bull 'n' Beans
2# Beef Brisket, trimmed of some of the fat, cut into large chunks
2 cups pinto beans, picked through for debris and rinsed well
1 can Rotel diced tomatoes and green chilis
1 large onion, thickly sliced
3-4 cloves garlic, minced
1 teaspoon chili powder
1 teaspoon ground cumin
1 teaspoon ground chipotle powder
1 teaspoon oregano leaf
2 bay leaves
3 tablespoons tomato paste
(I had mine leftover, in the freezer, from a previous recipe)
2 teaspoons kosher salt
1 teaspoon pepper
1/2 cup sliced banana peppers and a splash of the juice
3 tablespoons bacon grease or oil (I had the bacon grease from cooking breakfast)
Do you have it all together? What's that? You don't have any chipotle powder? That's okay. You can substitute a chipotle in adobo and a nice spoon of the adobo sauce it comes in, instead. Just give the pepper a nice mince. We're looking for a smoky heat quality for that campfire quality of flavor.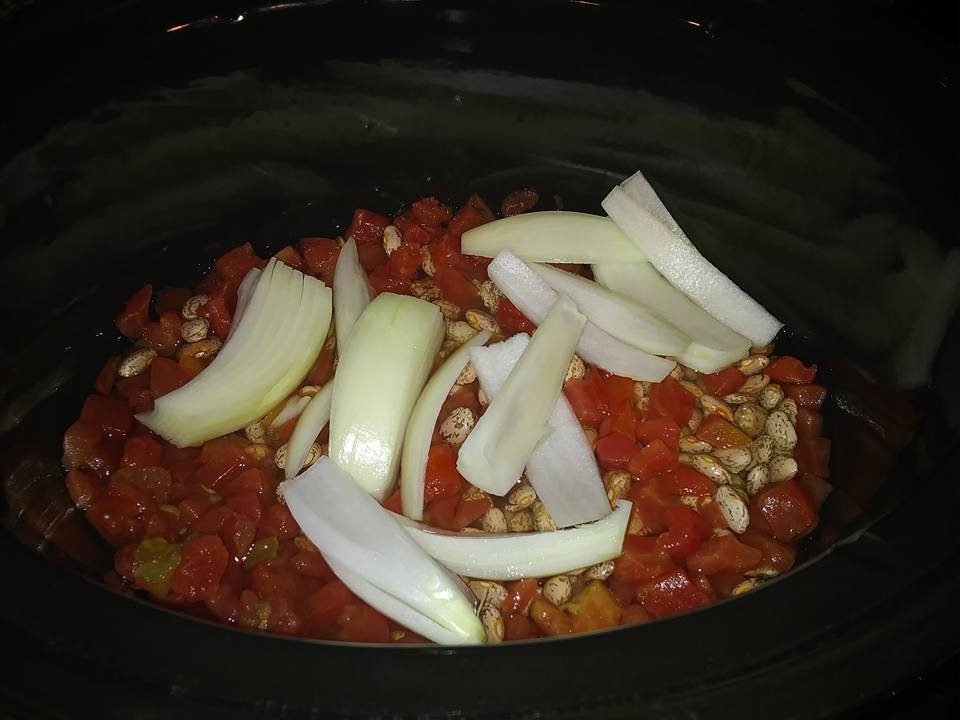 Place the beans in the bottom of your pot, if you're using your full sized Crockpot. Dump in the Rotel and top with half the sliced onions. If you're gonna do this in your Dutch oven, wait on this step till after you've browned all the meat, and it's out of the pot. You want the beans on the bottom, so the fat from the meat melts down over the onions into the juices cooking the beans.
Chef's Note...I started to do this in my crockpot, and then realized that I wouldn't have room to stir it around. It's only one of the gallon sized pots. I had to pull off the meat, then transfer the beans, Rotel and water to my Dutch oven, then add the meat back on top. So, you'll notice that part of the pictures show the crockpot, and the rest show it in the Dutch oven...don't be me! Start with a big pot!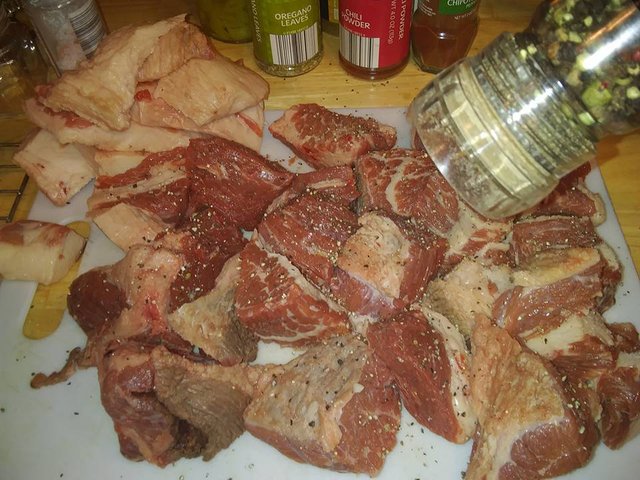 Spread out you beef hunka-hunka's and season liberally with salt and pepper. Meanwhile, heat your bacon grease or oil in a heavy pan.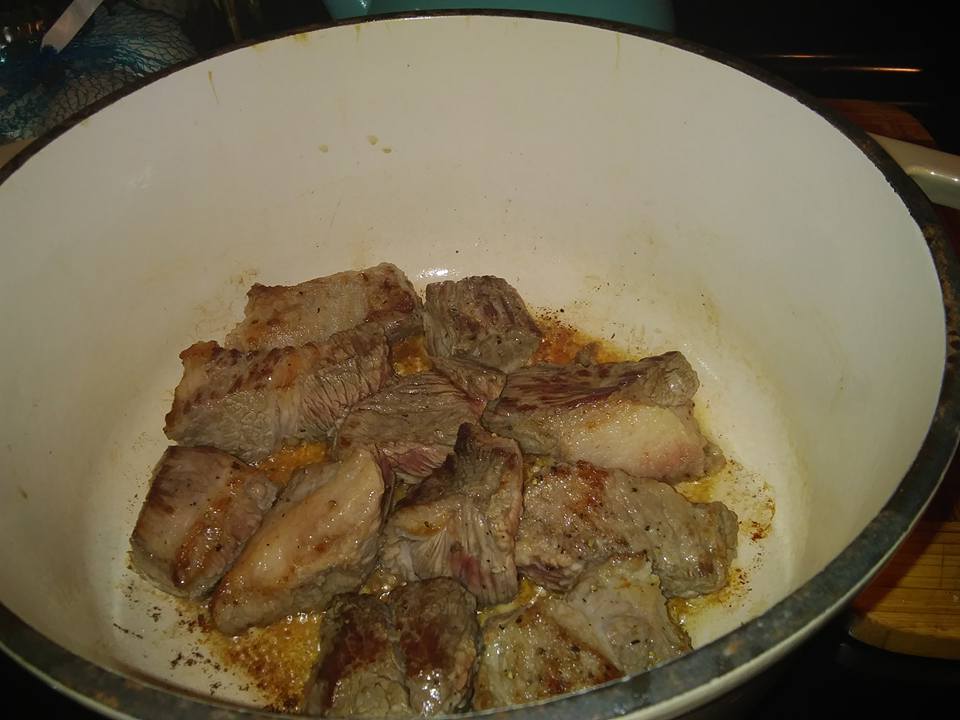 Sear the brisket chunks in the fat to get a nice crust. Do half at a time, to avoid crowding the pan. Set them aside as they finish searing.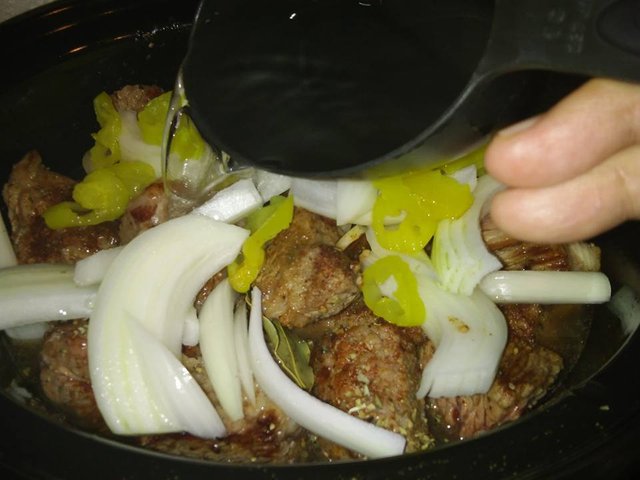 Set the meat all on top of the beans, Rotel and onions. Add in your seasonings, tomato paste and enough water to come halfway up the meat. Top with the rest of the onions and the peppers with a splash of the pickling juice. The brisket will release its own juices and fat as it cooks, and it melds into a magical savory delight! Stir this about every hour. It was after that first hour that I realized my original plan wasn't going to play out as I thought! I went to give it a stir, but it wouldn't budge!
If cooking this in your large Crockpot, cook the dish on the high setting for 4 to 5 hours, or until the beans and brisket are tender. You don't want to do this on a low setting, as it's not hot enough of a cook temperature to keep your beans safe to eat.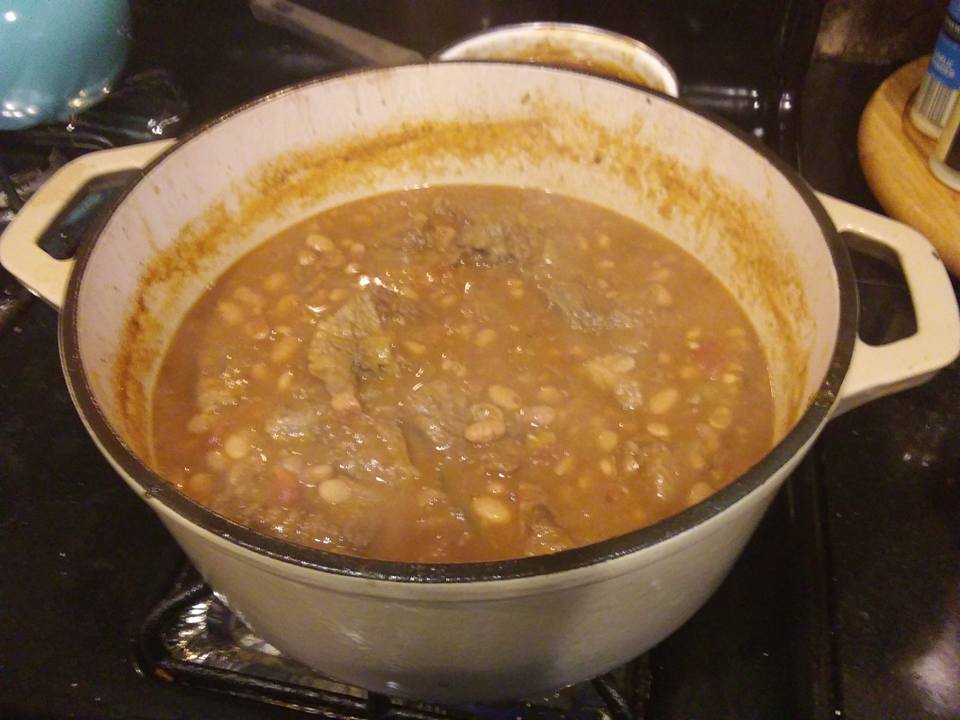 This will take several hours to cook, simmering on low heat. Mine ended up needing a good three hours after I transferred it to the proper sized cooking utensil! Give it a taste, see if it needs anything! It's not much of a 'looker' but it sure tastes good!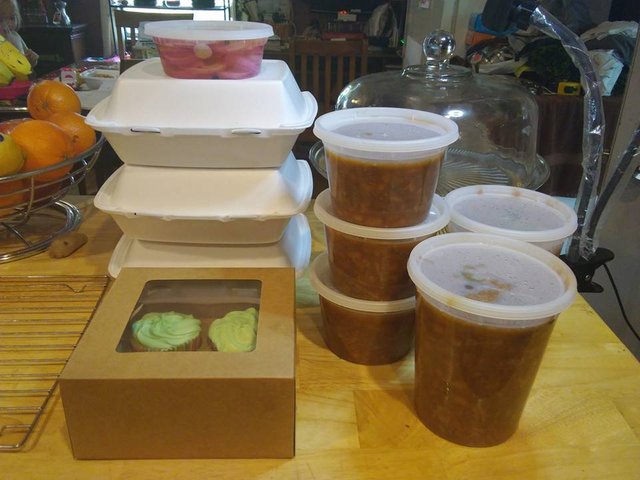 I had orders for three and a half quarts of Bull 'n' Beans. Luckily, it made just enough! But, I didn't get any to make up a pretty plate to show you how to finish it off. Bull 'n' Beans can be served as is, with a garnish of sour cream, cheese and scallion greens...maybe some fresh sliced jalapeno for an extra kick...and some tortilla chips or fresh corn or flour tortillas. It's delicious over rice, too, for an even heartier meal! This is even better when it sits, as the flavors intermingle! And, it freezes beautifully! Give it a try when you come across some beef brisket at a good price! In our area, beef brisket has floated between $1.99 and $2.29 for the past 4 years or so. And that's a bargain for beef! Today's brisket was a little over 8#...which is small by brisket standards. The smaller briskets, 8 to 12 pounds, seem a lot more tender and flavorful than those big old 20 pounders!

Texas Oven Style Brisket
5# Beef Brisket, flat or a whole small brisket
1 large onion, sliced
1/2 cup coarse grain mustard
1/4 cup Brisket Rub, home made or store bought
1/2 teaspoon Liquid Smoke
1 cup beef broth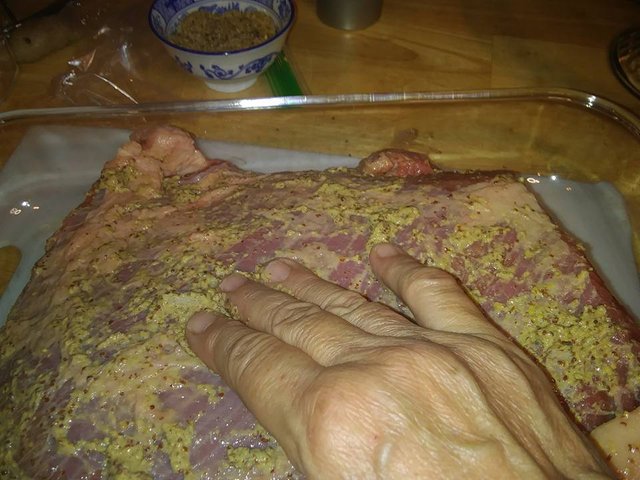 Rub the brisket with the coarse grain mustard. This not only helps the seasonings to stick, but it lends a fabulous flavor to the meat!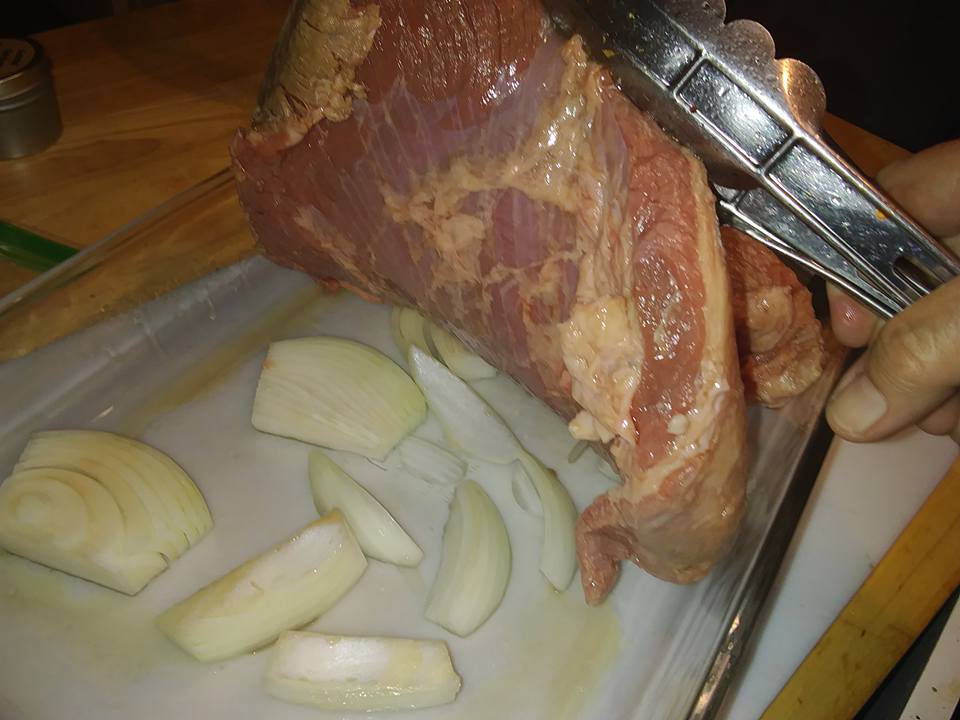 Place the onions on the bottom of your baking dish, for the seasoned brisket to rest on.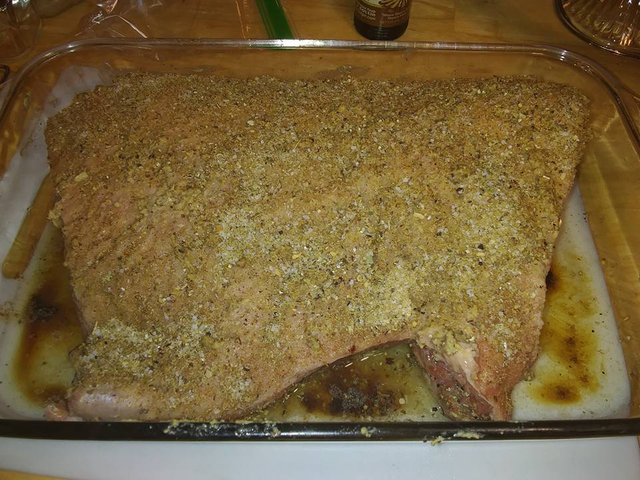 Season both sides of the meat with the rub and rest the brisket atop the onions in the baking dish. Add in the broth and Liquid Smoke and cover tightly with aluminum foil. Bake at 325 degrees, farenheit, for 3 hours. You're looking for an end temperature of 180 to 190 on a beef brisket.
We do ours with sauce on the side. A truly good brisket does not need a sauce...and this is a truly good brisket!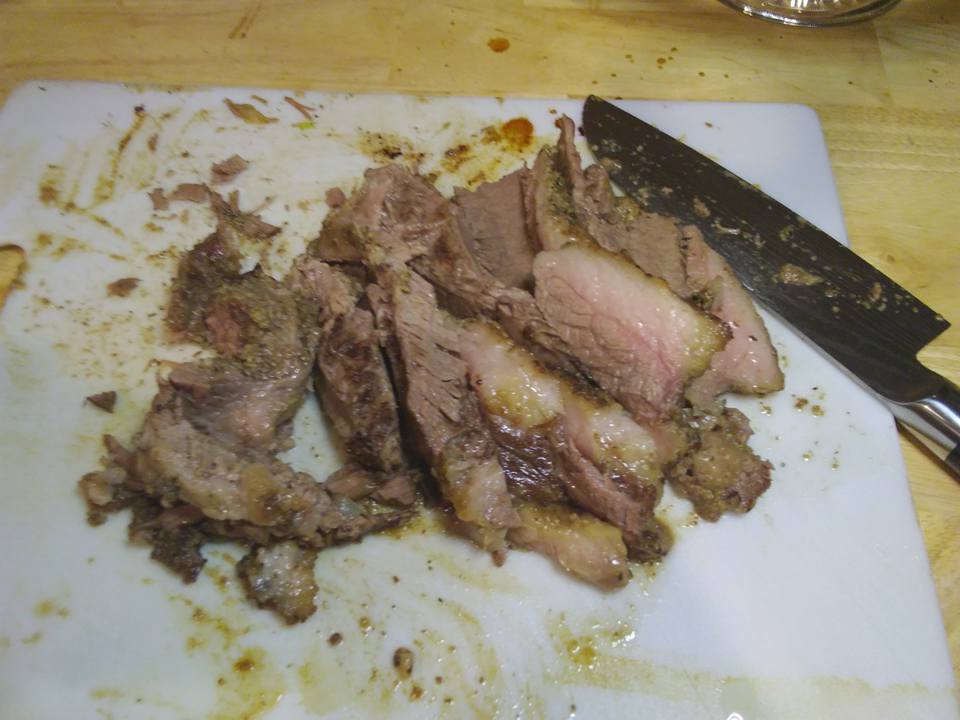 I rest my cooked brisket overnight, refrigerated. The fat in the broth will congeal and you'll be able to lift it right off the au jus in the pan...which is glorious in its own right! The brisket slices easier after the juices have redistributed themselves and the meat is cool. So, next day, we slice the brisket and return it to its juices till serving time! Again, not too pretty, but awfully good!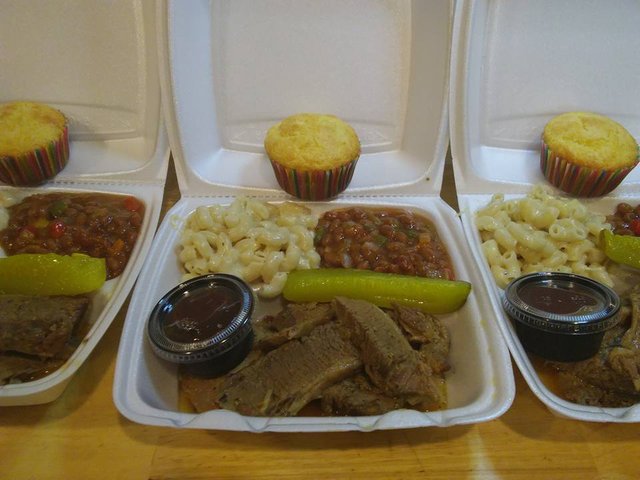 And there's the plate, to go! Half pound of Oven BBQ Brisket, Sauce on the side, with White Cheddar Herb Mac & Cheese and Party Baked Beans, Cornbread, a Kosher Dill Pickle and Quickled Red Onions!
Are ya hungry yet, my Steemian friends??? I'm ready! @smylie2005 is in the kitchen today, I think she's working on something to share with you, too! I've got some knock off King's Hawaiian Rolls attempting to rise on the stovetop, time to get them processed, next! Happy Sunday, Everyone! Steem on!