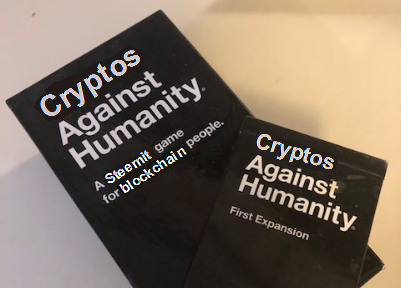 Hello again, contestants! We made it through Week 8 in spite of the incessant campaign ads and calls (if you're in the USA anyway) and now we're back for Week 9 and a little peace and quiet after Tuesday.
For those of you familiar with the party game of a similar name, it's a copy with a twist. For those of you not familiar with the party game Cards Against Humanity, check out the Week 1 post for more details.

Week 8 Summary
Here is the prompt from last week: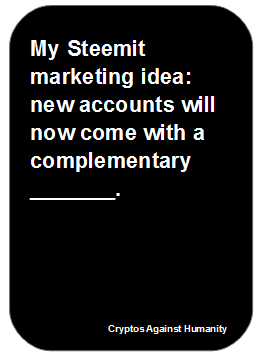 There were 19 entries in Week 8! Here they are in vote count order:

Week 8 Winners
Some of your answers were very clever, others were downright random (in a funny way!). It was tough to pick, but I went with the most useful.
My Personal Favorite
My Steemit marketing idea: new accounts will now come with a complementary
team of around 135 actors and 96 creators
by @fromage. Congratulations! If that doesn't help newbies get Curied, then they are truly beyond hope.
The Crowd Favorite
My Steemit marketing idea: new accounts will now come with a complementary
region of New South Wales, Australia
by @sparkesy43. Congratulations! That's actually not too far from what the US government did a couple hundred years ago with homesteading...
The RNG Award
My Steemit marketing idea: new accounts will now come with a complementary
concerned citizens
by @mimismartypants. Congratulations on winning this two weeks in a row!


Rules
TLDR; answer the prompt as a comment on this post using words from a random Wikipedia article
No resteem or upvote is necessary, although it is greatly appreciated. If I get paid out more than more than 4 liquid STEEM from these posts, I will increase the number of winners.
Use the Random Article feature on Wikipedia to get your valid list of words (your "White Cards", for those of you familiar with the actual party game). This link will take you to a random article. You can use any word(s) on the screen - intro, nav bar, anything!
Answer in the form of a comment on this post. The format of your comment should be two lines: your answer word(s), and the link to the article you used (see sample answer to this week's prompt below)
If you want to keep rolling for new random articles, that's your decision, although it's not in the spirit of the game. If you get a very short "stub" article or something written in another language, feel free to roll again though!
If you intentionally use a specific Wikipedia article, I can't stop you, but again, it's not in the spirit of the game.
Feel free to add the word "a" or "the" or similar "formatting" words to your answer if it would help it make more sense or sound better.

This Week's Prompt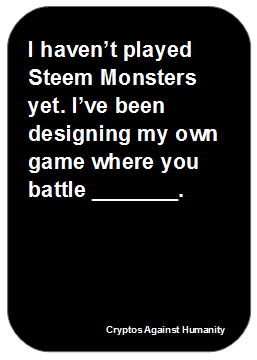 My Sample Answer
This is the qualifying format I'm looking for in your comment down below:
Russian Nationals.
https://en.wikipedia.org/wiki/Dmitri_Aliev

Prizes
There will be three shares of SBI awarded as prizes.
One share to my own personal favorite
One share to the crowd favorite (as measured by the number of upvotes, not the dollar amount)
One share to a random qualifying entry
I've also set a small Steem Bounty on this post. All valid entries will qualify. I'd also recommend subscribing to @dustsweeper for maximum benefit.
This contest will run for a week, at which time I'll close it out, announce the winners, and kick off the next round.
Anyway, thanks for playing, and have fun! Here's the random Wikipedia article link again. See you in the comments below!
I haven't played Steem Monsters yet. I've been designing my own game where you battle _______.



Join us @steemitbloggers
Animation By @zord189, Dividers By @jaynie