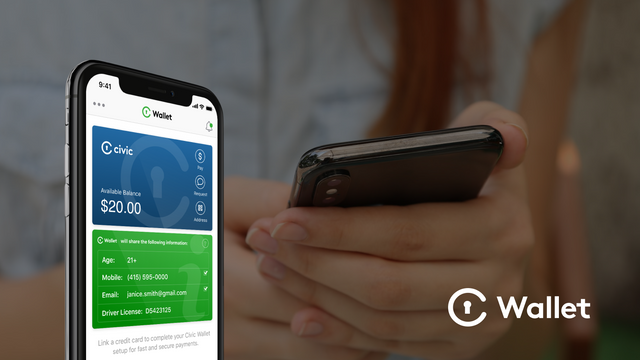 Hi friends,
I have been holding some CVC coins for over a year now. CVC is the ticker of the coin of Civic project for (identity and payment network) initiated by Vinny Lingham.
Last month, I came across their announcement for launching of their mobile wallet in the coming fall season. The Civic Wallet is identity info, money, and crypto all on one device. They are going to make it available only to some limited people on their wait list. So I immediately joined their wait-list.
Actually, this wait-list is a way to publicize their new wallet launch and they are offering about 92.5 million CVC tokens in reward to the top 100,000 referrers to this wait list.
Now this is a huge reward (considering the $0.04 price per CVC after today's price drop on Binance), I didn't expect I can make on to that list. So I referred only one friend to join this wait list.
But when I checked my rank on this list, I've always maintained among the top 2000 referrers though I referred only one user to it! Since this airdrop is still in progress, I thought I should share this information with all of you. I know you can do better than me and easily pocket this reward with the help of your friends & social network.
According to this offer, only the top 100,000 referrers based on activated users are eligible for rewards:
Top 100,000 referrers earn at least 500 CVCs
Top 25,000 referrers earn at least 1,000 CVCs
The first 5,000 people that rank highest according to their activated referral count become eligible for 5,000 CVCs each
The top 500 people with the most active users at the end of the campaign become eligible for 25,000 CVCs each!
Thus according to today's low price of $0.04 per CVC, you can earn anywhere from $20 to $1000 if you can make to the top 100,000 referrer list.
So here I'm providing my referral link in case you are interested to take this challenge.
Please note, this reward offer is not available to United States' residents. And you and your referrals will need to complete KYC requirement for account creation after downloading their app when it is released.
Ready? Start here: