Preemie hats coming along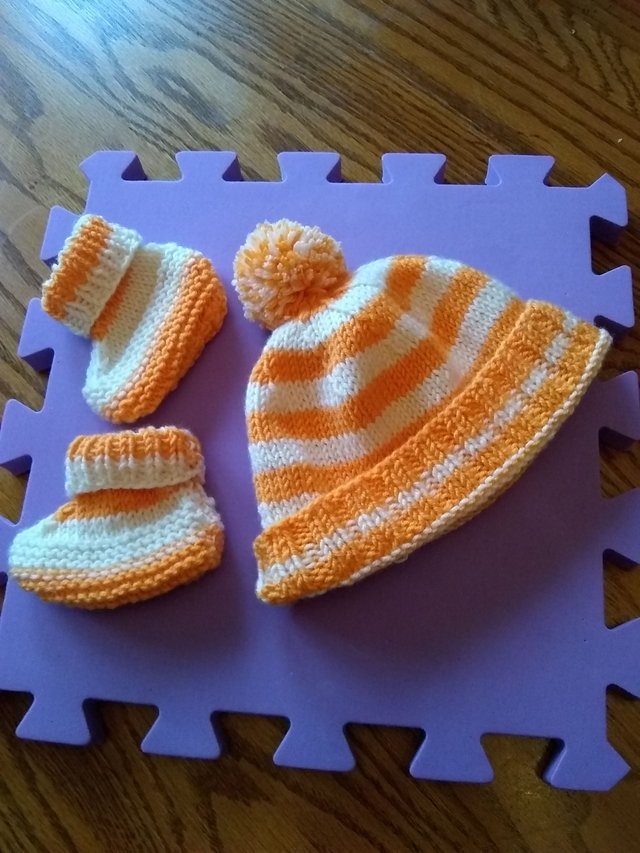 Here are a hat and booties I made for a new baby in our family, about a month ago. A nice warm up for the preemie hats!
The preemie hat challenge is turning out to be fun and kind of informative. My first thought was, "where will I take them?" I live in a rural area, with the closest neonatal unit 75 miles away. Well, I called them and the nurse I spoke to was so enthused! She said they always need hats, gave me circumference measurements request and told me where in the hospital I could drop them off. At that point I wondered how I could get more people involved. There are lots of nice people who knit down at our local yarn shop, so I checked in with some of them. They told me they already collect hats for "Knots of Love" which are sent out to be distributed to preemies, chemo patients and others. They invited me to knit hats for their project. I declined, wanting to make my donation closer to home.
As it stands, I'm on hat #2 and plugging away. I work full-time, so I will do what I can. I love that this challenge has introduced me to a way to donate locally, well kind of locally, doing something I like to do. How are other folks doing?