Neblio (NEBL) Update: Vision Becoming A Reality!
In my last Post about Neblio from 7 months ago, I explained why I think Neblio is the most undervalued cryptocurrency in my opinion. The price of NEBL at the time was about $1. Today it's about $14. That is about 1300% price increase in 7 months. Not bad at all, especially taking into consideration that it already reached $64 In January in the Epic bull run. So on one hand Neblio is far from it's all time high but did not crash and burn like some other crypto currencies did in the crypto crash that came right after the bull run.
Right now Neblio is at a point where I think it is about to make a serious bull run in the near future. In this post I will explain why.
Neblio Dev Status
A few weeks ago the first set of APIs in 8(!) different programming languages including Python, Rubi, Java, JS, Go, C#, Objective C, and PHP, was launched. This makes Neblio way ahead of most of it's competitors. I'm not going to mention names here but there are many blockchain solutions out there that raised over $100M in a flashy ICO and their token is still an ERC20 token because their mainnet wasn't even launched yet... Neblio had a mainnet during the ICO and already has all the wallets and first set of APIs!
In addition, you can already create your NTP1 (Neblio Token Protocol 1) token, using the Neblio Orion Web wallet, with just a few clicks.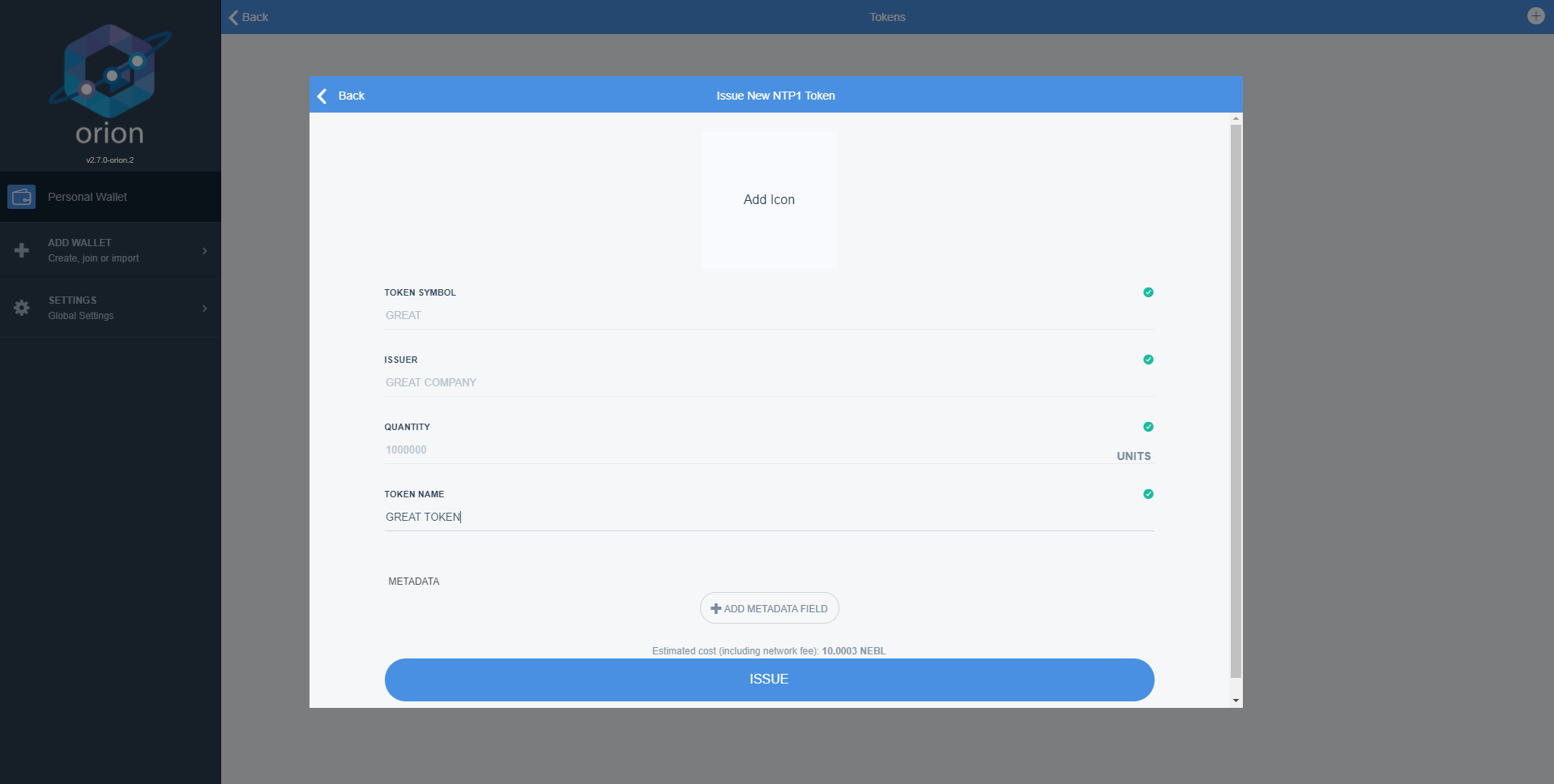 As a result, there were already a few Neblio powered ICOs conducted, and a few more are planned for the near future. You can see them listed here.
Neblio Quicksync is another big advantage. Gone are the days that you need days to connect and sync all the blockchain data. Neblio Quicksync allows you to do it in less than a minute!
The potential in Neblio is HUGE and the reason is simple. If you take Ethereum for example, as a company or developer looking to develop something in the Ethereum blockchain you will have to learn the Solidity programming language. This is a major obstacle to transition to blockchain. As a developer you will need to learn a new language you are not familiar with. As a company with existing dev teams, you will have to hire a new team of dedicated blockchain developers, making it more costly and time consuming.
With Neblio this barrier is non existent because you can develop anything with the programming languages you already know..
So you can literally sync to the Neblio blockchain, create a token, and create a basic Dapp (decentralized app) in less than an hour!
Neblio Marketing Status
Neblio is very misleading. People think that they do very little marketing, but on the other hand you can't argue with numbers. Going from raising barely $2.5M in August 2017 (selling 100% of the tokens, so Mcap was $2.5M) to a market cap of almost $200M in 8 months (over 7000%!) does not happen by chance. In a market so volatile with so many competitors, maintaining a steady growth like Neblio did can only happen with increased exposure and demand. Most crypto projects I know, do it with a lot of hype and false promises. But Neblio is an exception. They just do it.
I remember when I made my first Neblio video. It was during their ICO and **I was the ONLY Youtuber that covered their ICO.. ** Today when you search for Neblio in Youtube you get almost 10,000 videos...
But what's most exciting in my opinion is that up until now Neblio marketing was focused on gaining more exposure and positive branding, but now that there is and actual "product" to sell the marketing is going to be focused on bringing developers and companies to use Neblio.
The campaign kicked off with a great video they made which was so different and refreshing than the crypto videos I was used to, where you see an animated explainer or the team just talking about their company..
I'll just let you watch it and see for yourself:
Neblio's General Status
2017 was the year that the crypto market had it's real boost. Main stream media started talking about Bitcoin, Blockchain... Ordinary people started investing in ICOs..
2018 is the year of adoption.
The second wave is just around the corner. Big players are going in, both investors and companies, transitioning to blockchain and crypto. Neblio, with all it's strengths and advantages, will grow substantially simply because it's simple. APIs in 8 of the most popular programming languages opens the door to millions of developers that can now transition to blockchain without all the complexities they were facing in the past.
Neblio's Technical Analysis
Although I have been trading in the past and know technical analysis, I do not consider myself an expert. Therefor I will not give my own technical analysis and price predictions. However. I just saw a very interesting technical analysis of Neblio by one of TradingView's top analysts with over 50K followers where he is very bullish about Neblio and talking about 240% profit potential! Here is his analysis:
https://www.tradingview.com/chart/NEBLBTC/8M4Zkxq0-Neblio-NEBL-Short-Long-Targets-240-Profits-Potential/
Where Can You Trade NEBL?
Neblio Info
So, What do you think is going to be NEBL price by the end of 2018? Please share your thoughts in the comments below!