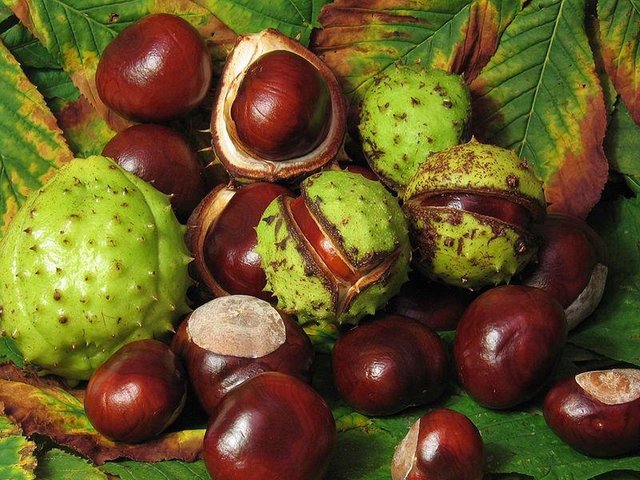 Hello my friends steemit. Today I want to tell you about the incredibly rare tree of Ukraine, which is the symbol of the city of Kiev. These trees in Europe almost can not be found, but in our capital is seated all the central streets, parks, squares, my hometown. I am happy that I can enjoy this wonderful flowering tree. It's beautiful in any season. Spring - it is flowering, lovely flowers in the shape of a cone, white and pink. In summer - a beautiful fruit and give a cool and saturate the atmosphere with oxygen. These trees are very useful in high-gassed cities.
In the autumn - it is a beautiful color of leaves, from yellow to orange, and the fruits turn into prickly hedgehogs. Winter branches are transformed into beautiful hats in the snow. By another, fruits and flowers are medicinal plants. Because it makes the tincture. In some countries, pickled chestnuts and eat. Now, a brief history of this rare and in truth a magical plant.
For many years the chestnut is the symbol of Kiev. Branch Chestnut attended the coat of arms of Kiev in the USSR period, and now many Kiev organizations use her image in their symbolism.
But chestnut guest in our latitudes. His homeland - Greece. By the way, the appearance of the chestnut there is a legend: "Cupid - the god of love - sent their arrows, mostly at night. The night is dark, often he was wrong and the arrow fell at the wrong heart, breaking it and causing the lovelorn. But Cupid was a good god, he suffered from his mistakes, and that's asked his mother Venus to help him. Then Venus scattered on the ground beautiful shiny seeds. From them grew large trees that spring straightened their leaves, fingers, which were holding candelabra, candlesticks, lighting up the night of May, helping Cupid hit the target, causing a reciprocal love. " How I was brown in Kyiv and became its symbol? The appearance of these trees, the city owes the governor-general Bibikov.
In 1842, in Kiev was going to come on a visit, Nikolai I. City authorities prepared a magnificent reception, the emperor wanted to surprise with something unusual and Dmitry Gavrilovich Bibikov, being at that time the Governor-General of Kiev, has decided on the route of the imperial cortege planted avenue of trees overseas. In France, it was ordered about a hundred seedlings of chestnut trees. They are planted along the boulevard, which is in honor of the governor dubbed Bibikovsky (now boulevard Shevchenko).
Sorry for my English :)