This is Why I Like Deer Fences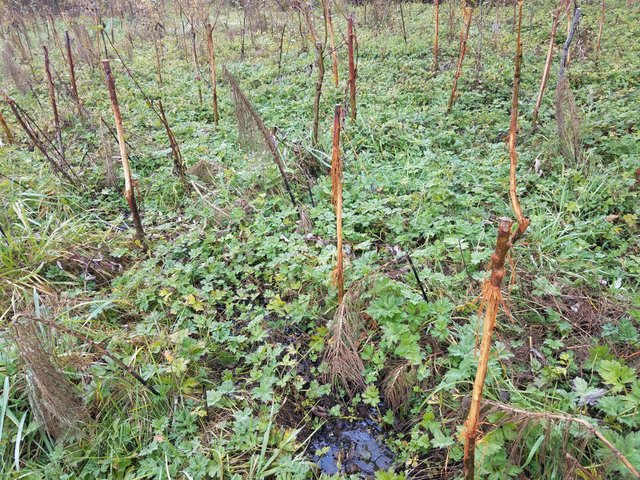 I always try to find a balance on land where I can work with nature and not against it. But sometimes... well sometimes the lack of natural predators mean that a land is just simply out of balance. Deer in my area and in many parts of the temperate world are the classic example.
A month or so I wrote a blog post about this but I thought I would share a recent example from one of my restoration sites.
Now I learned my lesson long ago and I use deer fences to protect my restoration projects. But sometimes deer fencing is not practical or could cause its own issues.
I was out at a restoration site this morning and there is a large wetland area that I created by raising the water level by removing the old water draining features that the previous owner had installed. Last winter my contractors planted about 10,000 willow live stakes.
My design called for so many willow live stakes because deer fencing was not a viable option. The soil is just too wet and the fence was not going to be stable and it would have caused other issues such as cutting off wildlife access to the wetland.
So the option was to put in a ton of willows and expect high losses. But to my surprise the deer mostly left the willows alone over the spring and summer and the willows just grew and grew and were really looking good. Most of the preserve is healthy and natural so there was other food for the deer so only the willows on the edge of the wetland area got browsed.
Then the fall came...
It was not browsing that caused the problem but instead the bucks decided all the live stakes were perfect for rubbing their new antlers on. The result is close to 2/3 of the willows have been rubbed breaking off most if not all of this year's growth!
Luckily we planted a ton of willows and with all the available water I expect many of the willows to regrow come spring. But this has still set them back significantly and will likely cause a number of them to die. I also expect this to happen each fall for several years at least...
The result will be less habitat for birds and other wildlife since it will be a while before the willows get big enough to provide nesting habitat and other habitat for wildlife.
The same thing happened on my wild homestead before I finished my deer fence. I even had a 10 foot tree broken in half by deer rubbing their antlers on it.
Without predators the deer stay in one place for much longer then they naturally would plus their numbers are much higher. I really don't have a solution to this problem other than to really over plant (very expensive) or to install deer fence (expensive but effective). Hunting in this area is not an option.
So my lesson for you all is that without predators a prey species like deer can cause damage to their environment. This results in what in ecology is called a downgraded environment. Essentially, an environment that is less diverse and less abundant then it would have if the predators (or other keystone species--in a few ecosystems browsers are actually a keystone species) were present.
One day I hope that large predators will be returned to much of their former ranges. If we really want to heal the world and create the abundance that a healed world would have we need to make space for large predators.
If you live in the United States I highly recommend checking out this video from PBS which does an amazing job covering this topic and how the concept of keystone species were discovered.
What do you think? Have you had issues with deer on your wild homestead? Please leave a comment--I would love to hear from you!
Check out my post -- Can You Support Wildlife While Keeping Deer Out? -- to learn more about this issue.