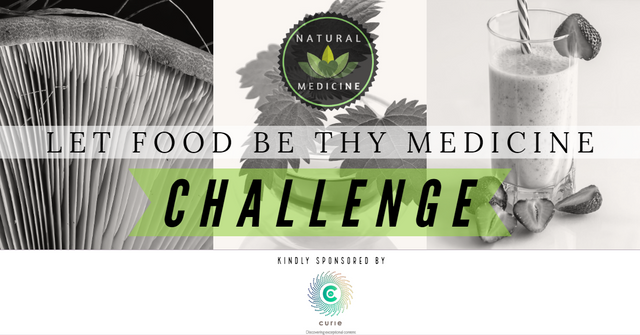 One thing we've been really proud of is rewarding great content on Steem, something we share with this challenge's sponsors, the well respected and absolutely appreciated @curie. They've seen our efforts to celebrate and support the Natural Medicine community on the one and only Steem blockchain and decided we were worthy of support! This is great news for us all, because it means we can continue to support you!
This week we are setting a challenge we think you'll all love. Using the theme 'Food as Medicine', consider some of the following ways you might respond to that.
Share your story on how food as medicine has improved your (or your families) health & wellness.
Have you treated or cured an illness through food? Tell us about it!
Tweak a less healthy family favorite recipe using healthier ingredients. Detail the change in ingredients and how your family responded to it.
Try something new! Buy or forage a fresh ingredient you've never tried before. Tell us about the ingredient, the health benefits and the overall experience.
Share a favorite healthy meal recipe.
Teach us about a traditional local healthy food: where it grows, the nutrition, traditional knowledge, how you use it etc.
Talk about eating mindfully - what might this involve?
Share the challenges you face (or have faced) with incorporating healthy food into your life. Have you started the journey towards improving your health through food? Tell us about it! If you achieved your goals: How did you succeeded?
Prizes
As Curie are matching our offering of Steem Prizes, we are able to offer 40 Steem worth of prizes for this challenge!
There will also be a spot prize for Week 1 Winners and we'll curate you in a Week 1 wrap up, so don't delay in getting your entry out there.
Other Guidelines
Please resteem this post
Drop your link in the comments section below (so we don't miss your entry)
Use the tag #naturalmedicine and any other tags you see fit to use.
Refer to this post in your entry and insert a link to this post.
Create an interesting title, use original photos where possible, and be amazing!
Due Date: June 27th
Above all, have fun - can't wait to read your entries!

We need YOU! Please consider delegating to help keep this collective going. The minimum entry for membership is 50SP (free for members under 150SP), and helps give YOU upvotes, contests, meditation sessions, an awesome discord support group, and so much more!