🎸#mytunes : ♯ Weekly Music List || Nº3 ♯

Welcome to the weekly post of #mytunes project, what's this all about, simple:
sharing your own music, the music you're listening or that you love!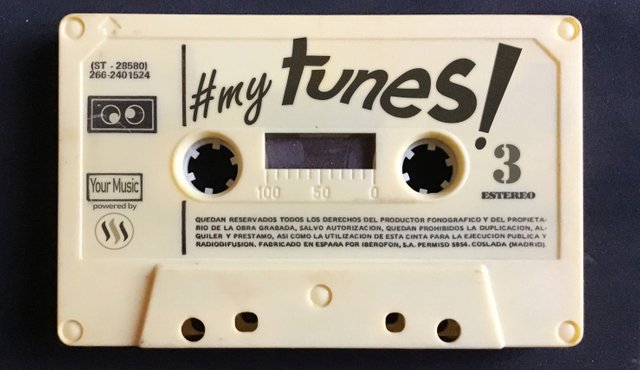 ~ This is NOT A CONTEST, everyone wins :) ~
This week of cryptos fall was not a drop in our spirit and many real steemians shared good stuff .
You know this is not a contest so I decided to make a Raffle of 1Steem amongst all that made a valid entry

There is a remaining fund of 12 11 Steems, that will provide us with 12 11 weeks of gifting some love to one fortunate steemian.For that I've used an online site :
http://www.randomresult.com
Great loving thanks to our donors: an annonymous one and @dreemsteem, big hugs to them!
Got special thanks to @fraenk who is permanently supporting and spreading the word out there.
Special mention also to #pypt which helped gaining audience, much love to you :)
Tones of thanks to those who commented, shared music, participated and supported the idea,those were(in order of appearance ):
@roguescientist84, @madlenfox, @esthersanchez, @blind-spot, @fraenk, @sgt-dan, @marblely, @artemisa7, @philippekiene, @dreemsteem, @drakernoise, @mumma-monza, @geekdancing
The Weekly Music List was made by all who participated and I called it MyTunes Weekly List 2 with finally 21 tracks that is worth to watch and listen to, you can find it here: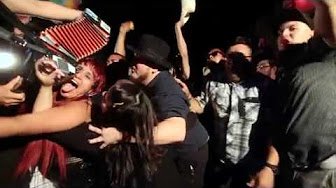 Weekly Music List #2
---
As we are using the
#palnet
tag in our posts ( which I also recommend doing ) we are getting liquid rewards in PALs tokens that I will send to your Pal's accounts to help you grow them. It would be nice to power them up to help PALnet grow too :)
If you don't know nothing about Palnet go take a look : https://www.palnet.io/
A useful post to get some questions answered : https://www.palnet.io/palnet/@juliakponsford/palnet-the-dazed-and-confused-user-guide
Liquid reward was 0.274 SBD (That I've sold for 0.93 STEEMS rounded up) plus 0.074 STEEMS what gives us a total sum of 1.004 STEEMS that will be shared between all who made a valid entry (total of 11 people not counting my accounts @drakernoise or @artemisa7). The count finally throws the frightening sum of 0.092 STEEMS (rounded up) each! :P
I'll use STEEMS for next rewards to avoid messing up things. I believe in Steem from the begining and I think that's a good reason for this solution.
The block info where you can check the reward : https://steemworld.org/block/34667748
@mytunes's Pal account received 0.199 PALS liquid reward so I've sent 0.0181 PALs (rounded up) to your PAL account ( if you don't know you already have one! just use this url : https://www.palnet.io/@yoursteemitusernamehere)
The block info where you can check the reward : https://steemworld.org/block/34668626
Rewards has been already sent to participants.
And our weekly raffle winner of 1 Steem is :
@dreemsteem
Congrats!

(Who have just received his prize)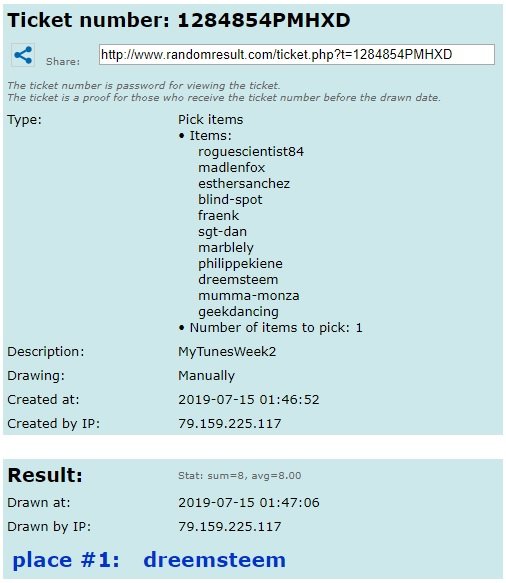 The ticked can be checked here: http://www.randomresult.com/ticket.php?t=1284854PMHXD

---
How to take part? :
Coment on this post and share at least one song (or song-list) you've being listening to or that you simply love. It can be a Spotify link, a YouTube link, Choon link, DSound link or whatever audio-video stream platform you love.
Some tips:
Every entry gets a 100% vote plus a "follow" and persistent vote (100% vote) on their normal posts for those who make good quality comments and posts. Votes come from @mytunes, @drakernoise and @artemisa7 accounts. Nowadays due to drop in crypto's prices our vote is lower than normal, hope this changes on a near future :)
Liquid reward of the weekly post will be shared and sent to all valid participants. Obviously I won't take nothing of the liquid reward, I'm more than rewarded with the author reward and your feedback :)

---


Don't forget of looking around with differnet funny eyes!

If you want to take more fun, join the #googlyeyes fever, take part!



👀 GooglyEyes 👀

Remember to look at the world with different funny eyes and listen with open ears, sharing music makes a better world for everyone...

~ Made with 💖 for you, hope you enjoy it! ~

Discord me : drakernoise#4841