When visiting the pub in Piskopiano – Crete I did got some new inspiration about music and songs.
Songs which I did knew from the past but never really paid attention to.
Source
One which really surprised me in a possitive way was 500 miles from The Proclaimers. In my younger years this had been a hit but I never paid any attention tot that style of music. Now hearing this song several times in the pub, it's a pretty catchy tune and well arranged :)
Source
The night before the soccer match between Ajax and Chelsea we were in the pub, there was this guy together with his girlfriend. I already noticed that he had quiet a few drinks already and was talking a bit strange :) But I got into a chat with him about football and (yep) Brexit. In the last topic he got really furrious lol…
But when Our house of Madness played he gone wild, he sang every single word in the exact tone and the exact dialect, and his girlfriend too hahaha , brilliant.
Source
Sweet Caroline by Neil Diamond is considered a real evergreen, and it is… But does he have some voice… While the song played all the British people sang along on a big volume :) And of course we did too…
Source
This song they played because my brother in law asked for it. It's from the Dutch band "Normaal" . The song is about 2 guys riding dirtbikes and eventually crash. The band is from the eastern part of Holland and also sings in the language / dialect from that part. They are (still) very popular among the dutch farmers..
Source
The always had this character on stage "Hendrik Jan Haverkamp" a bit of a silly farmer which entertained the crowd and played a important part in the gig's of Normaal.
At a certain point the merchandising of Normaal went beyond limits. The even had their own beer :) and it was very succesfull, in the early eighties a lot of local bars serverd the beer, and of course all farmers ordered that beer in stead of the regulars… :)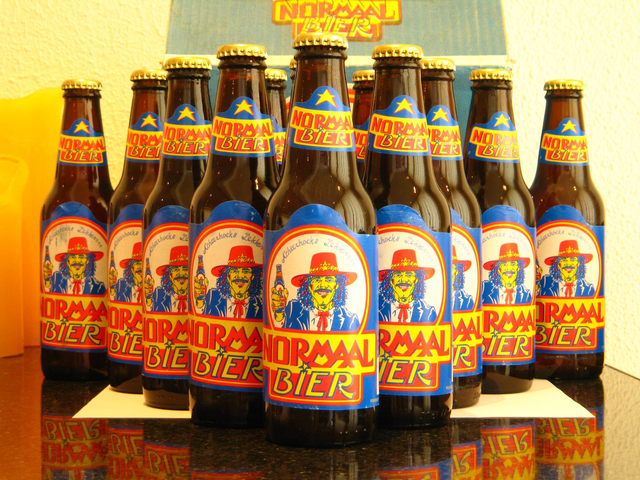 Have a great day,
Peter
---
I am with QURATOR, are You?

---
I am using Esteem




I fully support @s3rg3 and @exyle, who are witness with their developer group @blockbrothers for the Steem blockchain. If you want to support them, they would appreciate your vote here.


They are the creators of Steemify, THE notification app for your Steemit account for IOS.
---