Exploring the Music Community on Twitch!
Would you like to explore with me the music community on Twitch because if you are tired of watching videos on YouTube, you might find something that you like on Twitch?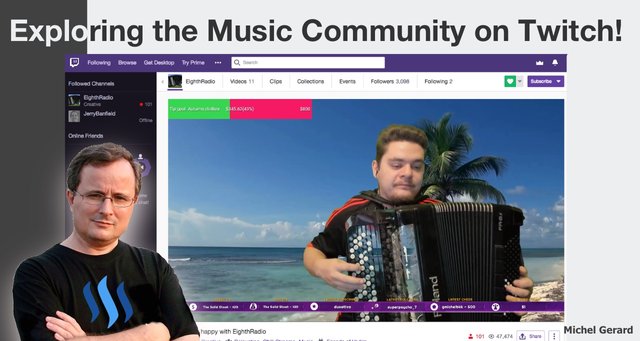 Twitch is a live-streaming platform, which is mainly known for live streaming games, and if it didn't have anything else, then I would certainly have not been interested.
Exploring the Music Community on Twitch!
I am not a live streamer and do not intent to be, but on Twitch you need life streamers and viewers, which I will be.
The advantage of streaming on Twitch apparently, is that you only have live streams and you can create a community around what you do. As a streamer you can build an audience and earn some money along the way.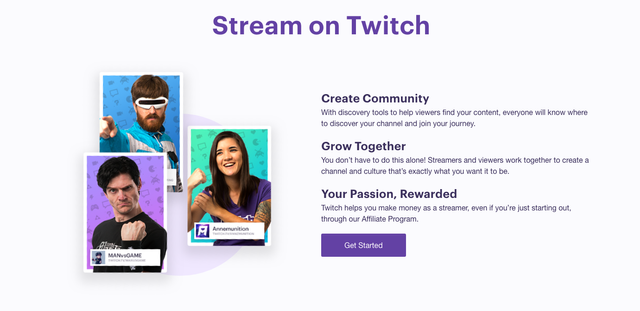 In addition to video game live streams there are also a whole lot of creative communities, and the one I am interested in is the "Music" community.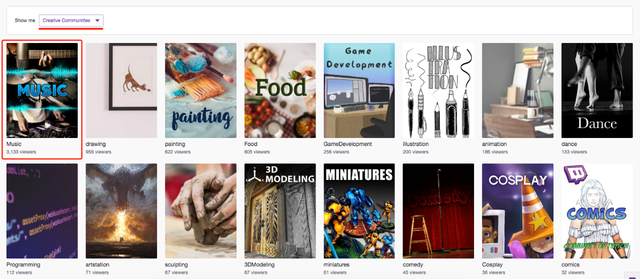 There are different genres and the first one I got to watch is "EighthRadio" because I like the accordion and I haven't listened to this kind of music for quite a long time.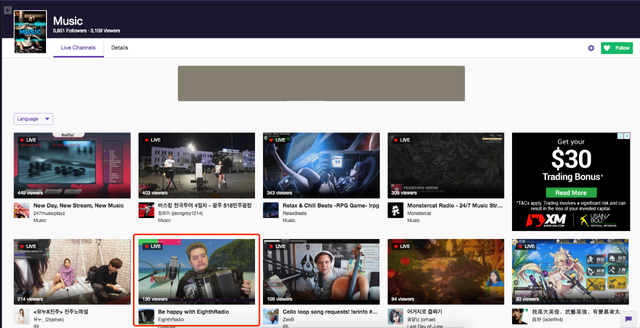 This musician, Vadim, is really good and his music is very entertaining and relaxing at the same time.
I just love it.
When you like a creator, as a viewer you have the possibility to tip, cheer and subscribe.
After buying my first 1,000 Bits, I cheered that musician with 500 Bits, which is $5.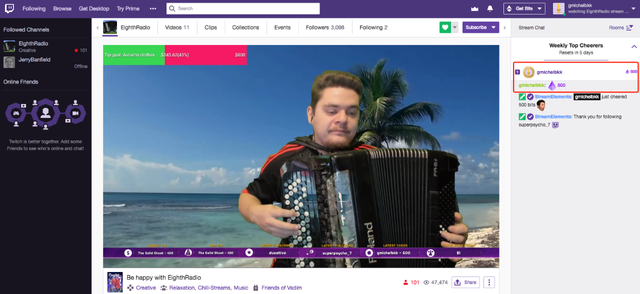 The next day, a couple of other people cheered as well, one gave 1,000 Bits and the second one 500 Bits.
This make me think that there is a real opportunity to make some money if you are a musician with regular live streams where you can interact with viewers and the rest of the time you can stream videos you have recorded.
This was a short post, but I hope you enjoyed reading it and that you will give Twitch a try.
Would you upvote this post and follow me for more because this will encourage me to write more posts like this one?
I have categorized my posts on Steemit for easy access:
Steemit tools | Steemit strategies | Steem economics | Steem on WordPress | Blogging on Steemit | Steemit posts I curated | Cryptocurrency | Cryptocurrency trading | Mac computer tutorials | WordPress & online marketing | Self-development & motivation | Travel in Thailand | Travel in Japan | Travel in Europe | Life in Thailand | Fitness challenge | Fruit-veggie juices & smoothies | Education | My answers on Quora | Fundition tutorials & projects | Miscellaneous writing
You may prefer to go to my Steemit Posts Directory.
The most important votes you can make on Steem are for Witnesses. The top 20 witnesses can influence the addition or removal of features in future Steem hard forks. Read my post: What is a Steem Witness, How to Vote and Why?
Michel Gerard