Handel's *Messiah* and the Cure for Depression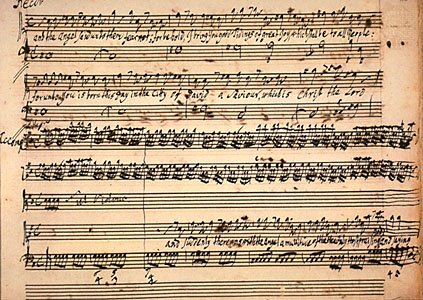 In the summer of 1741, the composer George Frideric Handel was in a tough spot. For the last number of years, the British public taste in opera was waning. Yet these were Handel's primary source of artistic inspiration and income. As production revenues became less and less, to continue his work, Handel was forced to even pay from his own pocket to keep his operatic performances running. All of this took its toll - physically, financially, emotionally, and spiritually. Some described him at the time as withdrawn, heartbroken, and even depressed.
Handel had received from a friend a concept for an oratorio (essentially, an operatic musical piece without costume, staging, or dramatic action), which was based on the biblical prophecy and fulfillment of Jesus as Messiah. At the same time, a charity in Dublin had commissioned Handel to put together a performance for a fund-raising event. Though initially uncertain of the venture, his inner artist was reawakened; the muse of genius was stirring. Handel locked himself in his room for three straight weeks, working in such a frenetic fervor that his closest friends became concerned.
According to legend, on one afternoon, one of his house servants came to check in on him and found Handel beside himself, tears filling his eyes. Handel grabbed the servant and exclaimed: "I did think I did see all Heaven before me, and the great God Himself!" He had just finished the now well-known Hallelujah chorus.
In April of the following year, Handel's Messiah debuted in Dublin and became an instant critical success. Finding himself again a public figure and artist, it was not only Handel's fortunes that were turned around, but his inner spirit had again found its voice. His creativity rediscovered its authentic expression, and he continued his composing for another decade, into the final years of his life.
A Personal Reflection
As one who has struggled with depression myself, I happened to come across this story and musical piece at a critical time in my life. In a depressive state, it is extremely difficult to find the barest scrap of desire to continue to live another day, let alone feel a resounding "Hallelujah!" chorus. In depression a dark cloud sets upon you, and everything feels dim, distorted, and hopeless. For me, music was one of the sole bright spots of hope - I could sense that something deep inside me wanted to find joy, but just didn't know how. Music was something that helped draw out that inner, desperate voice.
Hearing the first choral piece of Messiah was a Shawshank Redemption moment for me. Do you remember the part of the movie when Andy Dufresne finds an album of Mozart's Le Nozze de Figaro? He locks a guard in the bathroom, starts playing the record, then broadcasts it over the loudspeakers to the entire prison. Everyone immediately stopped what they were doing and looked up with longing and expectancy; it was as if timeless eternity broke into the moment, giving each man a glimpse of heaven on earth.
In the words of Red: "It was like some beautiful bird flapped into our drab little cage and made those walls dissolve away. And for the briefest of moments every last man at Shawshank felt free."
Messiah was like that for me. I was in my car, driving home from work. I think a friend had recommended that I give the piece a listen - though I can't remember exactly who. But when the first words of "Comfort... Comfort ye..." came across my tinny speakers, I was floored.
After a few moments I could barely see the road, my eyes were so blurred with tears. All I could do was weep. Not with pain or regret or frustration, but with longing... aching... desire. Comfort. Oh, God, let me find comfort.
Thus began my infatuation with Handel's Messiah. Every time I listen, I hear something new, something beautiful, something I want to hold on to.
"Comfort, Ye"
The following performance of Messiah is my favorite - directed by René Jacobs and performed by the Clare College Choir and the Freiburg Baroque Orchestra.
Give a listen to the following accompagnato, "Comfort ye, my people, saith your God."
The libretto:
Comfort ye,
Comfort ye my people, saith your God.
Speak ye comfortably to Jerusalem, and cry unto her,
That her warfare is accomplished,
That her iniquity is pardoned
The orchestration begins simple, gentle. Even soothing. The strings echo in response to the tenor's voice, as if the heavenly choir itself is re-voicing God's compassionate directive: "Comfort ye..." ("...comfort ye...").
With the second phrasing of "Comfort ye," you can't even tell where it begins. It builds softly, but with growing force, until its rich words fill the musical space. The words linger like a soothing balm.
A mild authoritative voice: "saith your God." A gentle reminder that this isn't merely one voice among many.
Then a growing scale that builds up to the emphatic "Cry" unto Jerusalem that peace is on the horizon. This is the voice of forgiveness and reconciliation. Gone are the sharp (both literally and figuratively) words of "warfare" and "iniquity." Instead they are replaced with a finality represented by a denouement of strings.
The Biblical Background
The text of this segment of Messiah is taken from the biblical book of Isaiah, specifically chapter 40. For an oratorio about the birth, death, and resurrection of Jesus Christ, this is an interesting (and poignant) moment to start from.
The first 39 chapters of Isaiah consist of strong language against the people of Israel. This is attributed to the prophet Isaiah who saw a people stagnant in their obligations of fidelity to Yahweh, their God. Chapter after chapter of rebuke, challenge, and threat - utterances from a grieving God to a people who had lost their identity. Instead of the tender intimacy between a betrothed nation and her true love, the people had forsaken their God and turned to idols and political treaties. The result: Exile.
Israel interprets its theological history through the lens of exile and return. After turning aside from God, the nations of Assyria and Babylon each took their turn of invasion and domination. Ultimately, the Jewish people were taken captive away from their lands of promise. But this is where Isaiah 40 begins.
Isaiah 40 is generally thought to be written around 150 years after the first 39 chapters, written while the Jews were in exile as a message of hope and unforgotten promise. A voice of comfort to the people of Yahweh.
The Messiah of Isaiah (literally, the "Anointed One") is probably referring to the leader Cyrus the Great who conquered Babylon while Israel was in exile. Cyrus wanted a rule of trust and mutuality with his people (though still authoritative), and so overturned the old laws of domination. Captive peoples were allowed to return to their lands and worship their own gods. This included the Jews. Cyrus was seen as a divine tool, allowing Israel to return to her land and live again in reconciliation with the Lord God.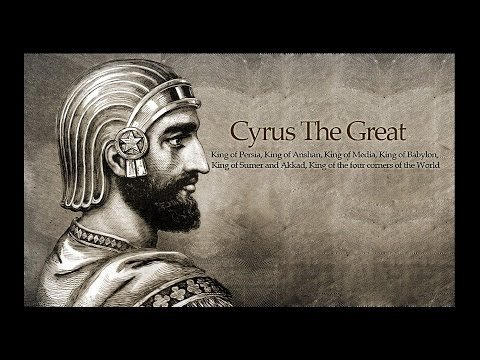 How does the Messiah of Isaiah relate to Handel's Messiah? In Jewish thinking, the Messiah became seen as a prophetic figure, along the same line of Cyrus' salvation, but of the spiritual dimension. The Messiah was one who would become a new religious and political ruler of Israel, guiding the nation into her proper role as a servant and witness of God.
Early Christians believed that Jesus was this Messiah, and the Gospels freely use messianic passages from the prophets as representative of Christ himself. These verses from Isaiah (and other subsequent ones) are interpreted through the lens of Jesus, heralding his coming centuries before his birth.
And this was a voice of comfort. Jesus as Messiah was bringing a spiritual end to the wayward tendencies of human weakness. The "warfare" between flesh and spirit and the "iniquities" (sins) of the people were put to an end through him. These, then, are the bookends of the messianic message of Jesus: the attributed prophecies of his coming, and the final conquering of sin and death at the resurrection. Thus these are represented in Handel's opening and closing of Messiah. What begins with "Comfort ye" ends with "Hallellujah!"
Really, a Cure for Depression?
If I may be so bold...
The biggest problem I faced in my own depression (and still do) is the feeling of hopelessness. That there is no meaning, no purpose, and no ultimate reason that things would ever turn around for the better. Depression tells us the lie that life is static - how things are is how things always will be. Of course, logically we would say this isn't true; but that's not how our feelings feel. And our feelings begin to dictate our thoughts... and the downward spiral begins.
I am being a touch facetious when I speak of a "cure" - there is no cure. There is no single remedy that "fixes" someone with depression (as if they even need to be fixed!). But - BUT - there are steps we can take that lead us out. And for me, those steps were connected to hope.
There are many ways we find hope. For many people, it can be easy to start thinking of all the places in life that bring hope and life and love. For those that are depressed, it is definitely a "warfare" to find but a single shred of it.
A few things I've found... Hope is:
Ongoing meetings with my therapist, a medical professional who asks important questions about my life.
Medication that can take the edges off my mood swings, shoring up the bottom of my deepest, darkest valleys.
A spiritual director who gently guides with questions of faith and meaning.
The genuine care of several friends and loved ones - who are not afraid of my mess, but continue to lean in and love me, even in all my weakness.
Looking back and seeing how long I have been persevering, continuing to choose life even on my worst days. There truly is some small spark within that will not yield and will not die.
And... music, art, writing, creativity. I believe artistic expression is a reflection of and response to the Divine Artist, the first Creator. Participating in art is a participation in the divine.
This last point is where Messiah fits in for me. Both in the elegant aesthetics of its beauty as well as the message of hope and comfort. If you continue on through the rest of the piece, it gets even better.
I'll close with a few more encouraging words from Isaiah (especially when read through the lens of modern mental health!) represented in the next several movements of Handel's work:
The voice of him that crieth in the wilderness,
Prepare ye the way of the Lord,
Make straight in the desert a highway for our God.

Every valley shall be exalted,
And every mountain and hill shall be made low:
And the crooked shall be made straight,
And the rough places plain:

And the glory of the Lord shall be revealed,
And all flesh shall see it together