Ein Besuch im Uhrenmuseum. Zeit in ihrer schönsten Form, vom Mittelalter bis in die jüngste Gegenwart, präsentiert das Uhrenmuseum in Wien.
A visit to the Uhrenmuseum Time in its most beautiful form, from the Middle Ages to the most recent present, is presented in the Uhrenmuseum in Vienna.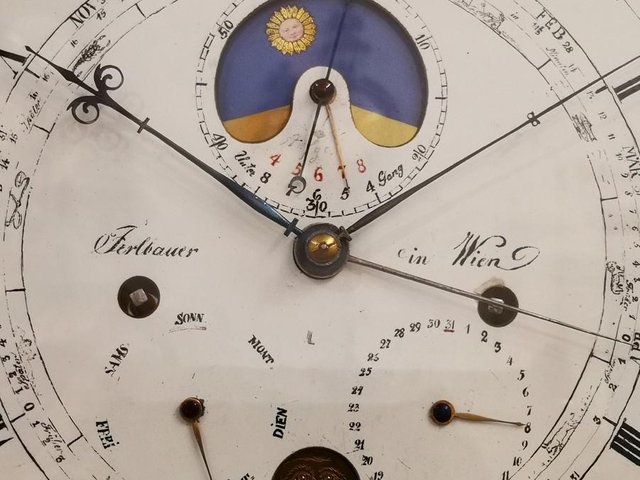 Ziffernblatt einer astronomischen Standuhr, um 1870 (Uhrenmuseum Wien)
Dial of an astronomical grandfather clock, about 1870 (Uhrenmuseum Vienna)
Das Museum wurde 1917 gegründet. Der Grundstock des mehrere Tausend Objekte umfassenden Bestandes geht auf die privaten Sammlungen des Lehrers Rudolf Kaftan und der Schriftstellerin Marie von Ebener-Eschenbach zurück. Meisterstücke des Wiener Uhrmacher-Gewerbes aus der Zeit des Biedermeier (1815-1848) stehen im Mittelpunkt der Ausstellung.
The museum was founded in 1917. The basis of the collection of several thousand objects is based on the private collections of the teacher Rudolf Kaftan and the writer Marie von Ebener-Eschenbach. The exhibition focuses on masterpieces of the Viennese horological craftsmanship from the Biedermeier period (1815-1848).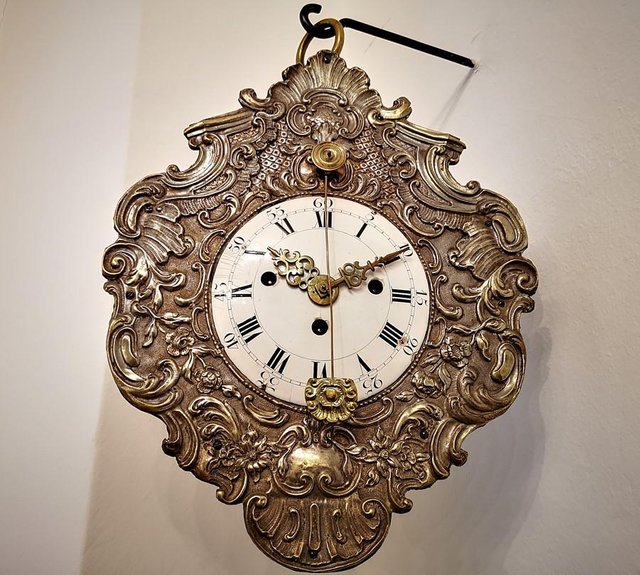 Telleruhr / plate clock, 1767 (Uhrenmuseum Wien)
Untergebracht ist das Museum in den verwinkelten Räumlichkeiten des barocken Harfenhauses, einem der ältesten Gebäude Wiens.
The museum is housed in the angled rooms of the baroque Harfenhaus, one of the oldest buildings in Vienna.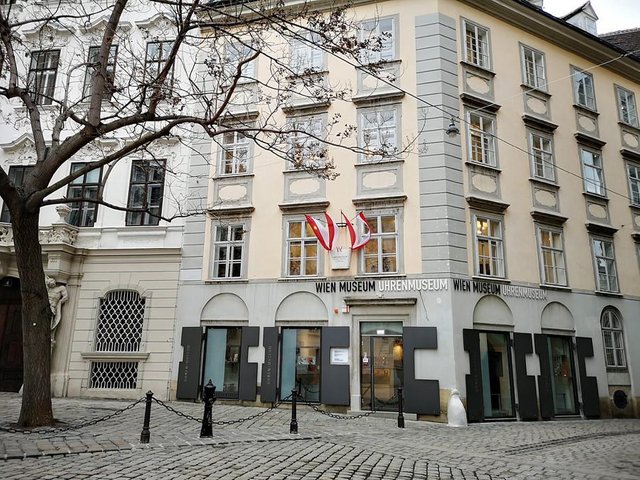 Zu den Höhepunkten der Sammlung zählt die astronomische Kunstuhr des Mönchs David a Sancto Cajetano aus dem 18. Jahrhundert.
Among the highlights of the collection is the astronomical art clock by the monk David a Sancto Cajetano dated from the 18th century.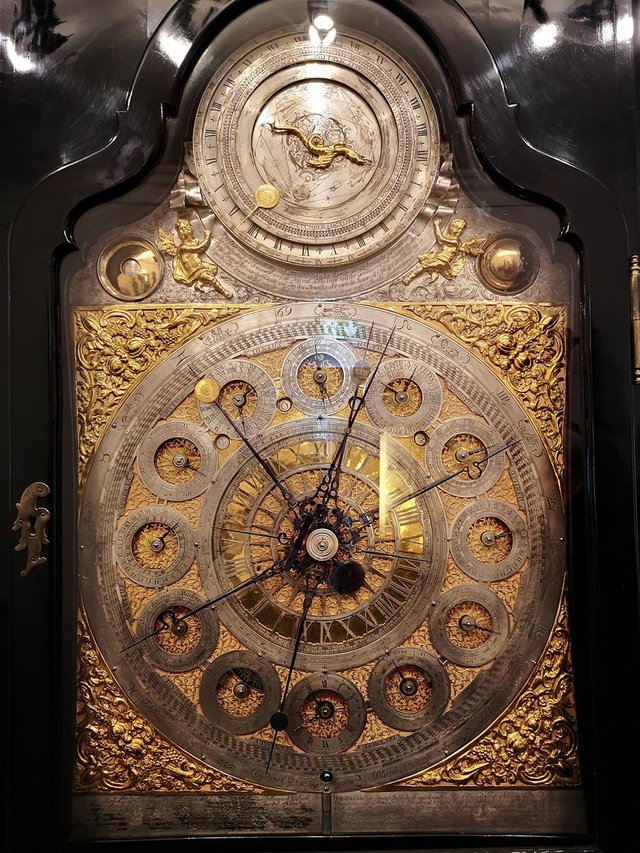 Der Sohn eines Zimmermanns aus dem Schwarzwald hat in diesem prachtvollen Präzisionsinstrument das astronomische Wissen seiner Zeit verewigt. 150 Räder greifen ineinander und zeigen Ortszeiten, Planetenlaufbahnen oder Sonnen- und Mondfinsternisse.
The son of a carpenter from the Black Forest has combined the astronomical knowledge of his time into this magnificent precision instrument. 150 wheels interlock and show local times, planetary orbits or solar and lunar eclipses.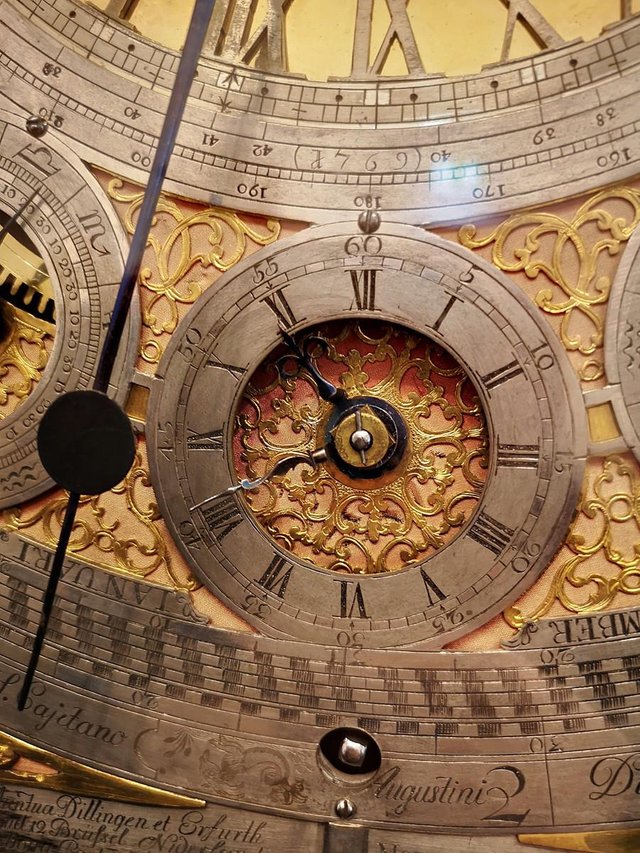 Das tonnenschwere Turmuhrwerk des Stephansdoms aus dem Jahr 1699 ist das größte Exponat der Ausstellung.
The tower clockwork of St. Stephen's Cathedral from 1699, weighing several tons, is the largest exhibit of the exhibition.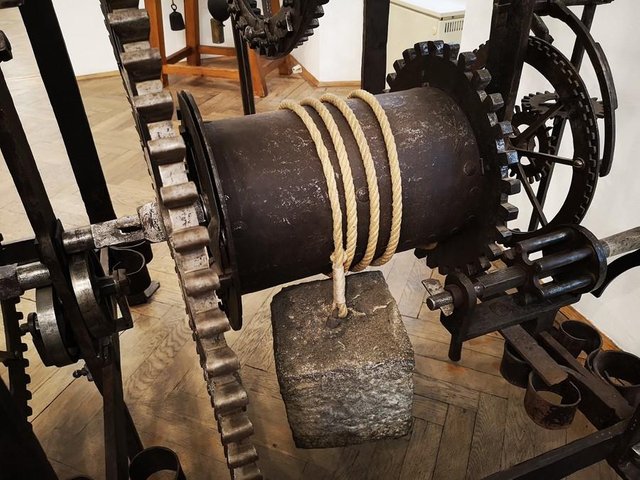 Sogenannte "Zappler" sind Miniaturuhren, mit einem kurzen, schnell schwingenden Pendel. Bei diesen Ziergegenständen kam es weniger auf die Ganggenauigkeit an, sondern vielmehr um eine gelungene Gehäusegestaltung trotz des en miniature-Maßstabes.
So-called "Zappler" are miniature clocks with a short, fast swinging pendulum. With these decorative objects it wasn't so much the accuracy that mattered, but rather a successful case design despite the en miniature scale.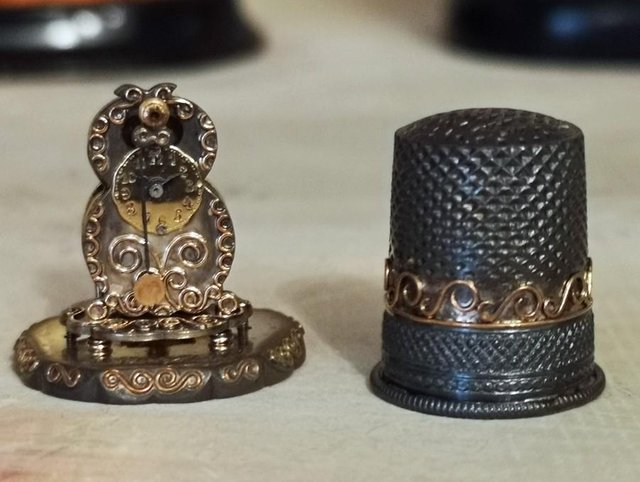 Sehenswert sind auch die reich verzierten Kommoden-Standuhren, die Pendeluhren oder die rustikalen Wanduhren aus dem Schwarzwald.
Worth seeing are also the richly decorated chimney clocks, pendulum clocks or the rustic wall clocks from the Black Forest.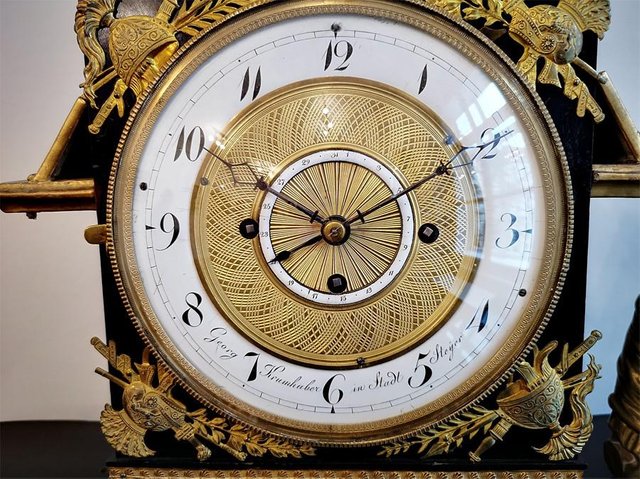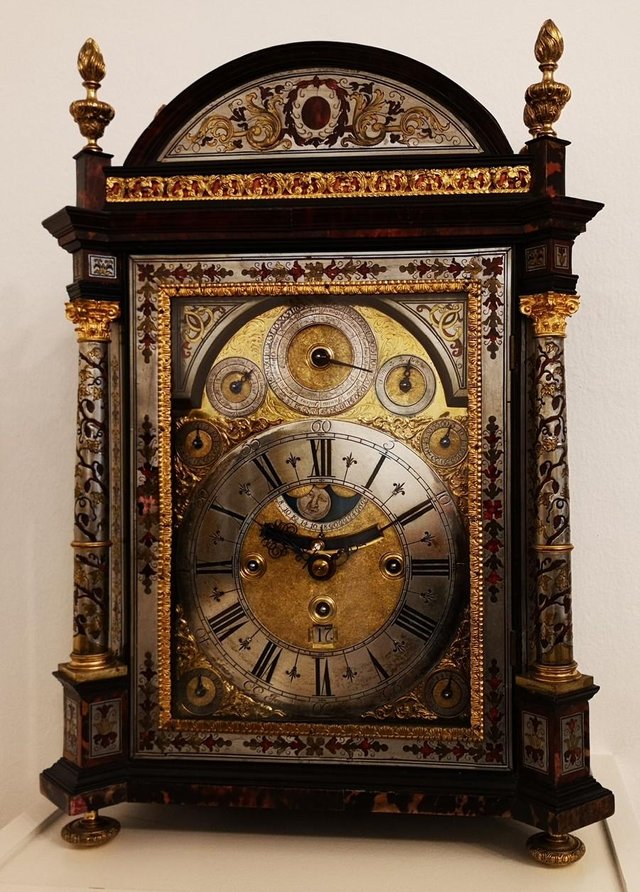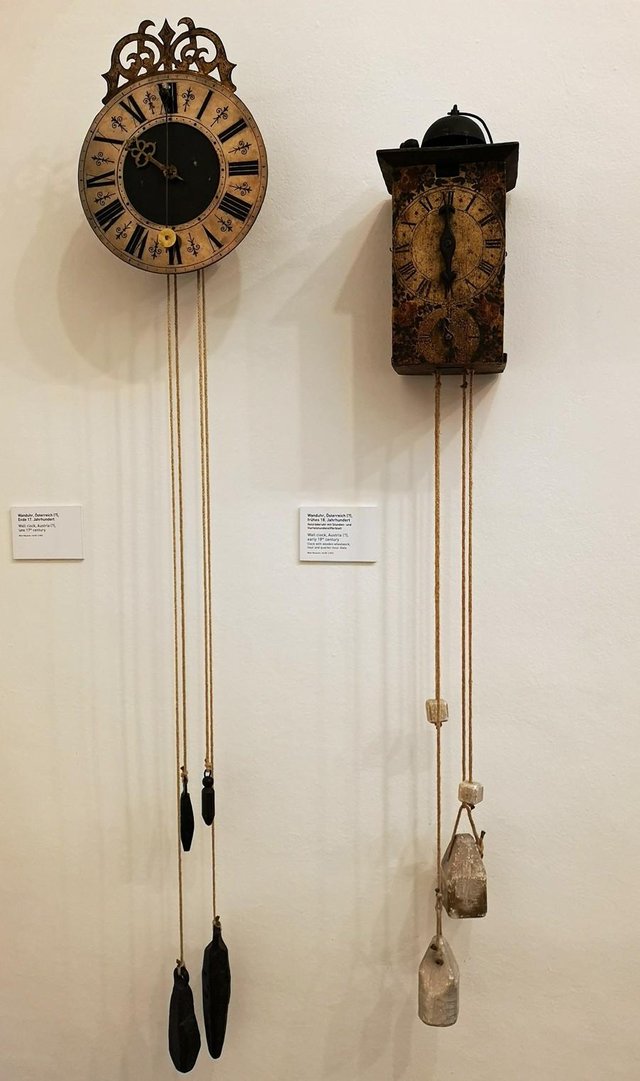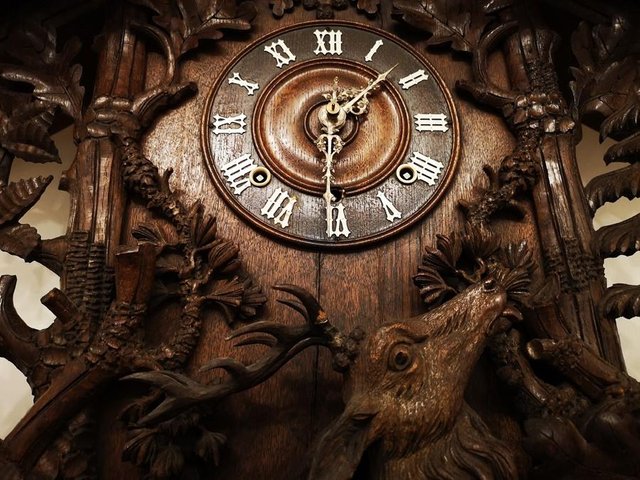 Die Taschenuhrsammlung von Marie Ebner-Eschenbach stammt aus dem späten 18. und 19. Jahrhundert. Die Schriftstellerin war nicht nur leidenschaftliche Sammlerin, sondern verfügte auch über das handwerkliche Geschick, Uhren selbst zu reparieren.
Marie Ebner-Eschenbach's pocket watch collection dates from the late 18th and 19th centuries. The writer was not only a passionate collector, but also had the the skill to repair watches herself.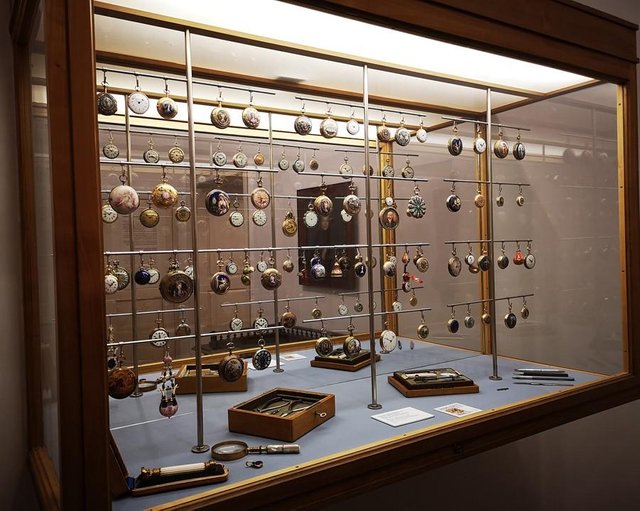 Bilderuhren, eine Kombination von Bild und Uhr, waren vor allem in der Biedermeierzeit für die Darstellung von Landschaften oder historischer Ereignissen sehr beliebt. Das folgende Bild mit eingebautem Spielwerk zeigt Kaiser Karl I. vor seiner Hinrichtung.
Picture clocks, a combination of picture and clock, were especially popular in the Biedermeier period (1815-1848) for the illustration of landscapes or historical events. The following picture with musical mechanism depicts Emperor Charles I before his execution.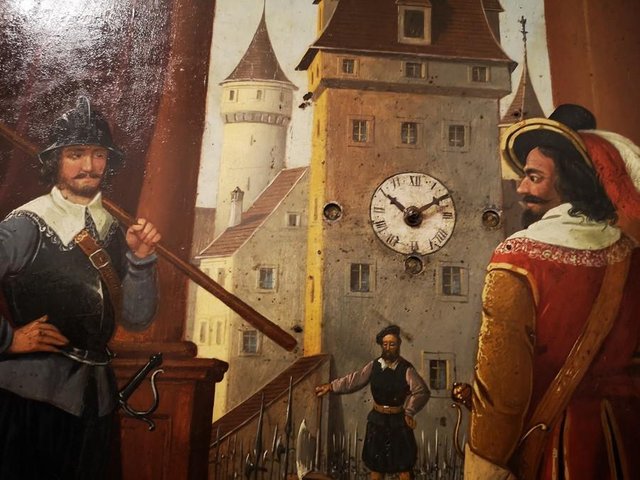 Es gibt im Uhrenmusem noch sehr viel mehr im zu entdecken. Für den Besuch einer der bedeutendsten Uhrensammlungen Europas sollte man ausreichend Zeit einplanen.
There is much more to discover in the Uhrenmuseum. You should plan enough time to visit one of the most important watch collections in Europe.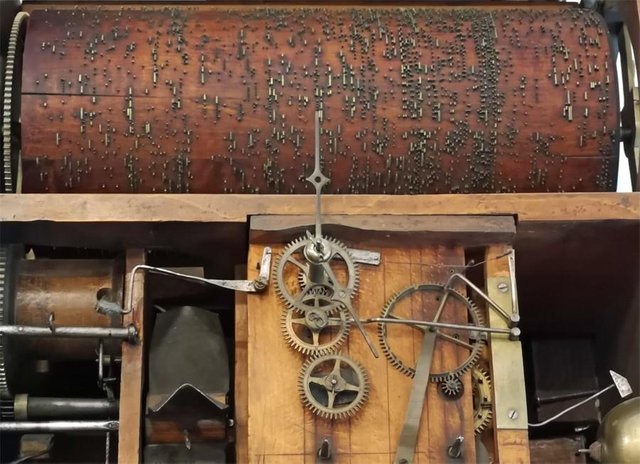 Flötenuhr, um 1880 / musical clock, about 1880 (Uhrenmuseum Wien)
---
Uhrenmuseum
Schulhof 2, 1010 Wien
Webseite /website