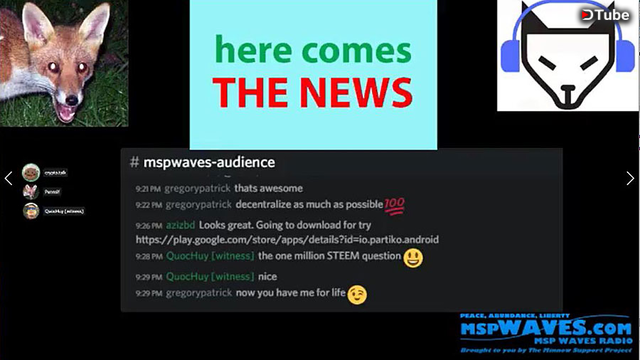 ---
In case you missed the show here is the recording of last Thursday's episode of Here Comes The News.
The show aired on MSP Waves Radio on Thursday 6 September 2018.
Here Comes The News is a new show on MSP Waves that aims to promote independent and citizen journalism on steem - with different steemian presented news stories from around the world.
The show also features music from steem musicians both as guest and my DSound Picks of the Week. DSound has very kindly agreed to sponsor this show.
The guests on the show were, in order of appearance :
@crypto.talk - Sida talked about his new @partiko mobile app for steem wiht guest interviewer @quochuy

@krnel - Kris presented two news stories about cannabis as a treatment for gut ailments and Google tracking credit and debit card data
@martin.mikes - Martin, supported by @mr-greens, spoke about the increasingly bloody secessionist struggle taking place in Cameroon

@azizbd - Mohammed from north-eastern Bangladesh came on the show to discuss the Rohingya refugee crisis
https://steemit.com/humanity/@azizbd/is-it-time-to-say-myanmar-you-are-alone
---
---
For the final hour of the show @danieldyemusic came on for a My Life In 8 Songs session.
Daniel's eight songs were :
Hard Cider (Daniel Dye with the Miller Road Band)
Ohio (Daniel Dye with the Miller Road Band)
Saint and Sinners (Daniel Dye)
Those Devils (Daniel Dye with the Miller Road Band)
There's A Stranger (Daniel Dye with Sister Sarah)
Syria, West Virginia (Daniel Dye with Thaddeus Williams)
Georgia (Daniel Dye with Ben Lee)
Oh My Friends (Daniel Dye)
---
---
My DSound Picks of the Week

In between the news stories I also played a number of my top picks from DSound including...
---
---
This recording is also available on YouTube